The popular brand and YouTube channel Machinima, which had over 12 million subscribers, has gotten the axe by its parent company, Otter Media. All the videos have been made private and are no longer able to be viewed.
Fans, and creators who worked on Machinima videos, were not notified and simply woke up the other day to find Machinima and the other Otter Media brands had gone dark, which also includes channels for Happy Hour, Respawn, Realm, Prime, Inside Gaming, and more.
Machinima was started in 2000 and later acquired by Warner Bros. and featured videos such as Justice League: Gods and Monsters Chronicles and a Mortal Kombat X digital series. When ATT&T acquired Warner Bros. last year, the brand became a part of their Fullscreen network, operated by Otter Media.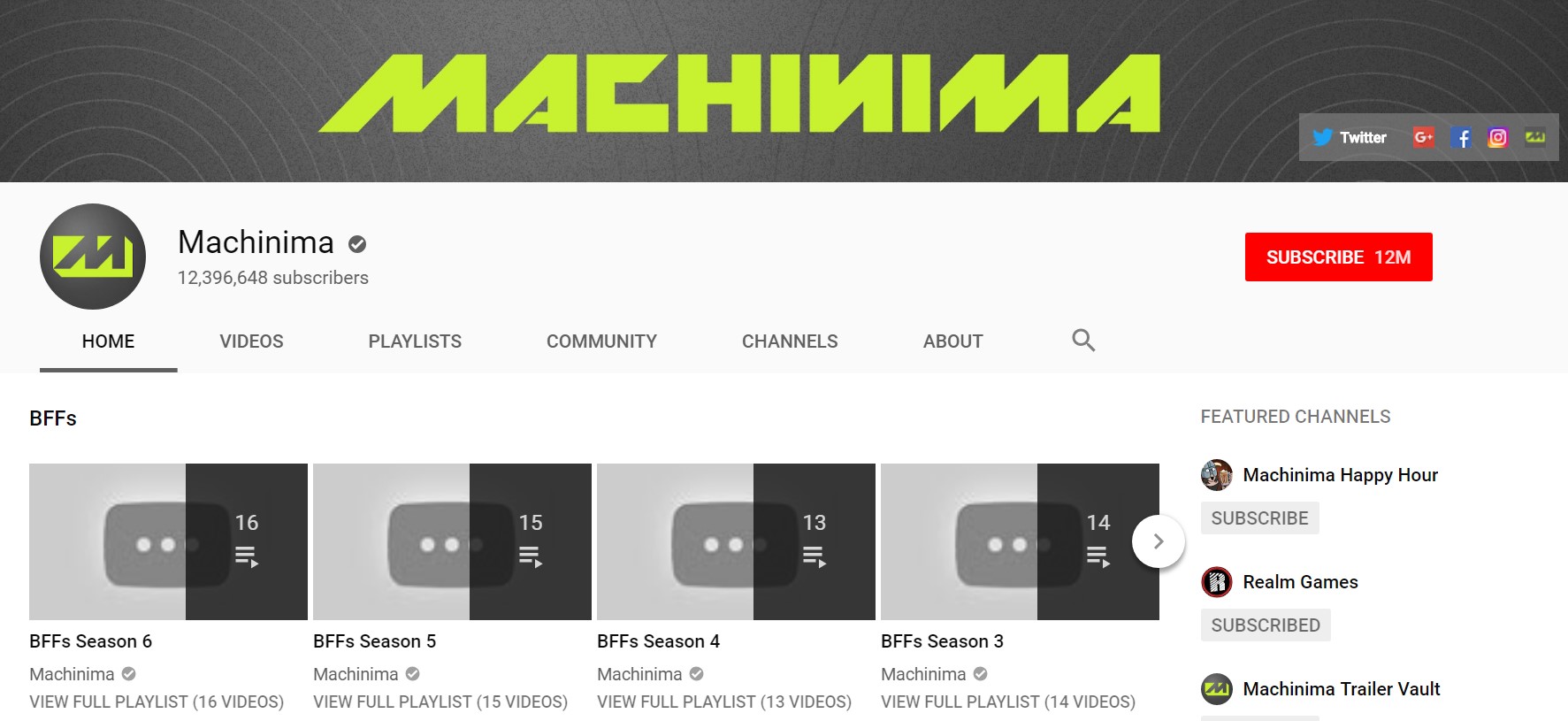 In a statement to Kotaku, Otter media offered they are doing a relaunch soon: "We are focused on creating new content with the Machinima team, which will be distributed on new channels to be announced in the coming months."
The brand hasn't come without controversy as back in 2015 saw the FCC accuse them of providing undisclosed paid-for-reviews (essentially false reviews), as two of their creators received a total of $45,000. Machinima ended up settling the manner with no fine paid.
Last November also saw the popular YouTube brand, Defy Media, close its doors, which ran channels for Smosh and Clevver, and its popular Screen Junkies channel was sold off to Fandom.
Shortly after it was realized Machinima had been deleted, fans and creators took to Twitter with #RIPMachinima:
Wow… they finally went ahead and deleted everything we'd ever done.
7+ Years of work… lost to the sands of time. #RIPMachinima

Make sure you're subbed to our new channel that we started after leaving Machinima last june – https://t.co/CdswejOfLJ – thanks pic.twitter.com/H8MEVGHaCq

— RickyFTW (@rickyftw) January 19, 2019
So let me get this straight:

1) Machinima merges with AT&T
2) Announced it last year
3) With NO WARNING, Machinima deletes everything, destroying tens of thousands of hours work from creators who posted through them.
4) Hashtag is #RIPMachinima instead of #WTFMachinima

Okay.

— AtlasOne (@TheAtlasOne) January 19, 2019
It's so weird now that I'm going to be a part of that generation of people that will say, "remember Machinima?" #RIPMachinima

— Isaiah Colbert (@EyeZehUhh) January 19, 2019
While we should not mourn the loss of Machinima due to its awful buisness practices.

We should mourn the loss of all the work of the content creators who for 10+ years put their passion into the videos they made and can sadly never be appreciated again.#RIPMachinima

— –Fr❇nk– (@FrankestTankest) January 19, 2019
Wow. Machinima introduced me to many of the creators who became my favourites.

The past few years with closures such as SourceFed and Machinima are really demonstrating how the titans of the early YouTube bubble are no longer viable on the platform.#RIPMachinima

— 【Karn – H&H @ 8 Days (@Karn_HH) January 19, 2019