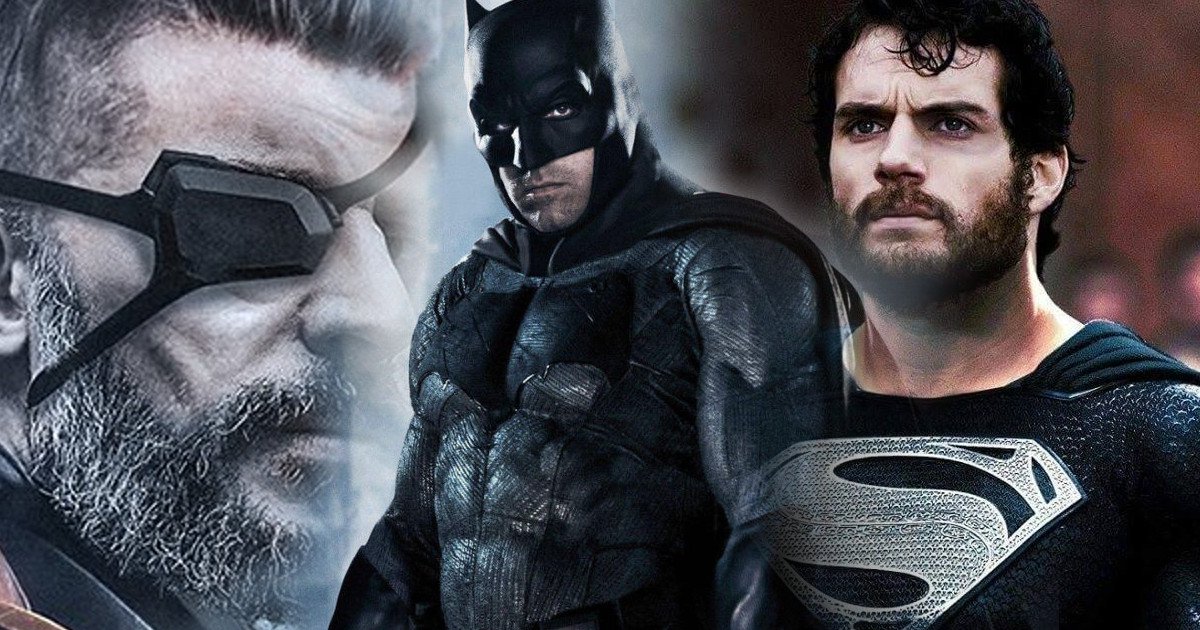 Possible big spoilers for the Justice League movie leak online from Comic-Con regarding Henry Cavill's Superman, Ben Affleck's Batman and Joe Manganiello's Deathstroke. A description for Willem Dafoe's Aquaman character, Nuidis Vulko, also possibly becomes known.
A YouTuber at the SDCC, Chris Hartwell, claims in the following video that he saw spoiler images while standing in line at Hall H.
Again potential SPOILER WARNING.
Willem Dafoe
• Willem Dafoe's Nuidis Vulko in James Wan's Aquaman movie is said to be a part of Aquaman's kingdom and is described as having "long grey hair, cool very Aquaman-esque armor going on there. Pretty exciting."
Deathstroke
• Regarding Deathstroke, the YouTuber says he saw a Justice League photo of Joe Manganiello as Deathstroke with "grey hair, grey beard, eye patch, orange and black armor that we're all accustomed to. One of him with the mask off. One where he is on a yacht."
The YouTuber does point out that since Matt Reeves has taken over Batman and is rewriting the script that things could always change with Joe Manganiello as Deathstroke in Justice League – meaning Deathstroke could be cut – but as of now, it looks likely that Joe Manganiello as Deathstroke might stick.
Superman & Batman
• And regarding Henry Cavill as Superman in Justice League, the YouTuber claims he saw three photos. One featured the Justice League without Batman "kind of protecting and carrying a coffin," assumed to be for Superman (or could it be Batman??).
• The second photo appeared to be of a dead Clark Kent with Aquaman standing over him and Wonder Woman, Flash and Cyborg in the background. The YouTuber assumed it was Clark Kent because the person wore a suit (or is it Bruce Wayne??).
• The third image features Superman with black pants, no shirt, flexed and looking angry staring down four of the members of the Justice League with Aquaman, Wonder Woman, The Flash and Cyborg. It's noted that "interestingly again, Batman is not in that picture." It's also suggested that Superman could be an antagonist (bad guy).
It's unknown if the Justice League images are legit, but prior to Comic-Con it was rumored that Ben Affleck was leaving the Batman role and that WB was gracefully replacing him. While Ben Affleck did state at Comic-Con he looks forward to working with Matt Reeves and continuing to play Batman, WB did announce a Flashpoint movie. In Flashpoint, Thomas Wayne is Batman in an alternate universe. Maybe when The Flash fixes the universe, Ben Affleck is no longer Batman, but a new actor plays the DCEU Dark Knight? All speculation right now, but if these images are true, it's pretty mind blowing!
Watch the video for more:
"Justice League" has a November 17, 2017 release directed by Zack Snyder starring Ben Affleck as Batman, Henry Cavill as Superman, Gal Gadot as Wonder Woman, Jason Momoa as Aquaman, Ezra Miller as The Flash, Ray Fisher as Cyborg, J.K. Simmons as Commissioner Gordon and Willem Dafoe an Atlantean, Nuidis Vulko.
Synopsis:
Fueled by his restored faith in humanity and inspired by Superman's selfless act, Bruce Wayne enlists the help of his newfound ally, Diana Prince, to face an even greater enemy. Together, Batman and Wonder Woman work quickly to find and recruit a team of metahumans to stand against this newly awakened threat. But despite the formation of this unprecedented league of heroes—Batman, Wonder Woman, Aquaman, Cyborg and The Flash—it may already be too late to save the planet from an assault of catastrophic proportions.