The Jumanji: The Next Level Rotten Tomatoes score is in as the film which stars Dwayne Johnson opens on Friday, Thursday with advanced previews.
Similar to the first movie from 2017, the Jumanji: The Next Level Rotten Tomatoes score currently stands at 76% with 42 reviews accounted for.
2017's Welcome to the Jungle scored a 76% with critics and an 87% with the audience. The flick went on to be a surprise smash hit as it brought in over $962 million worldwide, and actually outperformed Star Wars: The Last Jedi in the long run, when taking away The Last Jedi's mammoth opening numbers.
Jumanji: The Next Level now opens in the U.S. a week prior to the release of Star Wars: The Rise of Skywalker, so it will be interesting to see if The Next Level can see lightning strike twice.
The flick actually has already opened internationally and has brought in around $53 million, which is slightly down from The Next Level's international opening of $54.8 million.
The movie also isn't doing as well in China as it only brought in around $25 million, down around 38 percent compared to Welcome to the Jungle's $39.7 million three-day debut in January 2018.
Tracking has Jumanji: The Next Level opening around $40 million over the Dec. 13-15 weekend.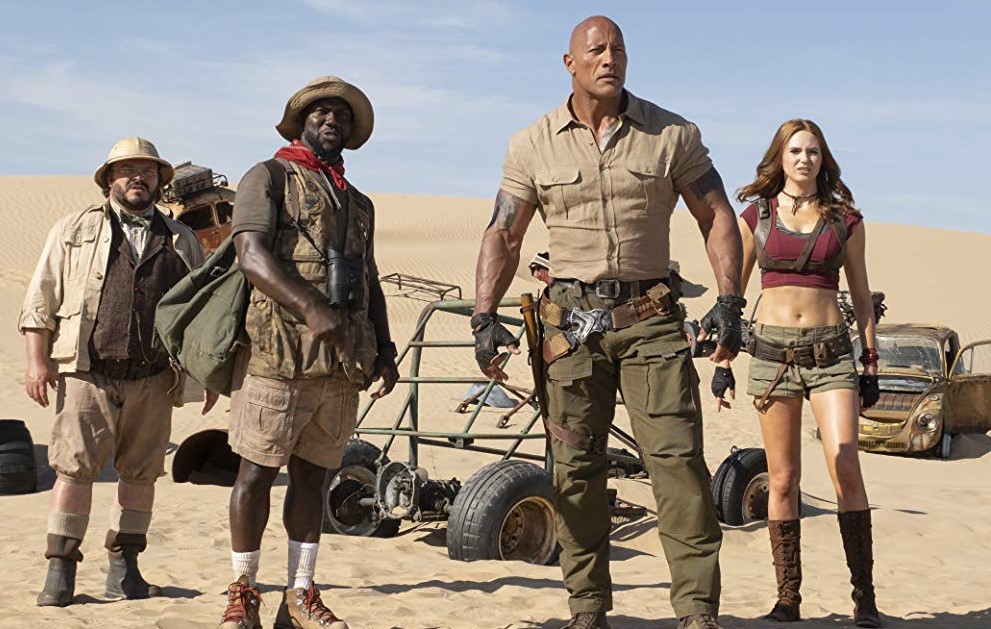 Jumanji: The Next Level synopsis, trailer:
In Jumanji: The Next Level, the gang is back but the game has changed. As they return to Jumanji to rescue one of their own, they discover that nothing is as they expect. The players will have to brave parts unknown and unexplored, from the arid deserts to the snowy mountains, in order to escape the world's most dangerous game.
The film gets released December 13, 2019 directed by Jake Kasdan, written by Kasdan, Jeff Pinkner and Scott Rosenberg; produced by Matt Tolmach, Jake Kasdan, Dwayne Johnson, Dany Garcia, and Hiram Garcia; executive produced by David Householter, Melvin Mar, Scott Rosenberg, Jeff Pinkner, William Teitler, Ted Field, Mike Weber and Chris Van Allsburg.
The movie stars Dwayne Johnson, Jack Black, Kevin Hart, Karen Gillan, Nick Jonas, Awkwafina, Ser'Darius Blain, Madison Iseman, Morgan Turner, Alex Wolff, with Danny Glover and Danny DeVito.