A production sheet has leaked online offering details about the canceled Fox Studios X-Force movie, with it also said Jon Hamm was wanted for a role.
Regarding the X-Force cancellation, as the Disney-Fox deal is set to go through in the next couple of months, Fox Studios obviously wouldn't have time to film the movie. Rob Liefeld even confirmed it's done for.
The leaked production sheet reveals that X-Force would have started filming in October of 2018, but again, we can guess the Disney purchase of Fox Studios put the kibosh on the project.
A description offers: X-Men spinoff film that revolves around Deadpool and Cable leading a Black Ops force of down and dirty mutant warriors who are far more ruthless than their X-Men counterparts.
Drew Goddard is listed as the director, with Simon Kinberg and Lauren Shuler Donner as producers, Ryan Reynolds is set to star and produce, and Josh Brolin is back as Cable along with Zazie Beetz as Domino from Deadpool 2.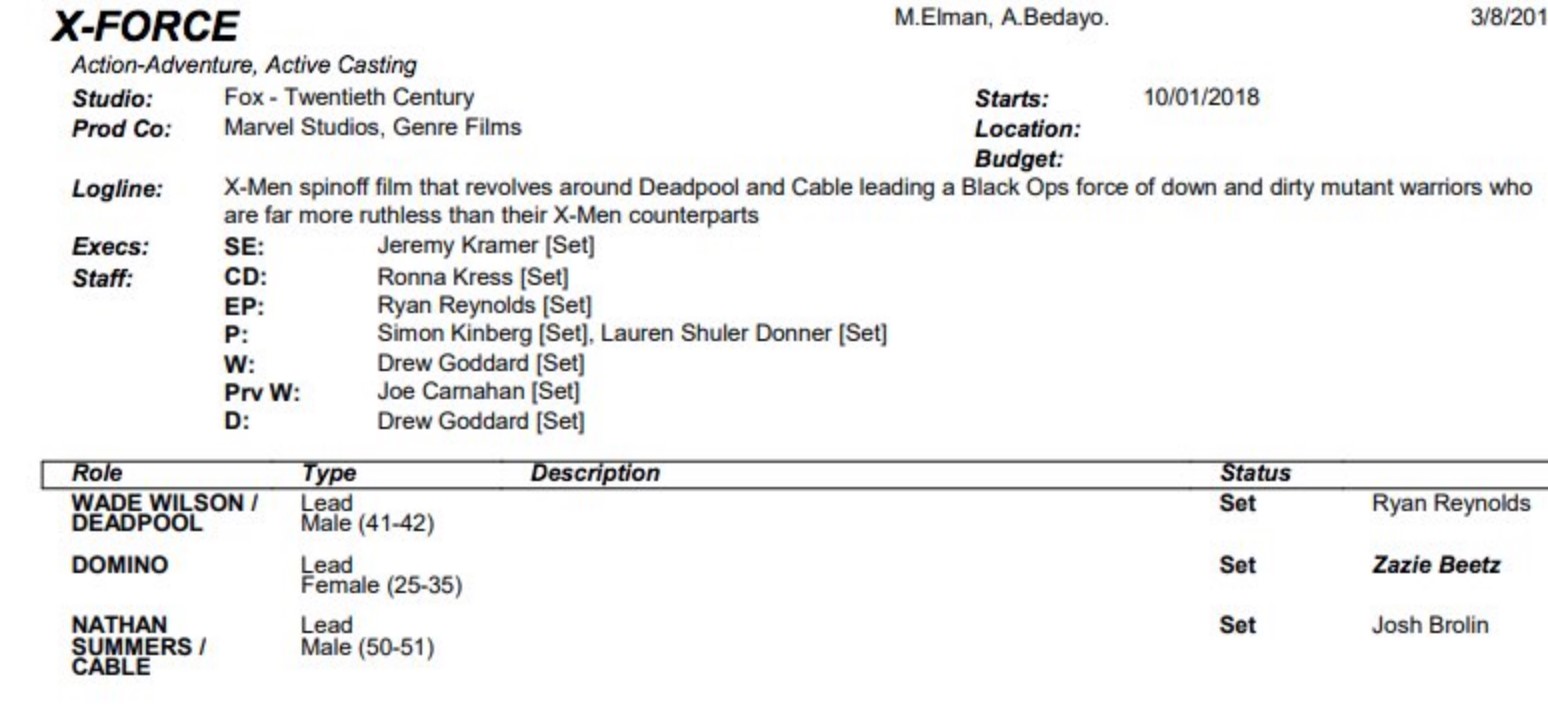 Regarding Jon Hamm, we can guess he was up to play the villain role, possibly Mister Sinister. It's been said Jon Hamm was going to play Sinister in New Mutants, so probably Hamm was going to play the character for X-Force.
The fate of X-Force now lies with Kevin Feige at Marvel Studios. Ryan Reynolds did recently offer they will no longer be doing any more standalone Deadpool flicks, that they will be team-up movies, which does fit with the description of X-Force, so possibly a Deadpool 3 movie at Disney could incorporate X-Force in some way.
Regarding what Feige is planning for the X-Men in the MCU is also questioned, as Feige recently hinted he may be going with unknown characters instead of the well-known popular characters from the Fox universe.
"The truth of it, I am excited for all of them," Feige recently told MTV about the Fox-Marvel characters coming to Marvel Studios, which includes the X-Men and Fantastic Four. "I'm excited, and it's not just the marquee names you know. There are hundreds of names on those documents, on those agreements. And the fact that Marvel is as close as we may ever get now to having access to all of the characters is something I have been dreaming about for my almost twenty years at Marvel. It's very exciting."