IMAX unleashes a glorious Joaquin Phoenix poster and announces the Joker movie will be playing in its theaters for one week only.
"Excited to share the IMAX exclusive artwork for Joker Movie. Joker Movie comes to IMAX theatres for one week only starting October 3," the theater company posted on Facebook.
Tickets have yet to go on sale, but we'll be sure to update when it's announced.
Update: Director Todd Phillips offered on Instagram: "To my knowledge tickets go on sale this Monday, Sept 23 9am EST.
The flick is also estimated to have a great opening weekend as estimates range from $80-90 million-plus to even $100 million.
Over at Rotten Tomatoes, Joker is also sitting pretty with a current 77% Fresh score, and for its world premiere at the Venice Film Festival, it received an 8-minute standing ovation, with Joaquin Pohenix also recently receiving the Tribute Actor Award at the Toronto Film Festival.
The film opens October 4 directed by Todd Phillips also starring Robert De Niro as Franklin, Zazie Beetz, Frances Conroy, Marc Maron, Bill Camp, Glenn Fleshler, Shea Whigham, Brett Cullen, Douglas Hodge and Josh Pais.
Joker IMAX poster: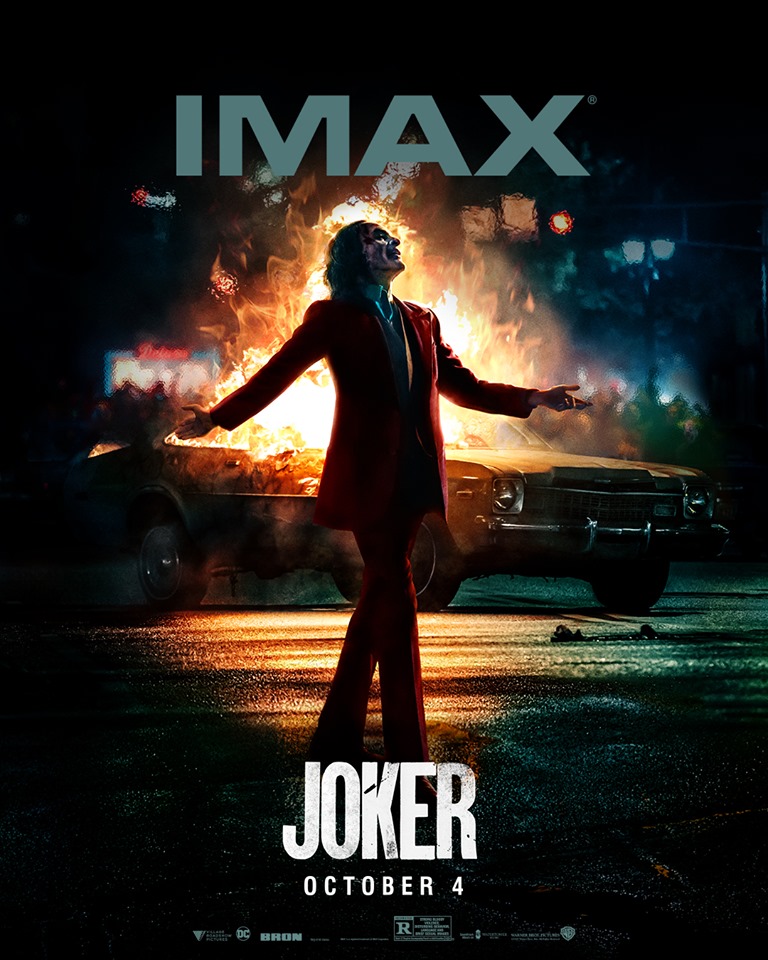 Joker Synopsis, Trailer:
Director Todd Phillips "Joker" centers around the iconic arch nemesis and is an original, standalone fictional story not seen before on the big screen. Phillips' exploration of Arthur Fleck, who is indelibly portrayed by Joaquin Phoenix, is of a man struggling to find his way in Gotham's fractured society. A clown-for-hire by day, he aspires to be a stand-up comic at night…but finds the joke always seems to be on him. Caught in a cyclical existence between apathy and cruelty, Arthur makes one bad decision that brings about a chain reaction of escalating events in this gritty character study.