Jeremy Renner teases that his Hawkeye may show up in the upcoming Black Widow movie, which would likely involve his character and Natasha in Budapest, which was first mentioned in The Avengers movie.
The final battle of The Avengers movie saw Black Widow make mention, "Just like Budapest all over again!" to which Clint Barton responded, "You and I remember Budapest very differently."
Now the Marvel's Black Widow: The Official Movie Special Book reveals Black Widow will reveal what took place on their mission in Budapest.
"We all agreed that we had to find out what happened in Budapest. That started out as this throwaway line which Joss Whedon threw into Marvel's The Avengers as a funny moment between Hawkeye and Black Widow. That's Clint and Natasha talking about their history, and you get a fun little Easter egg for fans to theorize about. We thought that if we don't go back to Budapest and find out what really happened there, people will feel unsatisfied. I wondered what did happen there?" Scarlett Johansson said. "We often talked about what is going on in Natasha's head. I really think that Natasha is haunted by the fact that she has this past that she feels so guilty about. Unfinished business is that sense of guilt that follows her around, which all stems from what happened in Budapest. Black Widow is not about what happened in Budapest, but it's a huge jumping-off point for us to understand the heaviness of Natasha's burden."
Following the info from the book coming out, Jeremy Renner posted the following on his Instagram story which sees Renner offer, "Hmmmmm…. Loose lips sink ships Nat."
So putting everything together, it seems likely Jeremy Renner will appear in Black Widow who also is going on to star in the Hawkeye Disney Plus series.
At the same time, it has also been said Robert Downey Jr. will appear in the flick, but recent rumors are offering that is not the case.
Jeremy Renner teases Hawkeye involvement in Black Widow: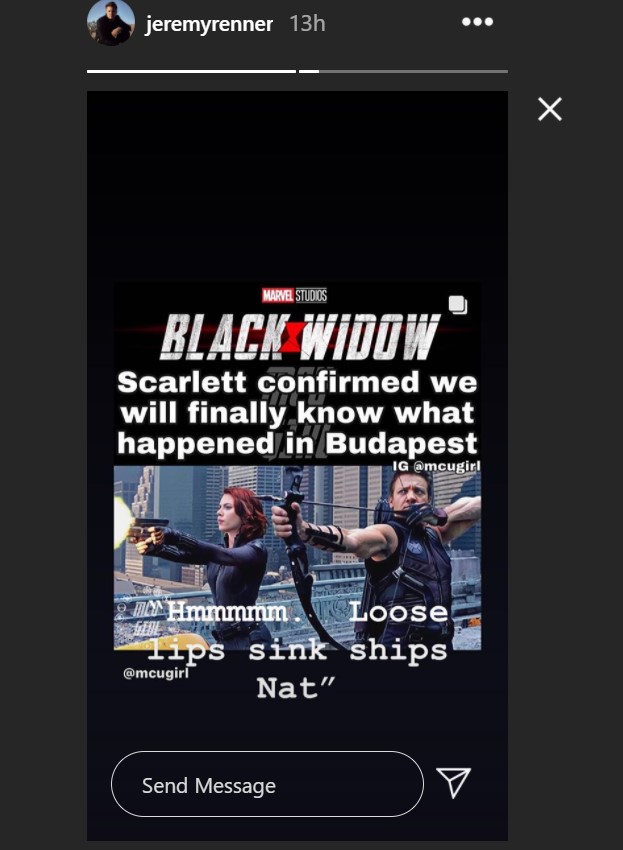 Black Widow has a May 7, 2021 release date and is directed by Cate Shortland and stars Scarlett Johansson, Florence Pugh, David Harbour, O-T Fagbenle, and Rachel Weisz.
Synopsis: In Marvel Studios' action-packed spy thriller "Black Widow," Natasha Romanoff aka Black Widow confronts the darker parts of her ledger when a dangerous conspiracy with ties to her past arises. Pursued by a force that will stop at nothing to bring her down, Natasha must deal with her history as a spy and the broken relationships left in her wake long before she became an Avenger.