Following having been fired from Disney and Marvel Studios for tweets that resurfaced from ten years ago joking about rape and pedophilia, the director has been silent on social media, but on Wednesday, James Gunned returned to Twitter, but he quickly deleted the post.
"Oh that sucks David. Sorry, man," James Gunn tweeted which was accompanied by a GIF of Jim Carrey from Liar, Liar before being deleted (see below).
It looks as if the tweet was a draft mistakenly scheduled for yesterday. It's the same tweet that Gunn sent to David Hasselhoff back in July following the actor's pet passing away.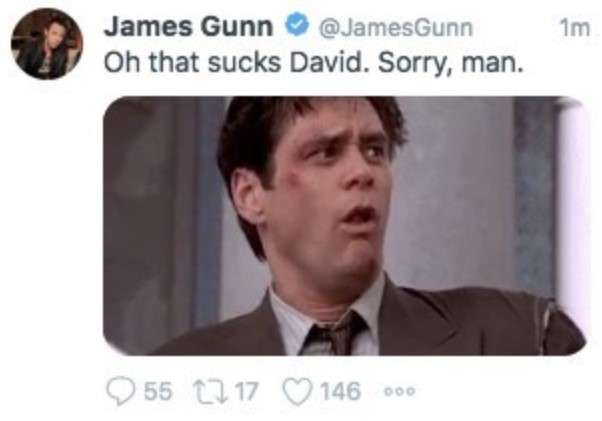 Prior to getting fired, James Gunn was vocal on social media – and he wasn't afraid to say what was on his mind – which is what really got him into trouble. Gunn tweeted his political thoughts which were against President Trump and the right, so right-wingers dug up his old tweets, which Disney got wind off and decided to fire Gunn. The sad thing, at least IMO, is that Gunn's tweets didn't change a thing other than getting him fired from Marvel and Guardians of the Galaxy 3. It's a fair statement to say that voicing your opinion on social media, especially about political ideologies, does nothing to change a person's mind. There are a lot better things to be doing than penning a 280-word tweet, especially from someone of James Gunn's stature.
Following having been fired from Marvel, James Gunn is now working with Warner Bros. as he is writing and directing Suicide Squad 2. No details are known other than it said Gunn may be using an all-new cast of DC characters for his story.
James Gunn also has Brightburn coming out, which he produced and created with his brothers. It's another superhero movie, but vastly different as it is described as the first superhero horror film. Brightburn is a take on the classic Superman story, but with a big twist, instead of being a good guy, the kid is evil. Check out the trailer; it's really cool: