The new co-head of the DCU, James Gunn, isn't afraid of tackling the so-called scoopers head-on as Gunn responds to new rumors about the return of Henry Cavill as Superman.
A new rumor claims that Henry Cavill's new contract includes Superman TV appearances, but Gunn responded that might not be the case, where worth a mention is that he doesn't specifically say it isn't happening, he just claims no one knows the DCU plans except for him and co-head Peter Safran.
"I'm not sure if you're purposely lying or being taken advantage of by someone lying to you, but, as I've stated on here before, NO ONE knows what's happening at DC Studios right now other than me & Peter. That would include writing up any new contracts for anyone at this point," tweeted Gunn.
Update: Henry Cavill has announced he is done with the Superman role as James Gunn is developing a new movie featuring a new and younger actor in the role.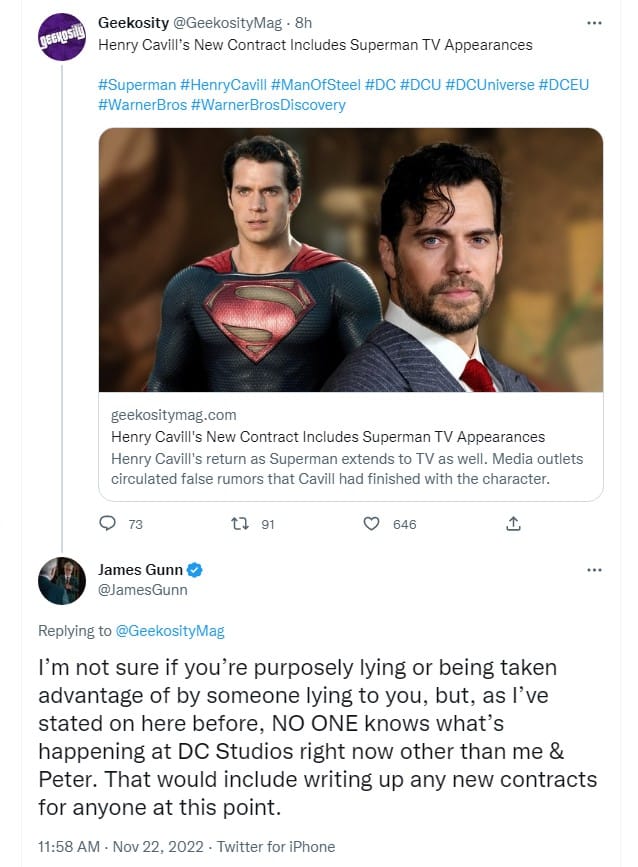 James Gunn is targeting so-called DC scoopers
Additional rumors have claimed that Henry's new contract also includes Black Adam 2, Man of Steel 2, and a Justice League 2, but according to Gunn's tweet, Henry might not even be signed on for a return.
Recently saw the report which said the same, that Henry doesn't have a former deal to return to Superman and that Man of Steel 2 isn't officially confirmed.
The report also mentioned James Gunn and Peter Safran will be revealing their DCU plans within the next two months, which is something Gunn confirmed.
"Yes, that is true (revealing it to the wbd team)," tweeted Gunn.
So coupled with the tweet shooting down the rumors, it does seem as if Henry Cavill's new Superman contract isn't set in stone.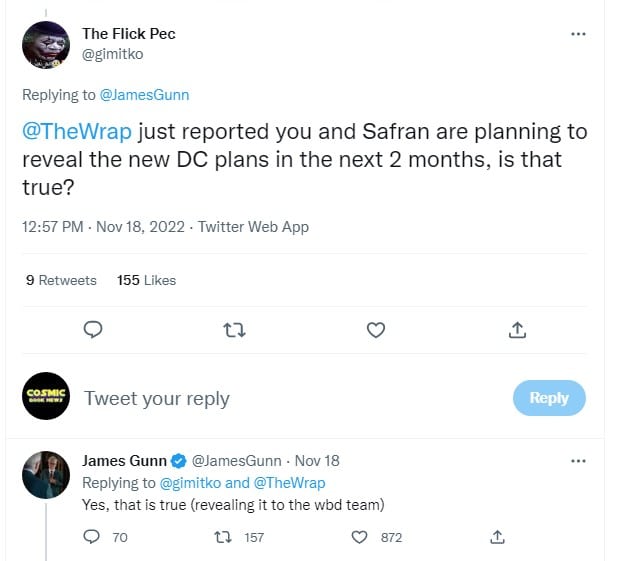 James Gunn and Pete Safran surprised everyone
What I think happened is that James Gunn and Pete Safran swooped in and surprised everyone when it was announced they were taking over the DC films universe, and especially surprised Dwayne Johnson and his production team who are responsible for getting Henry Cavill back as Superman in Black Adam.
So, as has previously been reported, now that Gunn and Safran are in charge, everything DC has to be greenlit through them, which includes the return of Henry Cavill as Superman and additional Dwayne Johnson projects and Black Adam sequels.
Gunn loves voicing his thoughts on Twitter so all those DC scoopers better watch their back.
Earlier also saw James Gunn call out YouTuber Grace Randolph of sorts as Gunn tweeted he was surprised Randolph liked his Marvel Disney Plus Guardians of the Galaxy Holiday Special.
One rumor Gunn hasn't shot down is that Randolph stated Gunn's DCU direction includes a political commentary storyline where it is thought he butted heads with Dwayne Johnson over the direction of the DCU, and worth a mention is that both Gunn and Johnson still have yet to acknowledge each other.