James Gunn is again active on social media as he posts he is an "enormous" fan of Suicide Squad. The director of Marvel's Guardians of the Galaxy is set to take on DCEU's own motley crew of characters as the sequel to David Ayer's 2016 movie is currently in development.
"I have been an enormous fan of #SuicideSquad in all its @DCComics incarnations - but to me there will always be something special about the #JohnOstrander run. Black ops military tales with disposable, often forgotten super villains?! Pure perfection. Photo of my own collection," Gunn posted on Instagram.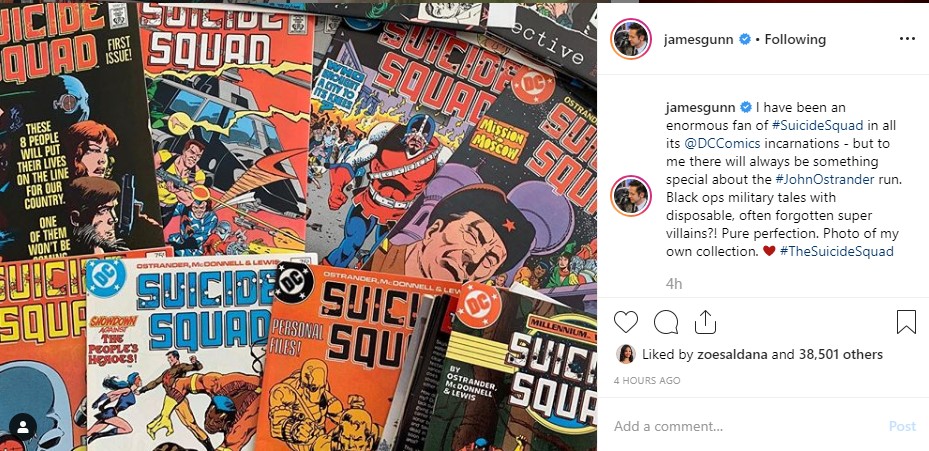 While promoting his latest movie Brightburn, which is an evil take on the Superman story, Gunn also tells EW.com that he is more than excited.
"I am in pre-production on The Suicide Squad, which I am enormously excited about," said Gunn.
Details known for Suicide Squad 2 include that Margot Robbie will be back as Harley Quinn along with Jai Courtney as Captain Boomerang. It also just became known that James Gunn has cast Ant-Man actor David Dastmalchian as Polka-Dot Man, who has previously been described as: ...aka Mister Polka Dot, is a Gotham City super-villain and like Ratcatcher, a sworn enemy of Batman. He grows multi-colored polka dots on his body that he can turn into fireballs and other weapons, even though, for the most part, he's embarrassed about his awkward abilities. Idris Elba is also in talks for a role, with it rumored that John Cena might even land a spot on Gunn's team.
The Suicide Squad has an August 6, 2021 release date and starts filming later this year.