Black Bolt has spoken.
It's the Guardians of the Galaxy versus Inhumans crossover we've always dreamed of!? No, not really (nobody wants that), but we may have found out why James Gunn is a stick in the mud as Anson Mount hints the Marvel director may suffer from the Irish Curse!
What's that you say? What is the Irish Curse?
Follow the tweets below!
Sunday on Twitter, James Gunn, for some reason, voiced his thoughts on actors that fib about their height in order to get auditions and parts, something that ticked off Anson Mount, who is known for playing Blackbolt in Inhumans and Captain Christopher Pike in Star Trek.
Gunn let loose a bunch of tweets about how he wished actors would tell the truth about their height which saw Anson Mount tweet that Gunn has no talent and a small penis (the Irish Curse which explains why some Irish come off as bitter).
Gunn didn't really get into it with Mount, but the exchange is pretty funny, and what is interesting is that Anson Mount seemed to be stating the height thing is less about the actor's actual height but what appears to be "male dominance/ 'masculinity' (particularly re: female counterparts)."
On a side note, it's known certain actors wear elevator shoes to increase their height while filming (I'm pretty sure Robert Downey Jr. has at times), so I don't see the height being a real issue, but apparently Gunn does. In addition, I would think if the height thing is really an issue, the director could change the angle of the camera (2000 X-Men movie comes to mind with Hugh Jackman who is listed at 6'3" playing Wolverine who is really short in the comics), but in the tweets below Gunn says that's all a lie.
James Gunn vs Anson Mount tweets:
I wish actors (especially men) would tell the truth about their height when casting. Casting a whole show can be a balance of a lot of things, including heights, & easily 50% of the time male actors exaggerate how tall they are, sometimes by a lot, on their resumes.

— James Gunn (@JamesGunn) June 13, 2021
I remember going out to eat to dinner for the first time with @djimonhounsou, @prattprattpratt & @DaveBautista. Djimon is a big guy, well over 6 feet & incredibly fit, & as he sat in his car he saw these two giants hulking out of the house, like a couple of kaijus stalking us.

— James Gunn (@JamesGunn) June 13, 2021
6 feet. Which people are always surprised to see when they meet me in person because I surround myself with mammoths. https://t.co/hfEeaDQOkX

— James Gunn (@JamesGunn) June 13, 2021
They don't lie to get the job. They lie because of their egos. Sometimes it gets them the job; sometimes it costs them the job. https://t.co/7sPcllUWIH

— James Gunn (@JamesGunn) June 13, 2021
I don't especially care if they lie to the public, which most A-list actors do, especially actors who aren't tall. But lying during the casting process and on their resumes can affect what we're filming, and that's a different story. https://t.co/2UOVr2LhVz

— James Gunn (@JamesGunn) June 13, 2021
A director talking about how casting is hurt because of men lying about their height is the ultimate in mansplaining? —

— James Gunn (@JamesGunn) June 14, 2021
For my style of shooting- long takes of the camera moving around people, in close & out wide, as actors are in motion- these cheats would be ludicrous & wouldn't work. In the rare cases it matters to the story, lying isn't the answer.

— James Gunn (@JamesGunn) June 15, 2021
They get away with it because then you're cooked, and it's so common that we don't even notice.

— James Gunn (@JamesGunn) June 13, 2021
On behalf of my kind I apologize. (My kind is men not people without teeth just to be clear).

— James Gunn (@JamesGunn) June 13, 2021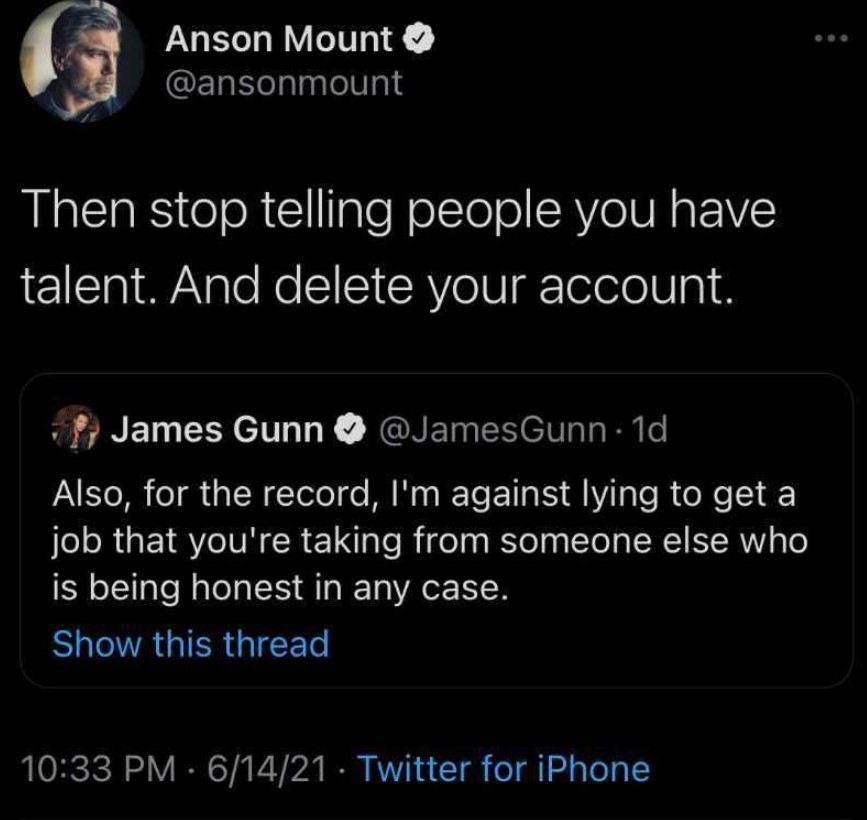 Well, James. It kinda shouldn't fuc*in' matter. Industry's use of "height" is shorthand for male dominance/ "masculinity" (particularly re: female counterparts). Here's a better idea: present US with your measurements when we walk through the door. We'll likely be underwhelmed. https://t.co/QMNS3levwa

— Anson Mount (@ansonmount) June 15, 2021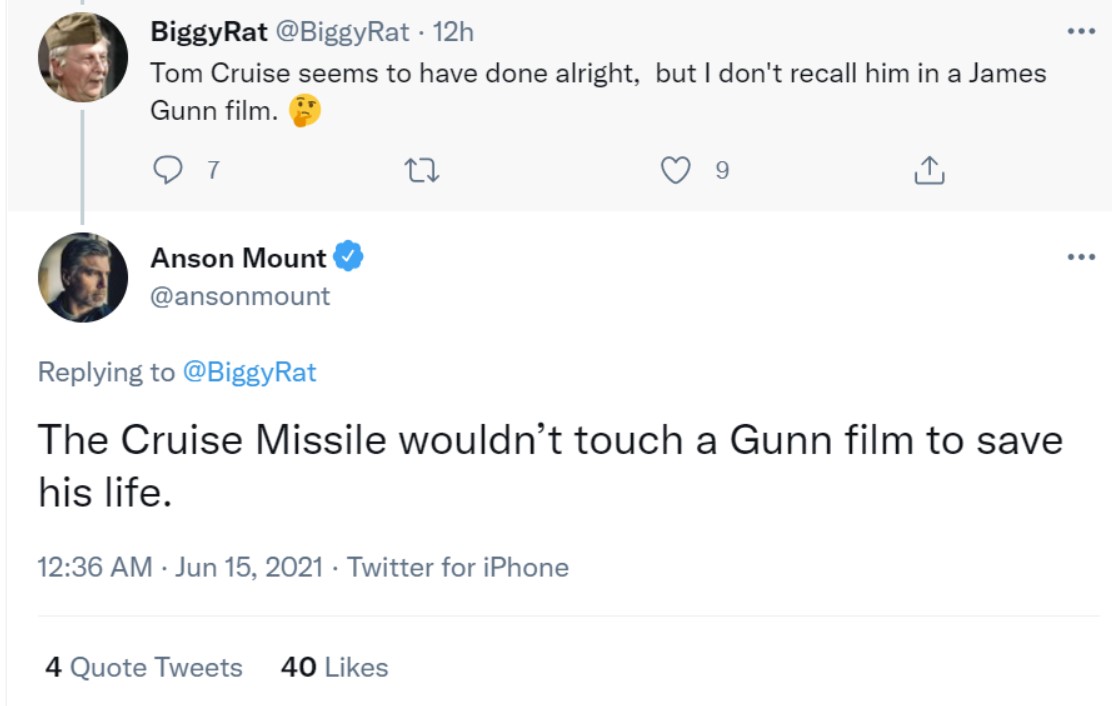 I don't know why this hit such a nerve, @ansonmount, but, as a director, it does matter, because when you're shooting two or more people the heights make a difference in how it's shot. And sometimes you are looking for height disparity or parity. It's about the storytelling. https://t.co/hsyhYUOPnp

— James Gunn (@JamesGunn) June 15, 2021
1. I believe with is important for members of the establishment (you and I) to recognize our position and entitlement. The small benefits we experience can also exist as walls or, at times, dismissive disinterest in those who are still struggling for a foothold in our industry…

— Anson Mount (@ansonmount) June 15, 2021
I can guarantee that should James, or anyone, snag Kevin Heart and Dwayne Johnson for the same film, they'd magically find a way to make it work.

— Anson Mount (@ansonmount) June 16, 2021
(via Bounding Into Comics)