James Gunn is back in the hot seat in regards to Twitter and tweets, this time about Gina Carano getting fired by Disney from The Mandalorian.
Recall Disney fired James Gunn back in 2018 over "indefensible" tweets that resurfaced which included topics about rape and pedophilia; however, following backlash from Gunn's Hollywood actors and friends, Disney decided to rehire Gunn, who was first hired by Warner Bros after getting fired.
So some fans are comparing the James Gunn situation to that of Gina Carano – though to be fair, Carano's social media posts are not anything similar to Gunn's – which has seen the director of Marvel's Guardians of the Galaxy films and DC's The Suicide Squad respond on social media.
Gunn happened to "like" a tweet that supported the firing of Gina Carano, which was covered by Fox News, which then saw Gunn "unlike" the tweet. Various conservative sites such as The Daily Wire have since covered the story.
To be fair, the tweet also mentioned not dragging Gunn into the Carano topic, so Gunn could have liked the tweet for that reason. Maybe.
James Gunn "likes" Gina Carano tweet: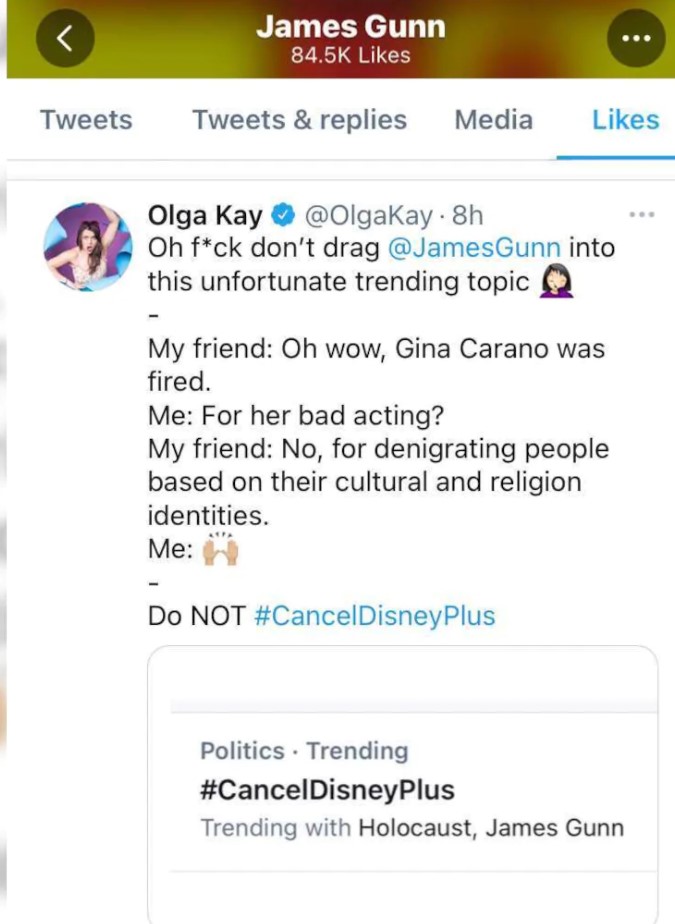 James Gunn called out
However, the owner of the Daily Wire, Ben Shapiro, who recently partnered with Carano on a new movie, has called out James Gunn and his friends on social media in that it would be nice to see Gunn defend Carano.
Just a reminder: Disney canned Carano for an overwrought Holocaust comparison. They brought back James Gunn despite these tweets. I defended both from cancellation. Would be nice to see Gunn and co. defend Carano. pic.twitter.com/ZiUyLPjmMG

— Ben Shapiro (@benshapiro) February 11, 2021