The Avengers: Infinity War will be here officially Thursday, but tonight sees the film's big Red Carpet premiere, which means spoilers could make their way online.
The Russo brothers took to social media once again to post a "Thanos Demands Your Silence" letter noting that Infinity War spoilers could land online.
"If you truly want to avoid spoilers until you avoid the film, we recommend you abstain from social media, and the internet in general, until you have an opportunity to get to the theater," the letter states.
I'll do my part to avoid Infinity War spoilers for everybody, and we will not be posting any spoilers in article titles.
I am seeing Infinity War Thursday night and will probably have an article online about my thoughts, but it will be clearly posted with a spoiler warning.
The previous "Thanos Demands Your Silence" letter from the Russo brothers actually teased The Avengers: Infinity War also has a secret plot, so I would do my best to avoid any sort of spoilers. I would even recommend going to the theater with ear buds in (seriously!) if you are going at a later time as some of the fans in the audience might be talking spoilers (it's happened to me before).
Here is the latest letter: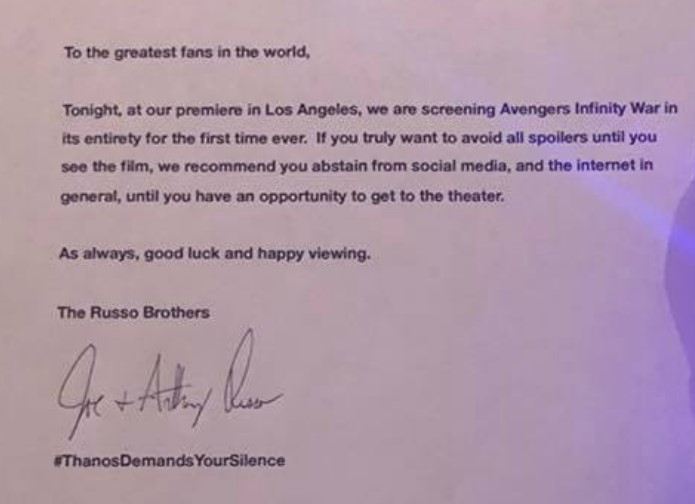 An unprecedented cinematic journey ten years in the making and spanning the entire Marvel Cinematic Universe, Marvel Studios' "Avengers: Infinity War" brings to the screen the ultimate, deadliest showdown of all time. The Avengers and their Super Hero allies must be willing to sacrifice all in an attempt to defeat the powerful Thanos before his blitz of devastation and ruin puts an end to the universe.
Anthony and Joe Russo direct the film, which is produced by Kevin Feige. Louis D'Esposito, Victoria Alonso, Michael Grillo and Stan Lee are the executive producers. Christopher Markus & Stephen McFeely wrote the screenplay. "Avengers: Infinity War" releases in U.S. theaters on April 27, 2018.