Thanos demands your silence puny Earthlings! That's right! The movie has a secret plot!
The Mad Titan has set a decree that none shall spoil The Avengers: Infinity War!
The Russo brothers posted a letter to the "greatest fans in the world" on social media, which asks fans not to spoiler Avengers: Infinity War.
Interestingly enough, the notice teases that the movie actually has some sort of secret plot?
"Only a handful of people know the film's true plot," the Thanos notice teases.
Obviously, we all know Thanos goes to Earth in search of the Infinity Stones, but is there more to it? I guess we'll have to watch the movie to find out!
"We're asking when you see Infinity War, in the coming months, that you maintain the same level of secrecy so that all fans can have an equal experience when they watch it for the first time," the notice continues. "Don't spoil it for others, the same way you wouldn't want it spoiled for you."
Spider-Man Tom Holland also took to Twitter to respond, "This letter was originally addressed to me."
The 21-year-old actor is known for dropping a spoiler or two in interviews (lol)!
Any ideas what The Avengers: Infinity War secret plot could be about?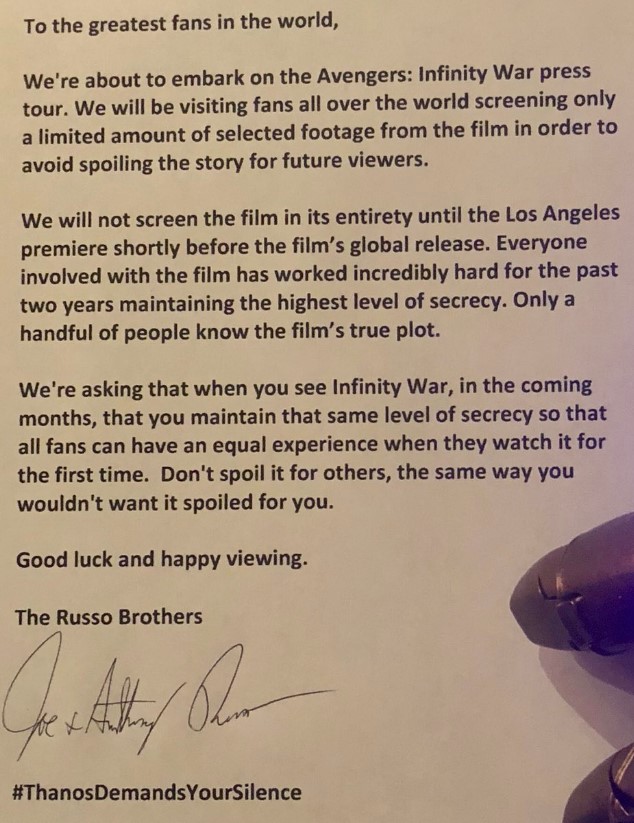 An unprecedented cinematic journey ten years in the making and spanning the entire Marvel Cinematic Universe, Marvel Studios' "Avengers: Infinity War" brings to the screen the ultimate, deadliest showdown of all time. The Avengers and their Super Hero allies must be willing to sacrifice all in an attempt to defeat the powerful Thanos before his blitz of devastation and ruin puts an end to the universe.
Anthony and Joe Russo direct the film, which is produced by Kevin Feige. Louis D'Esposito, Victoria Alonso, Michael Grillo and Stan Lee are the executive producers. Christopher Markus & Stephen McFeely wrote the screenplay. "Avengers: Infinity War" releases in U.S. theaters on April 27, 2018.