So what has Superman Henry Cavill been up to since the coronavirus scare has gone into effect? While the Man of Steel is cooking bread!
Henry Cavill, who has been forced to stop filming on The Witcher Season 2 due to the coronavirus, has some time on his hands and is an apparent baker.
"Isolation loaf," Cavill posted on Instagram Saturday.
The 36-year-old actor's manager, Dany Garcia, also commented, "Impressive."
Worth a mention is that Dany Garcia also happens to be the former wife and business partner to none other than Dwayne Johnson, and a producer on Shazam! and Black Adam — it's been rumored The Rock and company are attempting to keep Henry Cavill around as Superman.
Also worth a mention is that Cavill's co-star in The Witcher Season 2, Game of Thrones' Kristofer Hivju, has been diagnosed with the coronavirus, but it doesn't seem to have affected any of the rest of The Witcher cast, including Henry Cavill.
A fan chimed in rather fittingly in the comments: "The World needs Superman!!! More than ever!"
If you are looking for something to watch and haven't seen it yet, definitely check out Season 1 of The Witcher on Netflix.
Henry Cavill coronavirus update: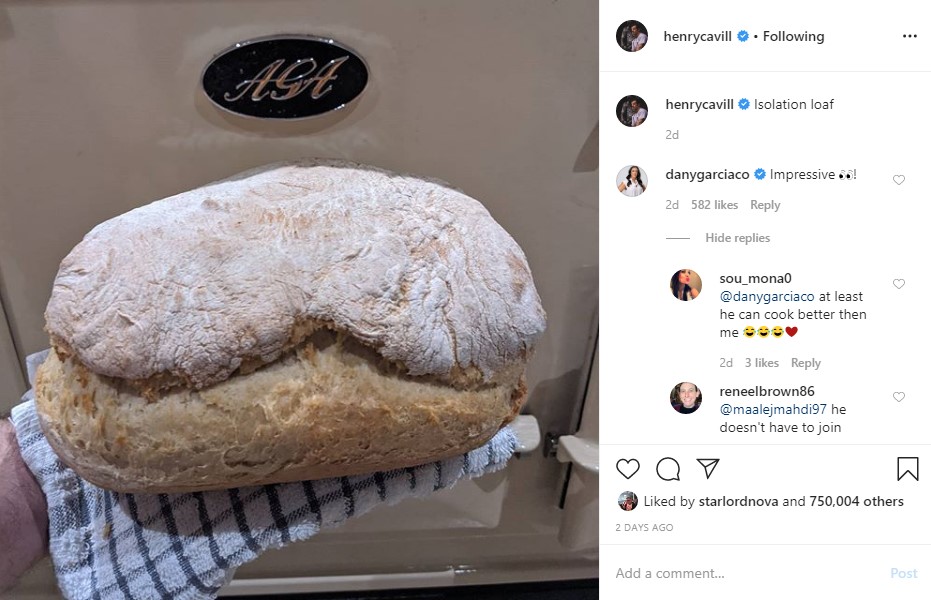 Kristofer Hivju coronavirus update: