Happy birthday to Henry Cavill who turns 37 years young today.
To celebrate, the Superman and The Witcher actor apparently made himself a birthday cake, as Henry Cavill posted a pic of a delicious-looking cake.
"Icing-olation," posted Henry Cavill on Instagram.
While in isolation, Henry has been keeping busy by baking things, as well as by modeling Warhammer items.
Henry Cavill birthday cake:
Henry Cavill baking in coronavirus isolation: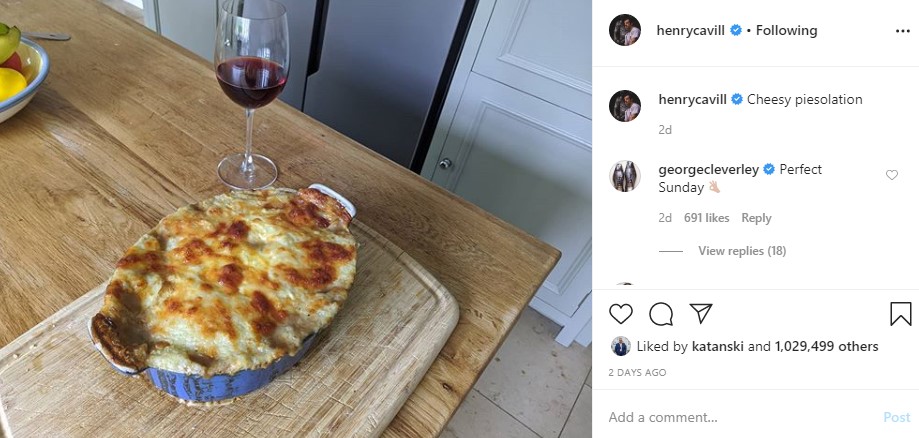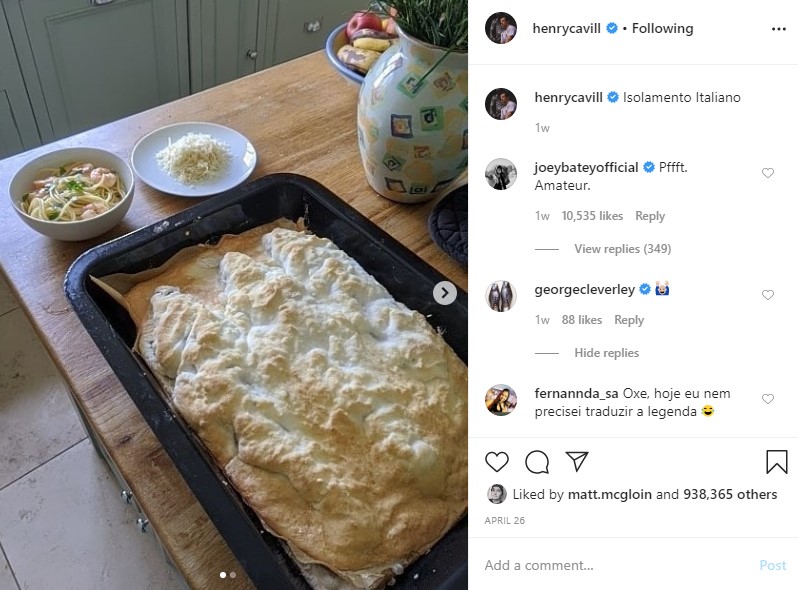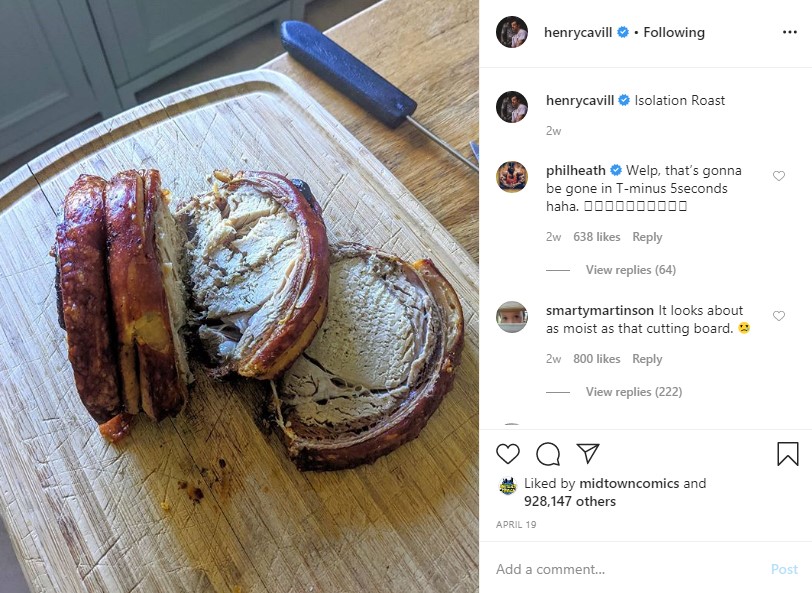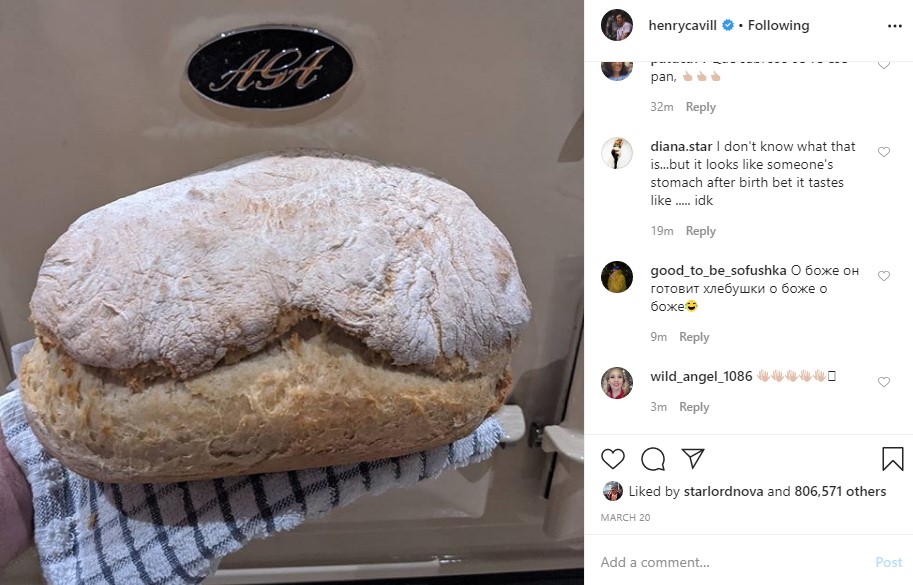 Zack Snyder posts Superman image on Vero:
Zack Snyder also wished his Man of Steel actor a happy birthday on the Vero app.
"Superman was born May 5, 1983… happy birthday Henry," said Snyder.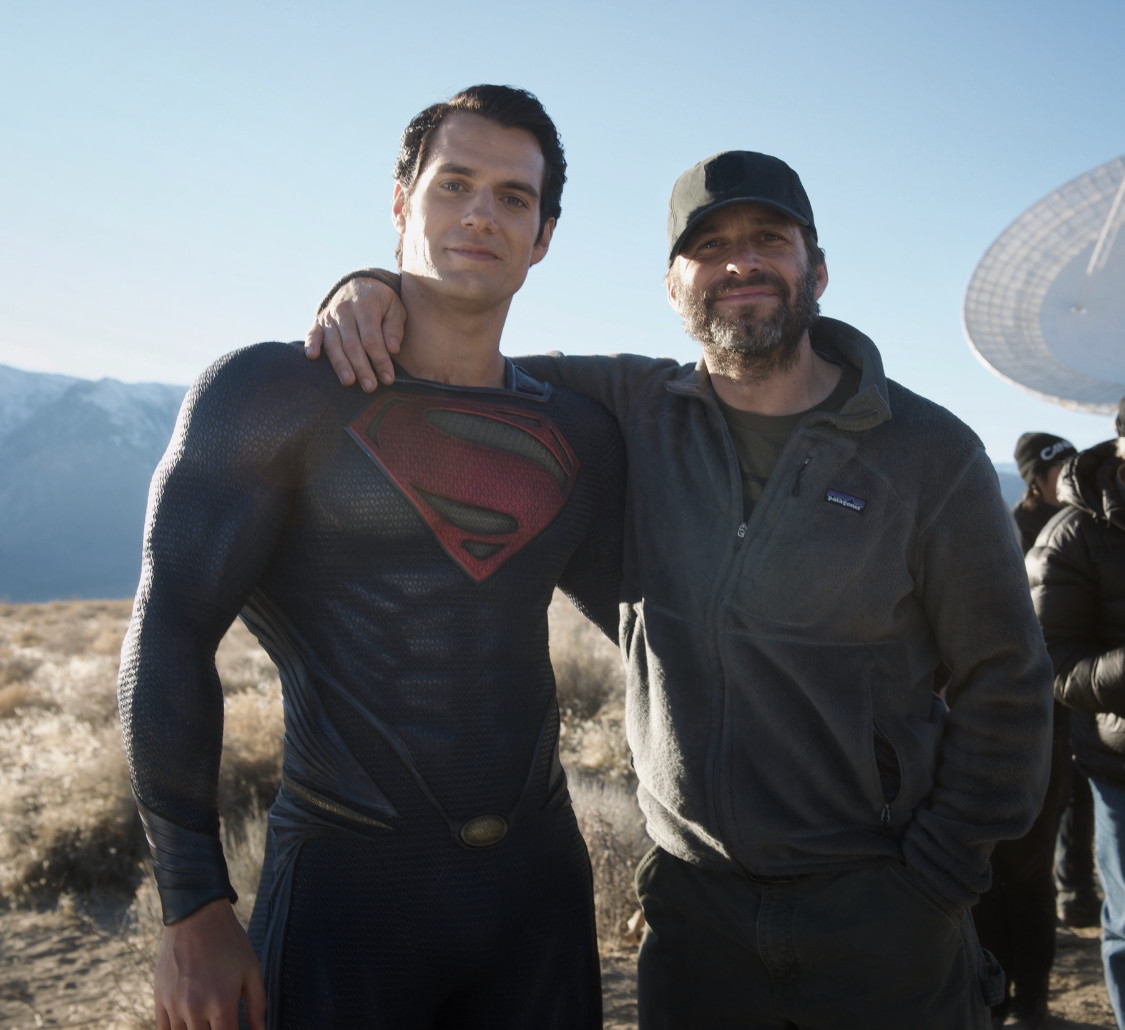 Guy Ritchie wishes the actor a happy birthday on social media:
Guy Ritchie, who directed Henry Cavill in The Man from U.N.C.L.E., posted the following video on Twitter:
Fans also wish Henry Cavill a happy birthday:
Wishing Henry Cavill a very Happy Birthday! pic.twitter.com/D6POtzZWN6

— Justice League Movie (@justiceleaguewb) May 5, 2020
Happy Birthday to our Man of Steel, #HenryCavill! If you could have any one of Superman's powers, which one would you choose? pic.twitter.com/M6Z17Ol91S

— Legendary (@Legendary) May 5, 2020
Happy Birthday to #HenryCavill who turns 37 years old today!—- pic.twitter.com/anqDEeYH3w

— Geeks + Gamers (@GeeksGamersCom) May 5, 2020
Pass it on if you want Henry Cavill to continue to play Superman. pic.twitter.com/MLPG0Qw2uS

— Movies That Maher w The Viking (@MovieBuff100) May 5, 2020
We wish the happiest of birthdays to our Superman, Henry Cavill. #ReleaseTheSnyderCut pic.twitter.com/aavuj8FeEq

— ReleaseTheSnyderCut (@RTSnyderCut) May 5, 2020
Charles Brandon. Theseus. Napoleon Solo. August Walker. Geralt of Rivia. Sherlock Holmes. Clark Joseph Kent. Superman.

Happy Birthday to the love of my life & one of my favorite actors today, Henry Cavill. pic.twitter.com/ISWQbXpbQ9

— Jesabel (@JesabelRaay) May 5, 2020
Henry Cavill's birthday appreciation post as the man of steel turns 37 years old today pic.twitter.com/xz3taR01PG

— David (@thedaviddoes) May 5, 2020
Happy Birthday 2 my pal #henrycavill who has bn self isolatin & bakin his own cake,I hope he saves me a slice.I normally see around this time of year @thedurrellchallenge but that has been delayed until September so until then I will save ur card & gift,high 5s Henry & c u soon K pic.twitter.com/z1ntGQ5p90

— Rewilding With Keir (@KeirWith) May 5, 2020
in honour of henry cavill's birthday i'd like to bring this iconic moment back pic.twitter.com/lrMcmYKyKL

— brandon ʬ⁸⁴ 101 (@clarksleague) May 5, 2020
Wishing Henry Cavill a great birthday! pic.twitter.com/BeWCPzDbmZ

— The Man From UNCLE (@ManFromUNCLE) May 5, 2020