The Hellraiser reboot has found its Pinhead with transgender actress Jamie Clayton who is known for The Wachowski's Sense8, and it's also confirmed the flick will be released on Hulu. 
Clayton confirmed the news on Instagram with an image of herself holding the enigmatic puzzle box.
"Demons to some. Angels to others. #Hellraiser," she posted.
Doug Bradley played the original Pinhead, but since it's woke Hollywood we are talking about here, they have decided to recast and go with a female version. To be honest, I liked Clayton in Sense8 a lot, so I'm curious how her Pinhead is coming to come off. It could actually come off pretty horrific if they do it right. And obviously, this movie would be a huge bust at the box office, hence why it's getting released on streaming, so basically it's "free."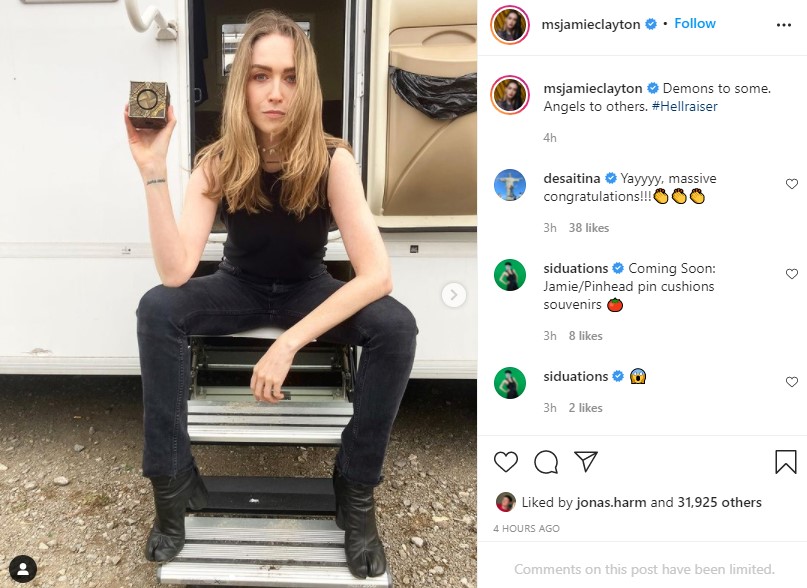 Clive Barker excited for Hellraiser reboot
Additional details about the Hellraiser reboot include it will star Grand Army actress Odessa A'zion, with the additional cast including Brandon Flynn (13 Reasons Why, Ratched) Goran Visnjic (The Boys, ER) Drew Starkey (Outer Banks, Love, Simon) Adam Faison (Everything's Gonna Be Okay, Into the Dark), Aoife Hinds (Normal People, Anne Boleyn), Selina Lo (Boss Level) and Hiam Abbass (Blade Runner 2049, Succession).
David S. Goyer, known for The Dark Knight Trilogy and Man of Steel, wrote the story and is on board as a producer along with the original creator Clive Barker, with Keith Levine.
David Bruckner is the director, with Ben Collins and Luke Piotrowski (The Night House, Super Dark Times) having written the script.
Peter Oillataguerre, President of Production for Spyglass, said in a statement, "Next year marks the 35th anniversary since Hellraiser first haunted our dreams. It's only fitting to come full circle in collaborating with Clive, the original creator and master of visionary horror. We look forward to working with our partners at Hulu in bringing this unique take on the original to new audiences."
Bruckner added, "It's been such an honor to have Clive onboard to help support and shepherd us through the incredible universe he created so long ago. Combined with a fearless and committed cast, including the amazing Jamie Clayton, who fully embodies the role as the Hell Priest, we're aiming to create a very special new chapter in the Hellraiser legacy."
Goyer said in a statement, "From the moment I first read The Hellbound Heart, Clive Barker became one of my literary heroes. His work is transgressive and completely redefined the horror genre. Under the guiding hand of David Bruckner, we're going back to the source and taking our inspiration from that original novella."
Barker said, "Having seen some of the designs from David Bruckner's new Hellraiser film, they pay homage to what the first film created, but then take it to places it's never been before. This is a Hellraiser on a scale that I simply didn't expect. David and his team are steeped in the story's mythology, but what excites me is their desire to honor the original even as they revolutionize it for a new generation."
(via Deadline)