We get a full look at Kate Bishop concept art from the upcoming Marvel Disney Plus live-action Hawkeye series set to star Jeremy Renner.
The art was first revealed last year, but now Marvel's Andy Park reveals the full look, which includes Kate Bishop in a purple suit with bandages on her face and shoulder.
"I hear some people are having MCU withdrawals. I feel ya. Waiting is tough I know! Here's a little something- a concept design illustration I did for the upcoming Hawkeye @disneyplus show. This was seen on the 'Expanding the Universe' featurette on Disney+ #hawkeye #katebishop," Park tweeted Monday.
Kate Bishop Hawkeye concept art: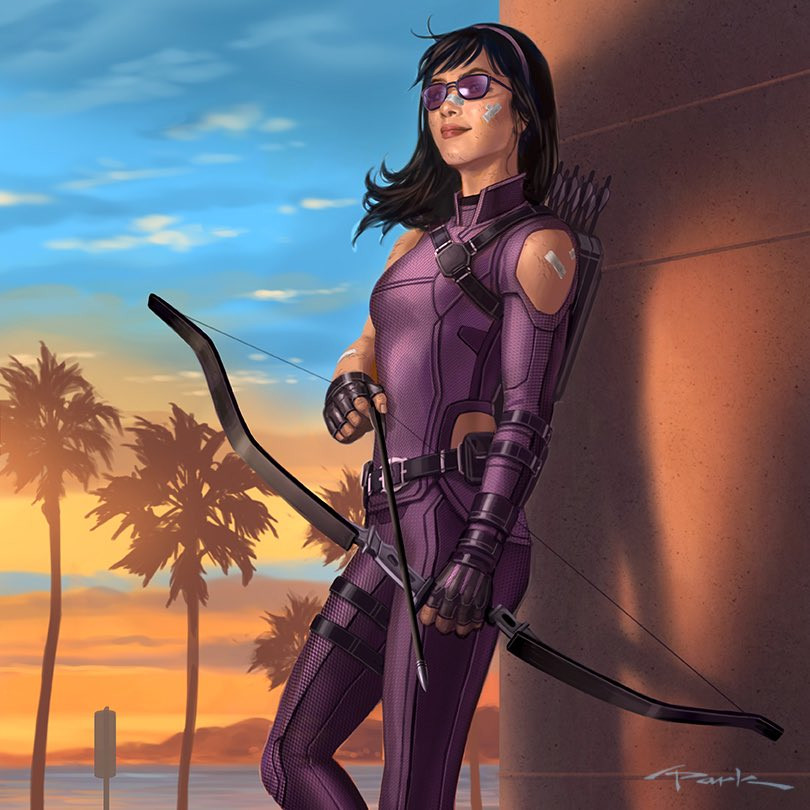 Waiting for the Marvel Disney Plus shows is tough
Regarding how "waiting is tough," it has recently been announced that The Falcon and the Winter Soldier has been indefinitely delayed due to fears surrounding the coronavirus having stopped filming. The series was supposed to debut in August but has been pushed back to an unspecified date.
Regarding who is playing Kate Bishop is unknown, but Hailee Steinfeld's name has been come up a few times. While she is rumored for the role, at the same time the actress has stated numerous times that she doesn't know anything about it.
Check out the additional concept art below.
In the comics, Kate Bishop replaces Hawkeye and also uses Mockingbird's battle staves and Black Widow's utility belt. Kate was born into a life of privilege and luxury and is heir to the Bishop fortune.
The series has been described as: Jeremy Renner will resume his role as Clint Barton alias Hawkeye in this new Marvel series in which will also find another character well known to fans of Marvel comics, Kate Bishop.
Hawkeye Jeremy Renner and Kate Bishop concept art images: