The official title for Ghostbusters 3 looks to be revealed with news of a trailer coming soon as "Afterlife" is listed.
The British Board of Film Classification has classified a new trailer where the title is shown to be Ghostbusters: Afterlife.
More than likely the 2m 28s trailer was supposed to release the title, but we see Sony marketing dropped the ball.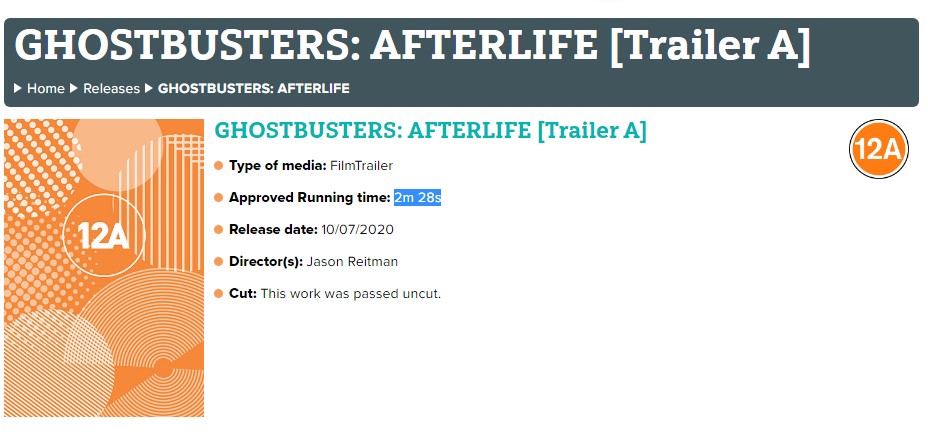 Ghostbusters: Afterlife, an appropriate title
Regarding the title, it seems rather appropriate as it follows the original Ghostbusters film from 1984 and its sequel from 1989; the flick has nothing to do with the female version from 2016.
Interestingly enough, at one time a version of the script had Bill Murray playing the ghost of himself, Dr. Peter Venkman, which fits with the title, so it will be interesting to see if that sticks in some form.
The director of the film also happens to be the son of original director Ivan Reitman with Jason Reitman.
The cast includes original actors Bill Murray, Dan Aykroyd, Ernie Hudson and Sigourney Weaver.
Newcomers include Carrie Coon (The Leftovers), Finn Wolfhard (Stranger Things), and Mckenna Grace (Captain Marvel) who are thought to be the family of one of the original characters, possibly Harold Ramis' Egon or Murray's Venkman.
Ghostbusters: Afterlife gets released July 10, 2020.
Watch the first teaser from earlier in the year: