Star Wars creator George Lucas meets Baby Yoda on the set of The Mandalorian Season 2 for Disney Plus in a behind-the-scenes image.
The Mandalorian creator and executive producer Jon Favreau shared the image on Instagram which sees George Lucas holding Baby Yoda.
Fans immediately reacted with overwhelming support. See below.
George Lucas created Yoda for the 1980 film Star Wars: The Empire Strikes Back, voiced by the legendary Frank Oz, which saw Luke told by Ben Kenobi to go find and train with Jedi Master Yoda on the planet Dagobah. There, Luke would find an annoying little green creature who turns out to be one of the most powerful Force users and Jedi of all time.
Regarding Baby Yoda, not much is known about the new character, as George Lucas has never revealed the origin of Yoda or his species, so it remains to be seen how far Jon Favreau goes with Baby Yoda and its own origin. The Mandalorian Season 1 did reveal Baby Yoda to be 50 years old, so it seems the species ages at a much slower rate than humans. Baby Yoda has also been shown to be a Force user, as "The Child" can move objects, Force choke, and as shown prior to the premiere of The Rise of Skywalker also has the capability of Force healing. What remains to be seen is if Baby Yoda is a "child" of the Light Side of The Force or the Dark Side — or something else entirely.
Baby Yoda toys are also coming later this year.
The Mandalorian Season 2 debuts this Fall on Disney Plus.
George Lucas and Baby Yoda on set of The Mandalorian Season 2: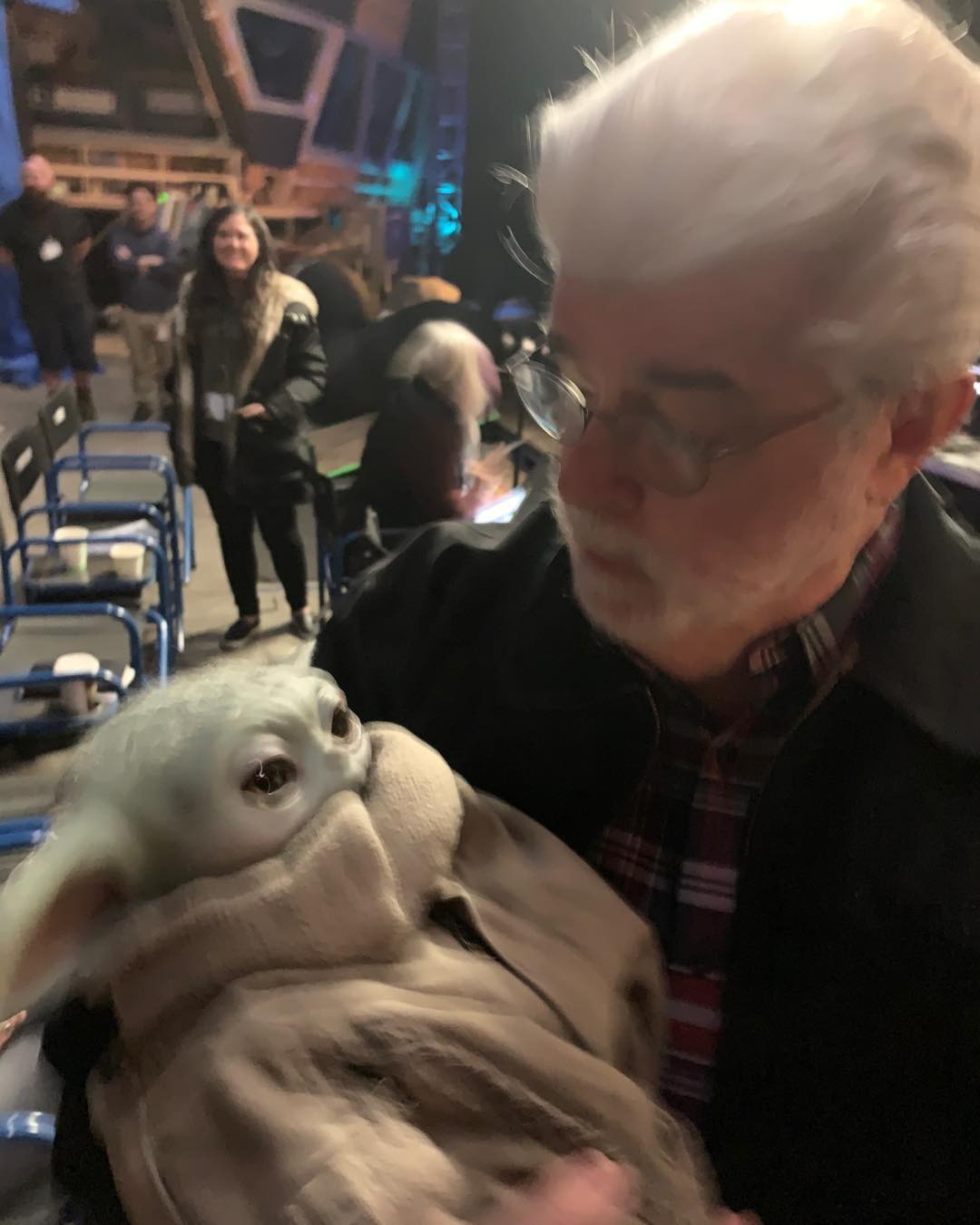 Fans react to George Lucas with Baby Yoda:
"Yesss," one fan replied in the comments.
"Grandpa," said another.
"Ahhhhhh cute," added another Star Wars fan.
"Dada?" commented a fan.
"This is, perfect," remarked a fan.
"This is the best picture ever," said a fan.
"Omggggg the maker!" a fan remarked about seeing George Lucas.
"The picture we all needed," someone stated.
"Jon, you're a god for taking this pic," another fan responded to Favreau.
"This has the same energy as a grandma taking a photo of her husband with a newborn," said another about the George Lucas and Baby Yoda image.