During the Warner Bros. presentation, the new Game of Thrones prequel series Knight Of Seven Kingdoms: The Hedge Night, was announced for a series order which is based on George R.R. Martin's Dunk & Egg novellas.
The details include the Knight Of Seven Kingdoms: The Hedge Night, prequel series is written and executive produced by Martin and Ira Parker, with House of the Dragon co-creator, executive producer, and showrunner Ryan Condal serving as executive producer along with Vince Gerardis.
"A century before the events of Game of Thrones, two unlikely heroes wandered Westeros… a young, naïve but courageous knight, Ser Duncan the Tall, and his diminutive squire, Egg," states the official logline description. "Set in an age when the Targaryen line still holds the Iron Throne and the memory of the last dragon has not yet passed from living memory, great destinies, powerful foes, and dangerous exploits all await these improbable and incomparable friends."
A century before @GameofThrones, there was Ser Duncan the Tall and his squire, Egg.

Executive produced by George R. R. Martin, Ira Parker, Ryan Condal, and Vince Gerardis, A Knight of the #SevenKingdoms: The Hedge Knight has received a straight to series order. #StreamOnMax pic.twitter.com/MRPUke5Upt

— HBO Max (@hbomax) April 12, 2023
Filming on House of the Dragon Season 2 is also underway.
It's time to return to King's Landing.
Season 2 of #HouseoftheDragon is now in production. pic.twitter.com/lGSQSq6oK9

— House of the Dragon (@HouseofDragon) April 11, 2023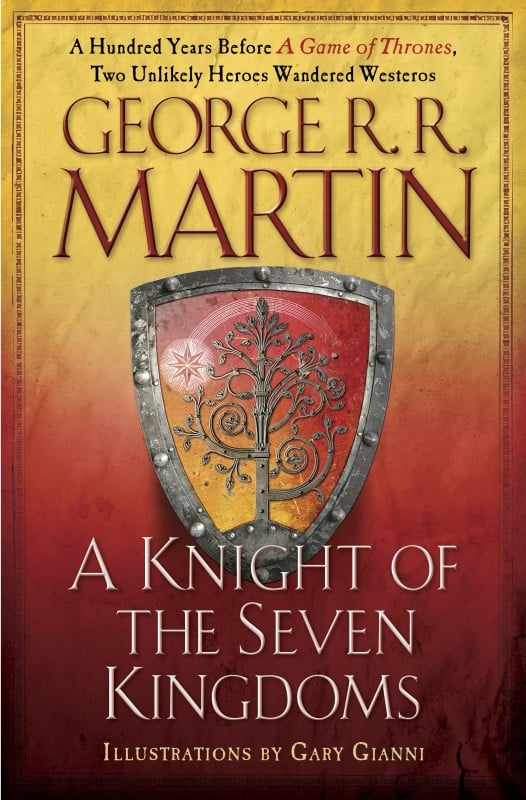 When the Targaryens still sat the Iron Throne
Back in 2015, Martin explained a new published collection on his blog.
"This will be the first collection of the three Dunk & Egg novellas that I have published to date: 'The Hedge Knight' (originally published in Robert Silverberg's anthology LEGENDS), 'The Sworn Sword' (from LEGENDS II), and 'The Mystery Knight' (from the anthology WARRIORS, edited by Gardner Dozois and yours truly). All together in one place for the first time, so you no longer need to track down three separate (and in some cases, out of print) books," said Martin.
"For those of you who have yet to make the acquaintance of Dunk & Egg… these are stories set in Westeros about ninety years before the opening of A GAME OF THRONES, when the Targaryens still sat the Iron Throne.. They chronicle the adventures of the hedge knight called Ser Duncan the Tall and his young squire Egg as they travel across the Seven Kingdoms," wrote Martin. "And yes, before those of you from other lands across the sea speak up, it is true that the book has already been published in a dozen other languages. That's because we wanted to do something rather special with the English-language editions, but many of my foreign publishers were not willing to wait."