Warner Bros. has moved up the Dune Part 2 release date by two weeks, this is after already delaying the movie by four months.
Dune Part 2 will now be released on March 1 instead of March 15, 2024; the original release date was Nov. 3, 2023.
The reason for the initial delay was because of the strikes as reportedly Warner Bros. wanted to wait until the actors could promote the film. Now that the strikes are over, the actors are allowed to promote their various projects.
A number of films have also been delayed because the strikes either halted production or delayed filming, so with Dune Part 2 complete, it appears as if Warner Bros. is eager to release the sequel.
The first Dune is also now available on Netflix, so likely there are even more eyeballs on the film which hopefully will benefit the sequel. Another bonus is that WB gets the licensing money from Netflix, so there is even more revenue.
The first flick is great, so let's hope the sequel is even better.
Dune brought in $402 million back in 2021.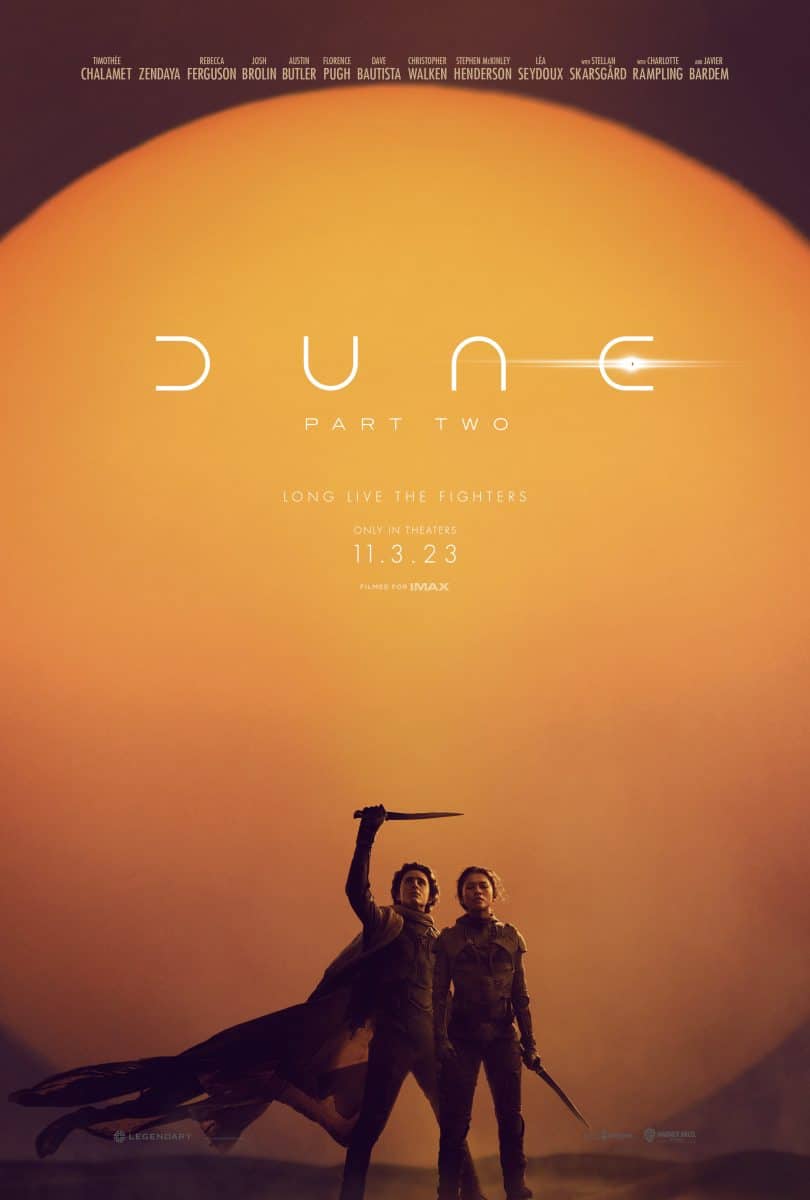 What is Dune Part 2 about?
The official synopsis offers: The saga continues as award-winning filmmaker Denis Villeneuve embarks on "Dune: Part Two," the next chapter of Frank Herbert's celebrated novel Dune, with an expanded all-star international ensemble cast. The film, from Warner Bros. Pictures and Legendary Pictures, is the highly anticipated follow-up to 2021's six-time Academy Award-winning "Dune."
"Dune: Part Two" will explore the mythic journey of Paul Atreides as he unites with Chani and the Fremen while on a warpath of revenge against the conspirators who destroyed his family. Facing a choice between the love of his life and the fate of the known universe, he endeavors to prevent a terrible future only he can foresee.
Starring in the film includes Oscar nominee Timothée Chalamet ("Wonka," "Call Me by Your Name"), Zendaya ("Spider-Man: No Way Home," "Malcolm & Marie," "Euphoria"), Rebecca Ferguson ("Mission: Impossible – Dead Reckoning"), Oscar nominee Josh Brolin ("Avengers: End Game," "Milk"), Oscar nominee Austin Butler ("Elvis," "Once Upon A Time…In Hollywood"), Oscar nominee Florence Pugh ("Black Widow," "Little Women"), Dave Bautista (the "Guardians of the Galaxy" films, "Thor: Love and Thunder"), Oscar winner Christopher Walken ("The Deer Hunter," "Hairspray"), Stephen McKinley Henderson ("Fences," "Lady Bird"), Léa Seydoux (the "James Bond" franchise and "Crimes of the Future"), with Stellan Skarsgård (the "Mamma Mia!" films, "Avengers: Age of Ultron"), with Oscar nominee Charlotte Rampling ("45 Years," "Assassin's Creed"), and Oscar winner Javier Bardem ("No Country for Old Men," "Being the Ricardos").