President Donald Trump has announced the launch of his own NFT digital trading cards.
"MAJOR ANNOUNCEMENT! My official Donald Trump Digital Trading Card collection is here!" posted Trump on Truth Social. "These limited edition cards feature amazing ART of my Life & Career! Collect all of your favorite Trump Digital Trading Cards, very much like a baseball card, but hopefully much more exciting. Go to collecttrumpcards.com/ & GET YOUR CARDS NOW! Only $99 each! Would make a great Christmas gift. Don't Wait. They will be gone, I believe, very quickly!"
Upon visiting the site, you can watch a video featuring Donald Trump where it's learned purchasing a trading card will enter you into a sweepstakes with all kinds of prizes and if you purchase 45 of them (Trump is the 45th president) you automatically win and are guaranteed at a later date to attend a dinner with Trump.
"Hello everyone this is Donald Trump. Hopefully, your favorite president of all time… I'm doing my first official Donald J Trump NFT collection right here and right now," says the president in the video. "They're called Trump Digital Trading Cards. These cards feature some of the really incredible artwork pertaining to my life and my career. It's been very exciting."
Trump continues, "You can collect your Trump digital cards just like a baseball card or other collectibles. Here's one of the best parts, each card comes with an automatic chance to win amazing prizes like dinner with me… or golf with you and a group of your friends at one of my beautiful golf courses…"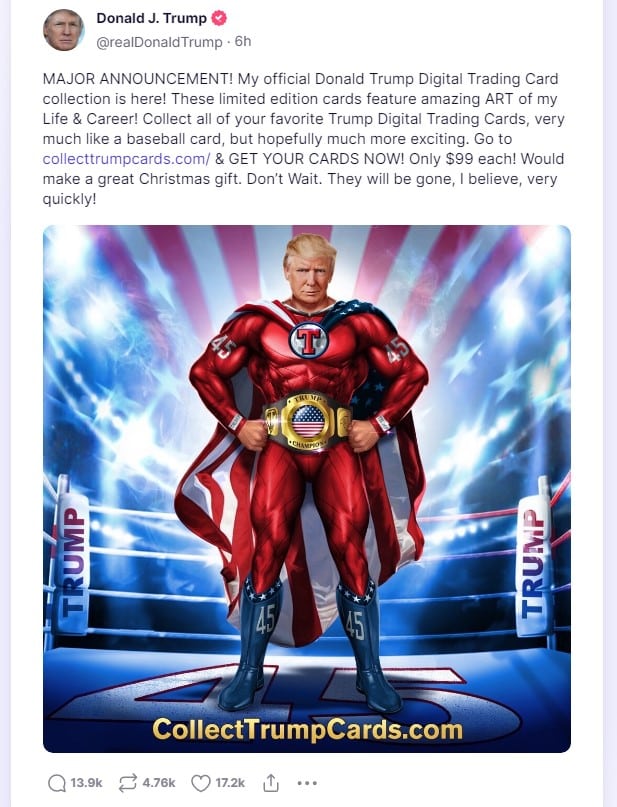 Donald Trump NFTs come with sweepstakes entry
Additional prizes include a Miami Dinner with Trump, a Mar-A-Lago Group Cocktail Hour, a one-on-one meeting, a zoom call, hand-signed memorabilia, and more.
NFTs are non-fungible tokens where ownership can be verified on the blockchain. Both Marvel and DC have NFTs, as do a lot of sports teams and organizations.
"They also make perfect gifts. So you can buy them with your credit card or crypto. All you need is an email address. Remember, Christmas is coming, and this makes a great Christmas gift," says Trump who recently announced his presidential campaign for a White House bid in 2024.
How many Trump NFTs are there?
There are 45,000 Trump NFTs being released. Here are some examples: