Cartamundi Group, the worldwide leader in playing cards, and Warner Bros. Consumer Products are excited to launch a new collection of DC Hybrid NFT Trading Cards by Hro exclusively at San Diego Comic-Con 2022.
The first series launched in March.
This latest series features fan-favorite events that have defined the DC Multiverse throughout its history, inviting fans to explore the characters, settings, and storylines that have entertained generations and been the talk of convention room floors year after year.
"Cartamundi is excited to further build the Hro brand alongside Warner Bros. Consumer Products with this extension of our breakthrough series of DC Hybrid NFT Trading Cards by Hro," said Tricia Bouras, Cartamundi EVP North America Retail and Industry. "Being able to engage with our community by celebrating historic DC events at a historic event like San Diego Comic-Con through this new line of cards and with the most dedicated fans attending from all around the world will be a very rewarding experience."
As the line of DC Hybrid Trading Cards by Hro continues to evolve, this exclusive series, called the "Events Collection," will feature premium packaging and bring forward artwork from some of the most memorable storylines in DC's history. With the opportunity to purchase flowpacks on-site at Comic-Con, fans will have an increased likelihood of obtaining a Mythic Card, nearly ten times more likely to be found in this newest series compared to the Chapter 1 "Unlock the Multiverse" hybrid collection.
Also, exclusively available in this series is the chance to obtain cards that create full panoramic triptychs, each one made up of three distinct cards that reveal singular images of historic, fan-favorite comic covers from the DC Multiverse. The complete Events Collection, comprised of 18 cards, is the most exclusive Hro Hybrid Trading Card collection produced with less than 35,000 packs available, which is about 5% of the amount of Chapter 1 cards produced.
Consumers can purchase the new Events Collection of DC Hybrid Trading Cards by Hro exclusively at Comic-Con in San Diego July 21-24 at the Hro booth #4014.
Flowpacks cost $25, and each pack will contain five cards (there will be a 10-pack purchase limit per customer). And for fans not able to attend San Diego Comic-Con in person, the Hro app will continue to act as a platform that blends the physical and digital worlds, giving users the chance to collect, trade, and buy this new premium series of cards on the secondary market alongside the Chapter 1 hybrid collection and the digital-only drops that have taken place throughout 2022.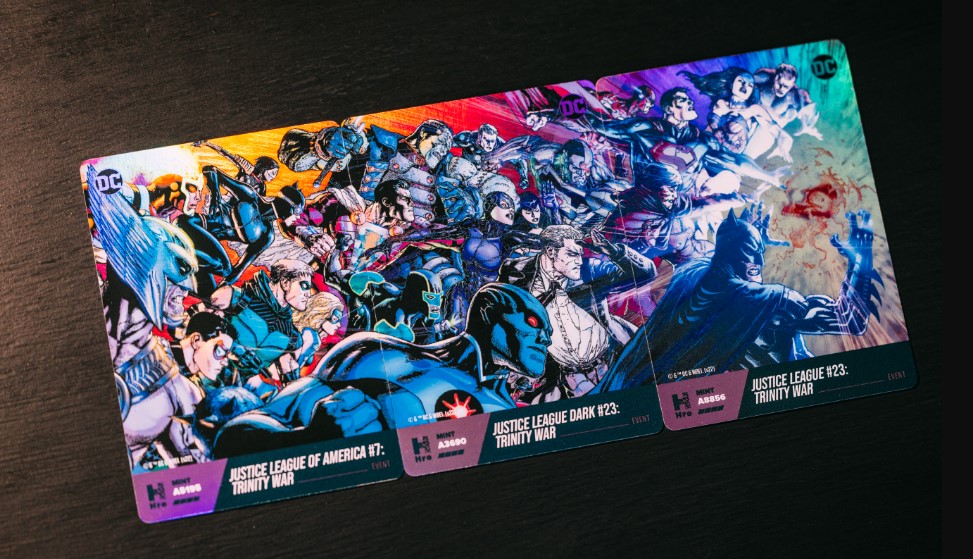 Hro at Comic-Con: