The DC FanDome schedule has been released which kicks off with the Wonder Woman 1984 panel, includes Batman, the Snyder Cut of the Justice League movie, Superman, and loads more.
Fans can head on over to DC's interactive website where they can build their own schedule.
I did a quick schedule, which can be found below and includes all the times in the order of the various panels I am interested in. I do believe most of the panels are pre-recorded, so if some of the panels start at the same time or overlap, there shouldn't be any problems viewing them.
A couple of surprises listed includes mention that the Suicide Squad video game is indeed Suicide Squad: Kill The Justice League, which leaked online earlier, and the Tyler Hoechlin and Elizabeth Tulloch Superman & Lois series will also have a panel. There also happens to be a "Surprise DC Comics" panel which should be interesting considering the recent news of the "DC Bloodbath."
Find the official announcement below.
DC FanDome takes place online starting Saturday, Aug. 22 at 1 pm ET.
Cosmic Book News DC FanDome Schedule: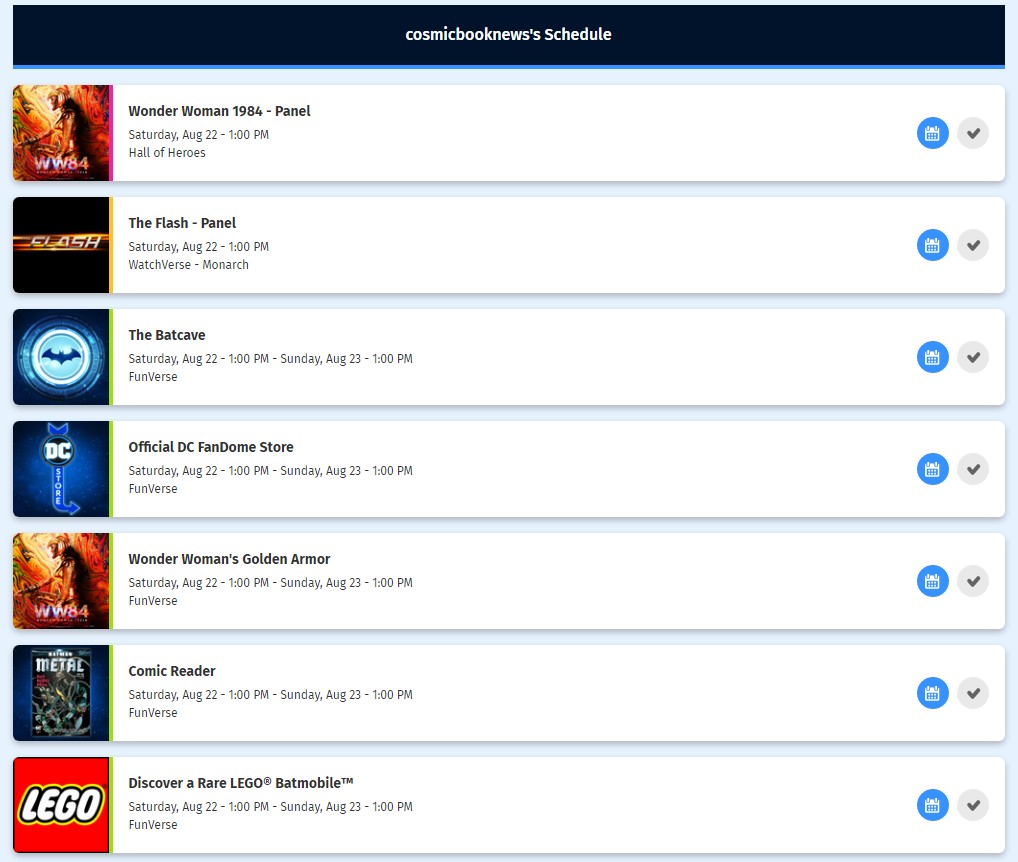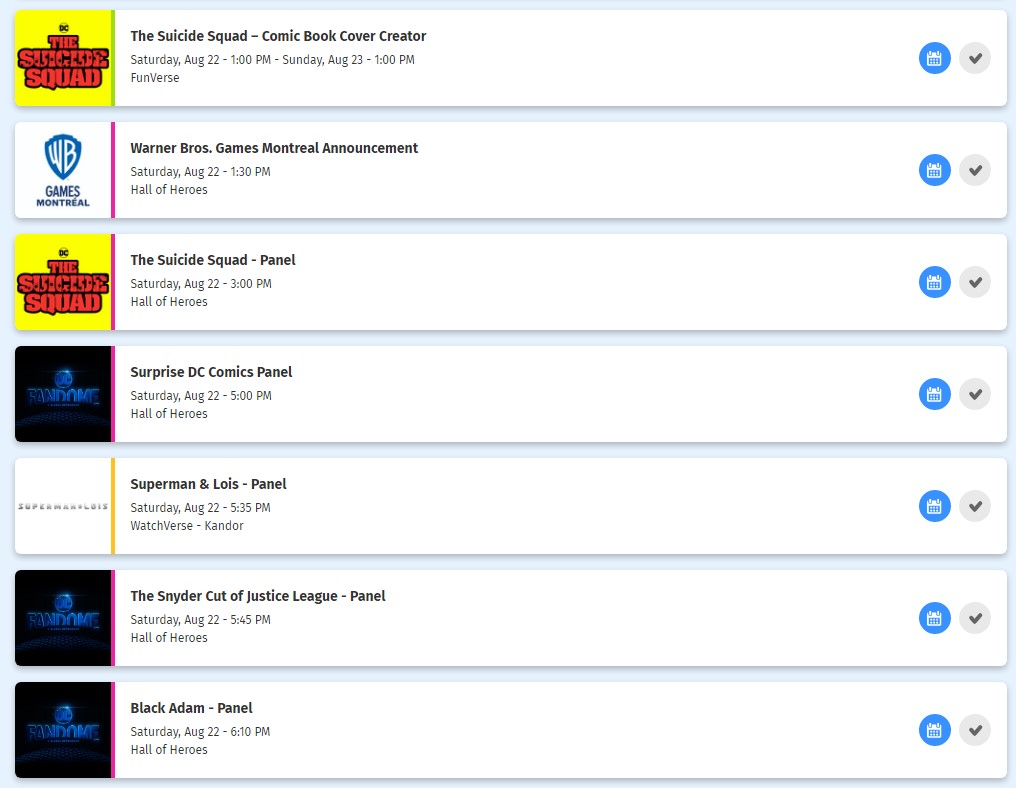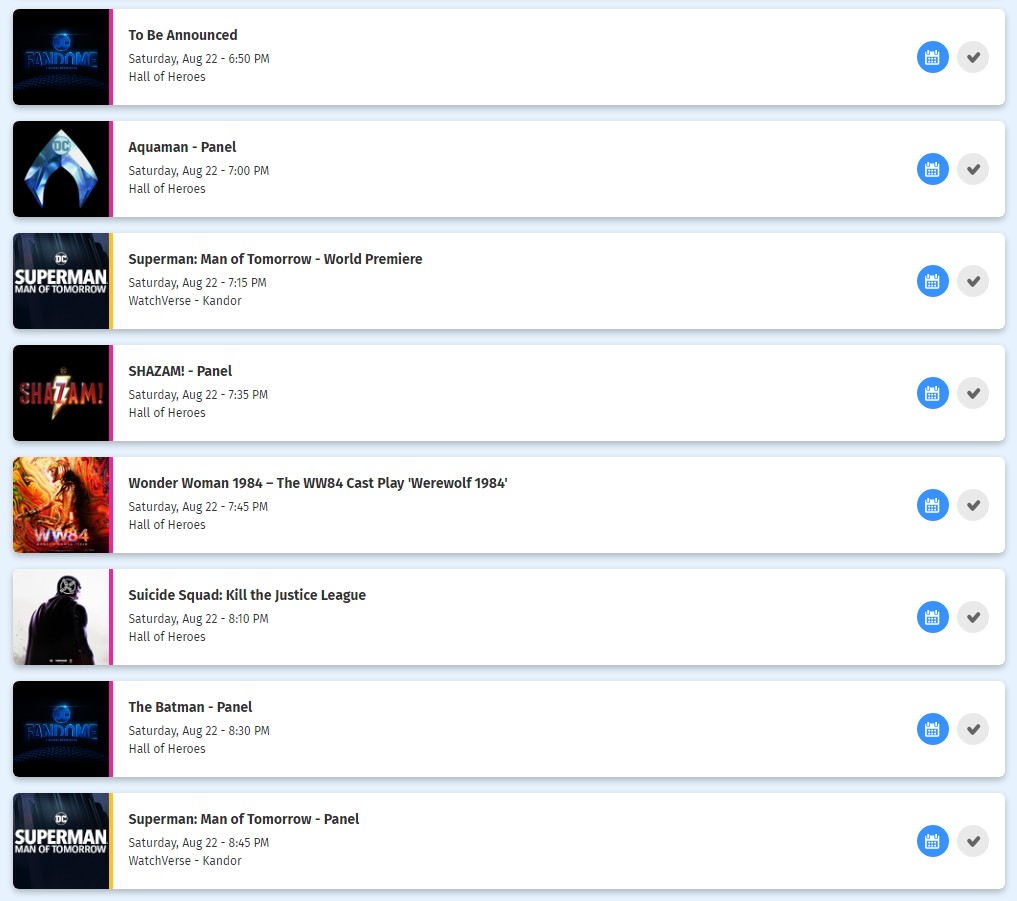 Press Release
Start Building Your DC FanDome Schedule Today
The DC FanDome scheduled has been released! I repeat, THE DC FANDOME SCHEDULE HAS BEEN RELEASED!!
If you haven't yet seen it, we suggest heading on over to https://schedule.DCFanDome.com right now and checking it out. Whether you're a fan of DC's movies, comics, TV shows, games, animated series and movies, or some other far-reaching corner of the DC Multiverse, you will find plenty to see and do happening all throughout the virtual event.
With magic to rival Zatanna, we have folded over 100 hours of unique content into a 24-hour window. We think you will find a lot that interests you, so you'll probably want to start planning out your schedule now. Fortunately, you can do just that—and add your unique personal schedule to your favorite calendar app—by using our DC FanDome Schedule Builder. Learn how the Schedule Builder works and get answers to any questions you might have in our DC FanDome Schedule FAQs.
No matter what you wind up seeing and doing on August 22nd, you're sure to have a great time. We'll see you there, DC fans!