Following having been cast in the upcoming Marvel Studios Black Widow movie, David Harbour mentioned that it was a "thing" he was doing, which led to speculation that the Stranger Things actor might be playing Ben Grimm, aka The Thing, who is a member of the Fantastic Four.
Interestingly enough, while taking part in Wired's "Answer the Web's Most Searched Questions" promo, David Harbour doesn't specifically shoot down the rumor.
Winona Ryder reveals the question that states: "Is David Harbour playing The Thing?"
Harbour shakes his head and laughs, "The Thing is like a character in comic books. So there were all these speculations that was what I was playing. I'm not allowed to say anything about this particular film I'm doing, but… I play lots of things. I just used the word 'thing' in my vocabulary a lot."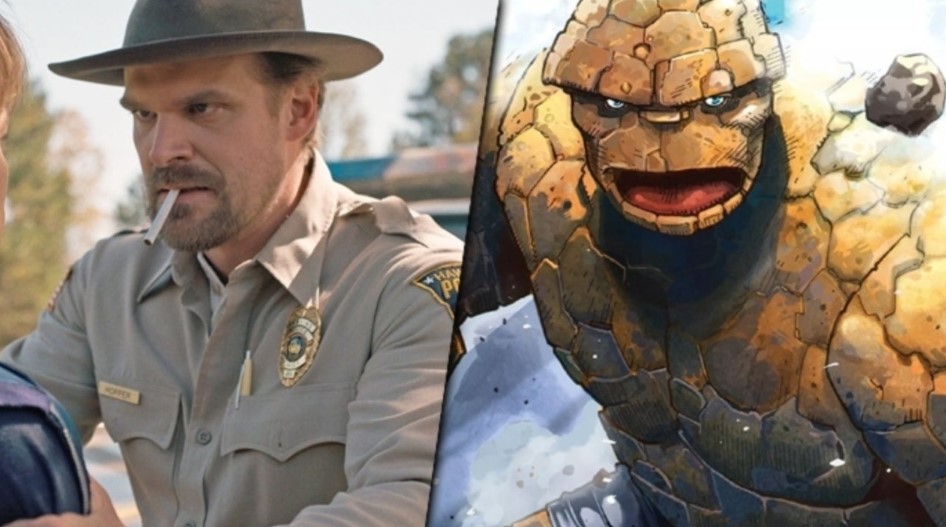 Is David Harbour playing The Thing?
Regarding the theory about David Harbour playing The Thing, since the Disney Fox deal is now complete and the Fantastic Four is at Marvel, it's thought that Ben Grimm may be introduced in the Black Widow prequel movie, which would be a way of saying that the character has already been a part of the MCU, and then later on as The Thing in a Fantastic Four MCU flick.
Admittedly, it does seem like a stretch, but at least Harbour didn't exactly shoot down the notion of playing The Thing, and it is also interesting that he is well aware of The Thing rumor. There is also no doubt he would probably make a pretty good Ben Grimm and The Thing if true.
(via YouTube)