By now everyone is aware of the recent news that James Gunn has been fired by Disney for tweets that resurfaced from ten years ago joking about rape and pedophilia.
The removal by Disney means James Gunn won't get to finish and direct Guardians of the Galaxy 3, and also that Gunn will no longer be a part of Marvel Studios.
Following an initial tweet, Dave Bautista returned to Twitter to slam cyber nazis for the "attack" on James Gunn.
"What will you do when the #cybernazis attack you? Who will stand by you? Who will cowardly distance themselves from you? Who will punish you for horrible JOKES in the past instead of defending you for INSPIRING millions? MILLIONS!!!" Dave Bautista posted. "What happened here is so much bigger then G3, @JamesGunn ,myself,@Disney etc. This was a #cybernazi attack that succeeded. Unless we start to unite together against this crap, whether people are offended are not! …it's going to get much worse. And it can happen to anyone."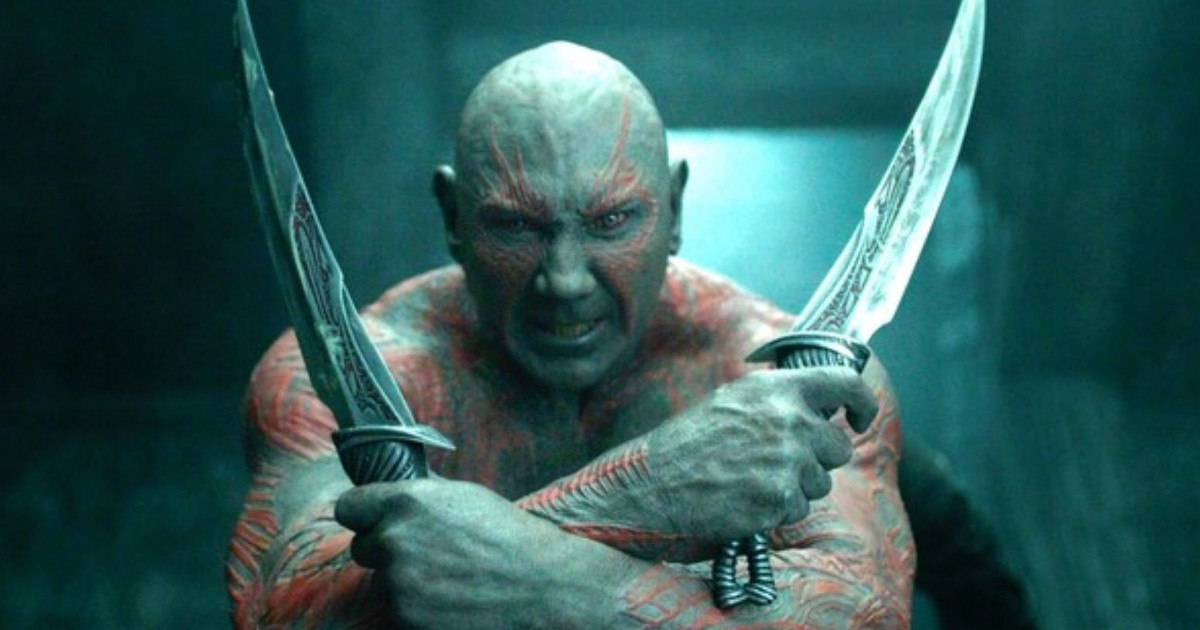 Dave Bautista was also questioned about James Gunn apparently having a friendship with with someone who was found guilty of child p-rn possession, but the Drax actor replies he doesn't know about that and says at one time he met the now ex-spokesperson for Subway, Jared Fogle, who has been imrpisoned for possessing child p-rnography and traveling to pay for sex with minors, while doing a WWE show.
"No I can't. But I can say that Jared Fogle came and did an episode of Raw once. We all met him. We all shook his hand. And not one of us knew that he was the scummy piece of sh-t that he is. Or do you think we all knew?!!" Bautista said.
As of right now, Marvel Studios has yet to make a statement about James Gunn and replacing him on Gaurdians of the Galaxy 3 as the movie is said to start filming at the start of the year for its 2020 release date.
Walt Disney Studios chairman Alan Horn released the following statement about Gunn's dismissal from the company: "The offensive attitudes and statements discovered on James' Twitter feed are indefensible and inconsistent with our studio's values, and we have severed our business relationship with him."
James Gunn apologized once again as well:
"My words of nearly a decade ago were, at the time, totally failed and unfortunate efforts to be provocative. I have regretted them for many years since — not just because they were stupid, not at all funny, wildly insensitive, and certainly not provocative like I had hoped, but also because they don't reflect the person I am today or have been for some time."

"Regardless of how much time has passed, I understand and accept the business decisions taken today. Even these many years later, I take full responsibility for the way I conducted myself then. All I can do now, beyond offering my sincere and heartfelt regret, is to be the best human being I can be: accepting, understanding, committed to equality, and far more thoughtful about my public statements and my obligations to our public discourse. To everyone inside my industry and beyond, I again offer my deepest apologies. Love to all."
I will have more to say but for right now all I will say is this..@JamesGunn is one of the most loving,caring,good natured people I have ever met. He's gentle and kind and cares deeply for people and animals. He's made mistakes. We all have. Im NOT ok with what's happening to him

— Dave Bautista (@DaveBautista) July 21, 2018
What will you do when the #cybernazis attack you? Who will stand by you? Who will cowardly distance themselves from you? Who will punish you for horrible JOKES in the past instead of defending you for INSPIRING millions? MILLIONS!!! #Redemption #injustice @JamesGunn

— Dave Bautista (@DaveBautista) July 22, 2018
What happened here is so much bigger then G3, @JamesGunn ,myself,@Disney etc. This was a #cybernazi attack that succeeded. Unless we start to unite together against this crap, whether people are offended are not! …it's going to get much worse. And it can happen to anyone https://t.co/AMZEd0tfqb

— Dave Bautista (@DaveBautista) July 22, 2018
No I can't. But I can say that Jared Fogle came and did an episode of Raw once. We all met him. We all shook his hand. And not one of us knew that he was the scummy piece of sh-t that he is. Or do you think we all knew?!! https://t.co/t4grIufyMq

— Dave Bautista (@DaveBautista) July 22, 2018