How about a solo Drax movie starring Dave Bautista?
Interestingly enough, following the recent news that Jared Leto will be starring in a solo Joker movie, Dave Bautista thinks there is a good chance for his character to get his own flick from Marvel Studios.
A Twitter user remarked the Jared Leto Joker movie "is what we call a bad idea," which saw Dave Bautista tweet out the following response:
"But on the bright side! Which I usually try to look at… if this can happen then the chances of me getting a Drax movie have got to be astronomically high! Like so high that I'm going to stop tweeting and sit by the phone and wait for @MarvelStudios to call! ….any second now!" Bautista said.
Guardians of the Galaxy director James Gunn also replied to Bautista's tweet with, "I just tried calling."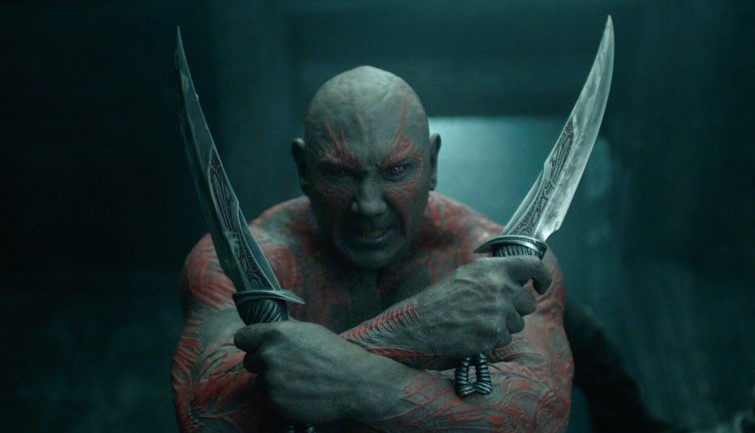 While it sounds as if Dave Bautista and James Gunn are s being sarcastic in their response, a Drax movie can't be ruled out.
It's known James Gunn is spearheading a Marvel Cosmic Universe, and maybe that means some sort of Annihilation adaptation. The 2005-6 comic event from Keith Giffen actually featured a Drax mini-series leading to the main comic, which saw the character reborn as a smarter version. While Gunn went with the dumber version of Drax similar to how Starlin wrote the character, maybe in Avengers 4, Drax is reborn similar to the Dan Abnett and Andy Lanning Guardians of the Galaxy comic that first inspired the Guardians movies?
Dave Bautista also previously confirmed his return for both The Avengers 4 and Guardians of the Galaxy 3, which shoots next year.
"I don't know if I was supposed to, but I believe that I've already said publicly that I am in both," Bautista said. "Yeah, we don't know [how Drax returns]. I don't even know. I haven't read the script for either [The Avengers 4 or Guardians of the Galaxy 3], and, you know, I've talked to James [Gunn]. I'm more excited about Guardians 3, obviously," Bautista added "It's just much nearer and dearer to my heart. So I don't ask to see the script, and I don't want to know about it until he's actually written it. And then I want to read it and just say I love it, 'cause it's always great."