Check out Chris Pratt in action below on the set of his latest movie filming in Atlanta, Georgia with The Tomorrow War where the actor can be seen getting shot.
Apparently, Chris Pratt gets pinned down during a gun battle which sees him get blasted, though it is unknown if it is a fatal shot.
The flick is a sci-fi thriller involving time travel, so the gun battle and wound might not stick.
More images up at Just Jared and TMZ.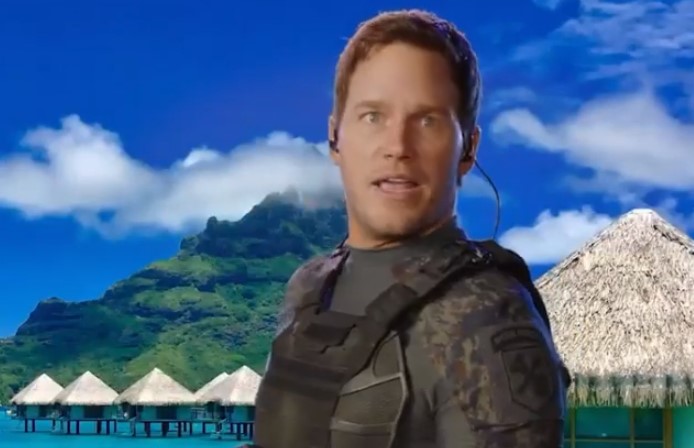 The Tomorrow War contest
Chris Pratt also announced a contest where a lucky fan can enter to win a chance to visit with him on the set of The Tomorrow War in Atlanta, Georgia.
"I am so proud of this movie—it's the first time I've gotten to executive produce a project in addition to starring in it, so this one is very special to me," says Pratt. "We'll have a great time on set – so be sure to donate so you can enter for a chance to win. It's only $10!"
Chris Pratt continued: "Brain Treatment Foundation is a wonderful 501(C)(3) nonprofit organization dedicated to providing support for brain health initiatives relating to treatment, rehabilitation, research and public education. They serve American combat veterans whose lives have been severely impacted by a Traumatic Brain Injury. The mission is to improve quality of life by providing multi-faceted programs that promote healing for the veteran, ultimately creating a positive impact that reaches beyond each individual to their family and surrounding community.
"This is a cause that is near and dear to my heart as I have many close family members and friends that have served in the military and have suffered various forms of brain trauma," Chris Pratt says. "We have the greatest armed forces the world has ever seen. Brave men and women who sacrifice a whole hell of a lot. That's why it's so important to me to give back to this community. To those in our country's military currently serving and those out, thanks for your service. We appreciate you more than you could ever know."
You can enter on Go Fund Me.
The Tomorrow War gets released December 25, 2020 directed by Chris McKay and also stars Yvonne Strahovski and J.K. Simmons, with the movie described as: A man is drafted to fight in a future war where the fate of humanity relies on his ability to confront his past.
Chris Pratt announces The Tomorrow War contest: