In January, Captain Marvel was projected to make as a high as $180 million for its opening weekend, but following controversial statements about "white dudes," the movie has been projected to make as low as $80 million, with current numbers all over the place and somewhere in-between. In addition, fans have also turned out in the thousands to show their dissatisfaction by taking to Rotten Tomatoes to vote that 47% of them do not want to see the movie. A poll on our popular Facebook page of 700,000 comic book movies fans also yields similar results to Rotten Tomatoes as 43% of the 5,200 fans that have voted have stated they won't be going to see the flick opening weekend.
Now, in what is no surprise, Brie Larson is providing a bit of damage control in her latest interviews, which interestingly enough comes with help of a white dude from FOX.
"It's hard for me to comment on that because I don't know what the headlines were, or what was said, or what I said, or what people think that I said," Larson explained. "All that I know is what I am looking for is to bring more seats up to the table. No one is getting their chair taken away. There is not less seats at the table, there is just more seats at the table. That's it."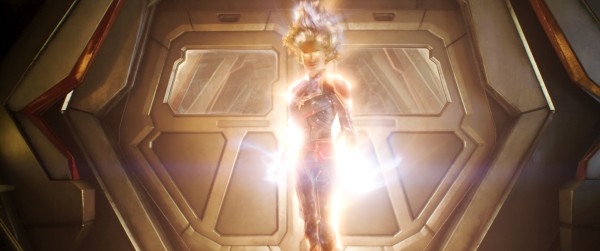 While Brie Larson might not remember what she said(?), Larson's comments seem to backtrack on earlier statements where some fans implied she was saying that certain movies were for a particular segment of the population.
"[Audiences] are not allowed enough chances to read public discourse on these films by the people that the films were made for. I do not need a 40-year-old white dude to tell me what didn't work for him about [A] Wrinkle in Time. It wasn't made for him. I want to know what it meant to women of color, to biracial women, to teen women of color, to teens that are biracial," Larson said.
Likewise, Larson previously blasted the film journalism industry when she made it known she was sick of doing interviews with "white dudes," which sparked controversy.
"About a year ago, I started paying attention to what my press days looked like and the critics reviewing movies, and noticed it appeared to be overwhelmingly white male," she said, reported The Irish Times. "I spoke to Dr Stacy Smith at the USC Annenberg Inclusion Initiative, who put together a study to confirm that. Moving forward, I decided to make sure my press days were more inclusive."
Captain Marvel opens March 8.