My fears about Black Widow are now confirmed, as I just went over how Disney is turning the MCU into a politically correct SJW-agenda-filled train wreck, and now recent statements made by the writer of Black Widow, Jac Schaeffer, confirm my thoughts.
In an interview over at Inverse, Jac Schaeffer says that she doesn't want to please fans of the comics and wants to change things.
Schaeffer has a bold vision for superhero movies of the coming decade: more sympathetic villains, less glamorization of weaponry, and stronger representation of marginalized voices. To comic book movie fans who prefer ultra-violent shoot-outs, 100 percent-evil villains, and casts that look like they did a decade or two ago, Schaeffer says, "I'm not interested in adhering to comic canon that is discriminatory in any way or that violates my values system.
Schaeffer goes on to say that she wasn't even a fan of superhero movies but says she has to be involved with stories like Captain Marvel and her Black Widow because they are "female-centered stories."
"I wasn't a huge superhero movie fan before starting to work [at Marvel], but now that I'm doing it, there's just so much opportunity to make big, positive statements," Schaeffer says. "Especially something like Captain Marvel and Black Widow, to have these female-centered stories — I just can't not be involved in that."
Schaeffer, who also helped write Captain Marvel and is the showrunner on the upcoming Disney Plus WandaVision series, goes so far as stating she wants to change how superhero movies feature violence, guns and weaponry, and that is why she liked Captain Marvel.
"I would like to see alternatives to violence in superhero movies." She added, "Maybe I would qualify that by saying, alternatives to glamorizing guns and weaponry. That's one of the reasons that I love Captain Marvel — it's all about inner power. And the destruction is not at the expense of human life."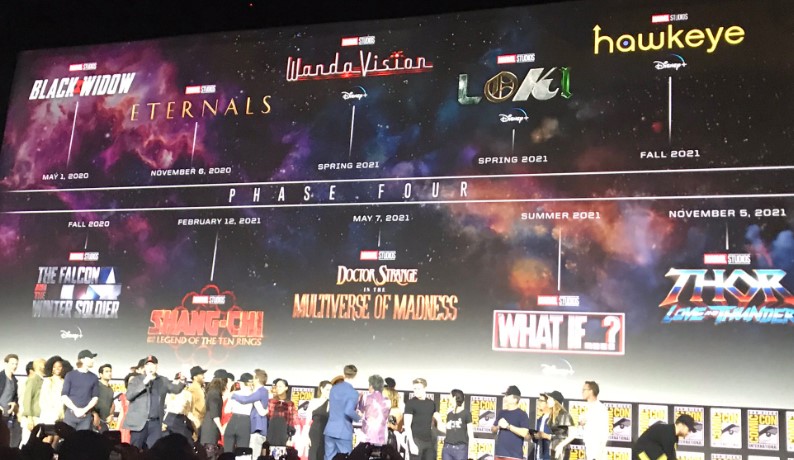 Disney and Marvel promoting females at the expense of male characters
My previous article went over how Disney turned down hearing the pitch from a Sylvester Stallone and Dolph Lundgren TV series simply because they were men and that the series wasn't female-focused.
Regarding the MCU, sadly following the passing of Stan Lee, it has gone the opposite of Lee's approach and has been replacing classic characters with characters that service a leftist and radical feminist politically correct agenda (just read the full Inverse interview linked above).
Marvel Studios President Kevin recently announced their Phase 4 slate of MCU flicks which, in addition to the Black Widow flick that now sounds like another SJW piece of propaganda garbage, will include the Angelina Jolie starring Eternals movie that again replaces classic male characters with females; the first Asian superhero movie with Shang-Chi; Doctor Strange 2 which will now also star Elizabeth Olsen; Thor: Love and Thunder which will feature Natalie Portman as Female Thor with Tessa Thompson searching for her queen of New Asgard; the Disney Plus shows include WandaVision starring Olsen, another train wreck as it has Schaeffer attached; Loki, with it rumored to feature female versions of the character; Hawkeye, which looks to pass the baton to a female character; The Falcon and the Winter Soldier, another series which appears to be politically correct driven with some sort of anti-government take on Captain America, and the What If? animated series is said to feature classic male characters getting replaced with female superheroes as well.
As I have stated numerous times, what is going on here is that Disney isn't simply promoting female characters, what they are doing is wrong as they are doing it at the expense of male characters. Case in point is what Disney, Kathleen Kennedy and Rian Johnson did with Star Wars: The Last Jedi, which has turned out to be a disaster for Disney and LucasFilm, as well as the fans.
Basically, Kevin Feige is pulling "a Last Jedi approach" to the MCU starting with the release of Brie Larson's Captain Marvel (it's a wonder why Feige is still in charge as he is a man, and a white male to boot; ditto for Bob Iger and Alan Horn, eh?).