It's being reported that Batman villain Roman Sionis, aka Black Mask, will be the villain of the Harley Quinn spinoff movie, Birds of Prey.
In the comics, Black Mask first appeared in Batman #386.
Long story short, Roman Sionis ends up taking over his deceased parents cosmetic business where he fails miserably and ends up injuring hundreds of women in the process. Eventually, Sionis would don the Black Mask persona and become a Gotham City crime boss and leader of the cult-like False Face Society, having run-ins with not only Batman, but Catwoman and was also responsible for the death of "Robin" Stephanie Brown. The new "Rebirth" comics also sees Black Mask involved with the Jason Todd Red Hood, and Black Mask also happened to be killed by Catwoman.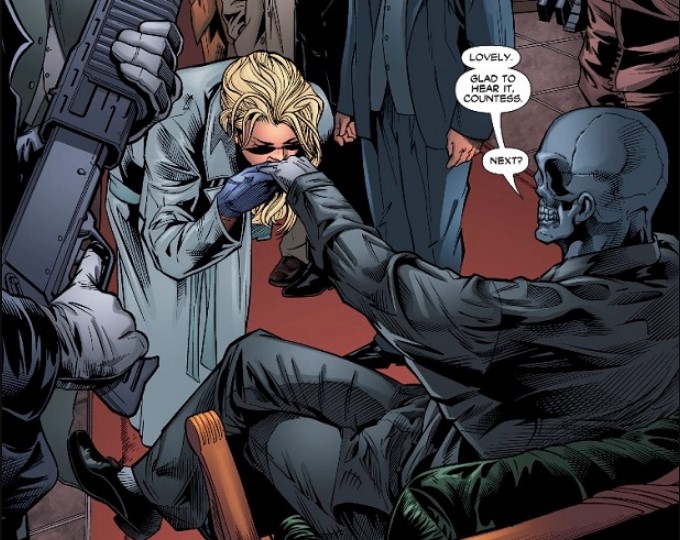 Margot Robbie returns as Harley Quinn for Birds of Prey which will see her produce, with the movie also said to possibly feature Catwoman, Black Canary, Huntress, Renee Montoya, and a young Cassandra Cain (known as Batgirl and Orphan).
In additon to Birds of Prey, Margot Robbie will be returning as Harley Quinn for Suicide Squad 2, possibly David Ayer's Gotham City Sirens, and possibly for a solo Harley and Joker flick.
DC has yet to officially announce release dates for Birds of Prey – or any of the other Harley Quinn movies – and only has official release dates for Aquaman (Dec 21, 2018), Shazam (April 5, 2019) and Wonder Woman 1984 (November 1, 2019). Other DC movies currently in development include the Matt Reeves The Batman, Joaquin Phoenix Joker movie and Green Lantern Corps.