Battle Chasers, the short-lived independent comic book, and video game, from Joe Madureira, is coming to life as a new live-action TV series from the creator of John Wick, Derek Kolstad.
Details include that the series will also have Adrian Askarieh, the producer behind the Hitman franchise, on board as executive producer, with Chris Jones and Samantha Shear of Zoic Studios also attached to executive produce, and Ben Cook will produce.
Joe Madureira debuted Battle Chasers in 1998, but the series only lasted nine issues and went unfinished, and then Madureira turned his attention to the Battle Chasers Nightwar video game which sold a million copies.
Madureira has since recently announced he is finishing the comics with three more issues planned for a 2022 release and teased art from issue #10.
The comic is described as:
Follow young Gully as she searches for her missing father with the help of Garrison, a legendary swordsman; Knolan, the crafty wizard; Calibretto, an outlawed Wargolem; and the notorious mercenary Red Monika! Assaulted at every turn by a cast of memorable villains, Battle Chasers is packed with over-the-top action from cover to cover! Don't miss this definitive collection!
In OTHER news: BC10 is art complete (32 hefty pages) and @ludolullabi is making great progress on #11. Which means we'll be able to confidently announce a date soon. Ruined King took much longer than we planned (check out Ludo's amazing work there too) but we are back on track! pic.twitter.com/LiTshRVP59

— Joe Madureira (@JoeMadx) December 2, 2021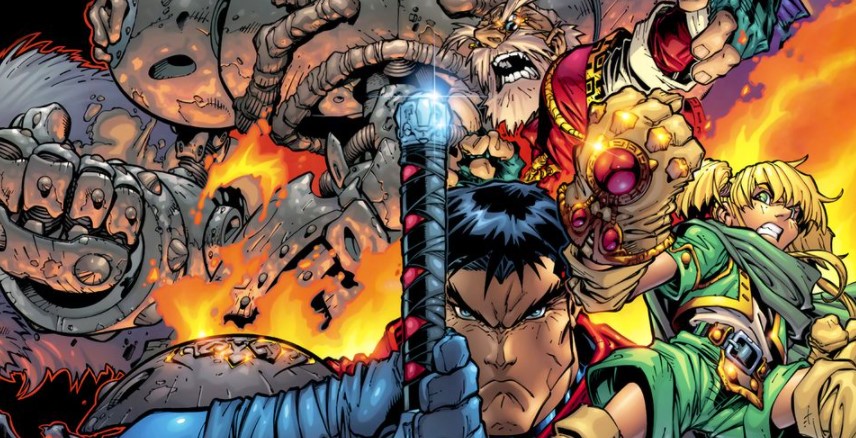 Live-action Battle Chasers is a dream come true
"As a storyteller–as well as a super fan of unapologetic and unrelenting action–I can't wait for people to feel as giddy as I did when I first laid eyes on Battle Chasers," said Kolstad. "The world which Joe has created here, coupled with the characters therein, is both unique and yet familiar. Adapting this for the small screen is gonna' be a jon."
"Being part of the team that finally brings Joe's Battle Chasers to the screen has been a 20-year dream of mine," said Askarieh. "I am thrilled that Joe has entrusted Derek, Zoic, myself, and now our partner, Alcon, with this rare and exciting opportunity."
"As a huge fan of John Wick, you can imagine my excitement when Adrian and Derek reached out about turning Battle Chasers into a show," Madureira said. "It's not something I ever thought could happen, and I'm blown away to have this opportunity with so many talented folks, including Alcon and Zoic, behind it. Everyone involved seems to genuinely love the series, so I know it's going to be great."