Zoe Kravitz reveals she is staying in Catwoman shape for The Batman movie while on lockdown due to the coronavirus.
As everyone is hunkered down in their homes, it's easy to simply sit back, relax, watch a few movies and gobble down a bunch of snacks.
While speaking with Vanity Fair, Zoe Kravitz said she jokingly texted The Batman director Matt Reeves that when the quarantine is over, the Catwoman suit will need to be made larger, but Kravitz says she is still keeping in shape for the role:
Yeah. So I mean, it's not like the studio called and said, "Don't get fat, b-tch." But I had been training now for maybe four or five months and the first couple weeks that I self-quarantined, I remember texting the director, I texted Matt and I was like, We might have to make the cat suit a few sizes bigger when this is over. So I quickly decided to get my shit together and I've been working out virtually with my trainer David Higgins five days a week. And it's actually been really great because it's been giving me some kind of structure because I do it at the same time and it also makes the weekends feel like a weekend because I don't workout on the weekends and it gives me just, oh, it's a different kind of a day. So it's actually been really great just for my mental health. And kind of foods, kind of the only thing that I have, food and wine bringing me joy right now. So I'm definitely eating whatever the f-ck I want. But yeah, try to stay in decent shape so I don't have to start from scratch.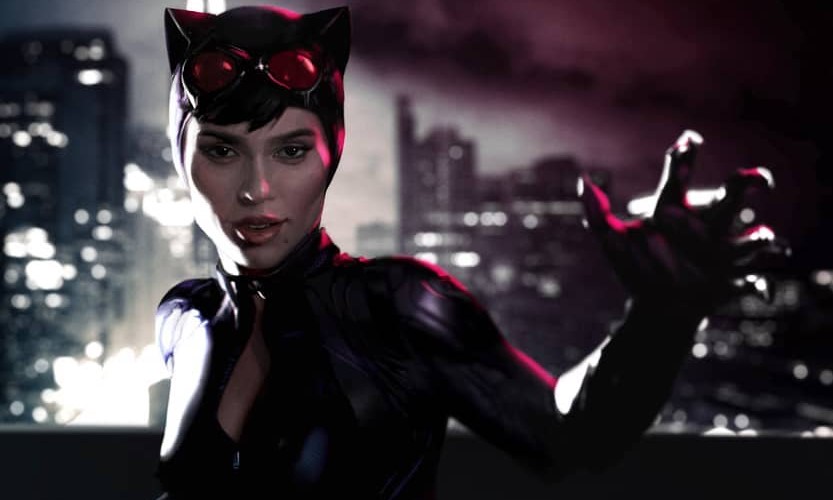 Zoe Kravitz plays Selina Kyle, aka Catwoman in The Batman
Vanity Fair remarks that "food, wine, and Fiona Apple will get us through quarantine," which sees Kravitz agree.
"Yeah. Food, wine, and weed. It's my favorite things right now," she said.
The latest on The Batman is that due to the coronavirus, filming has been delayed, and Warner Bros. recently pushed its release back two months to October 1, 2021. Worth a mention is that the recent Joker movie was released the first weekend of October in 2019 and made over a billion dollars at the box office, so the October release for The Batman looks to be just as promising.
The flick also stars Robert Pattinson as Gotham City's vigilante detective, Batman, and billionaire Bruce Wayne; Paul Dano as Edward Nashton, aka The Riddler; Jeffrey Wright as the GCPD's James Gordon; John Turturro as Carmine Falcone; Peter Sarsgaard as Gotham D.A. Gil Colson; Jayme Lawson as mayoral candidate Bella Reál; with Andy Serkis as Alfred; and Colin Farrell as Oswald Cobblepot, aka The Penguin.