Director Matt Reeves has cast Elliot Warren in The Batman with fans thinking the actor may be playing the villain Firefly.
Warren confirmed the news on social media where he interestingly enough includes a fire emoji.
"So excited to announce I've joined the cast for Matt Reeves The Batman. It has been an incredible experience so far! Childhood dream coming true!" Warren posted on Instagram.
Regarding Firefly, of course, Elliot Warren could simply be stating that The Batman is on fire (hot), but the villain has been rumored for the flick for a while.
In the comics, Firefly, aka Garfield Lynns, (via wiki) became a pyrotechnics and special effects expert in the film industry, but eventually fell victim to Gotham City's severe poverty issues and turned to a life of crime as a result. Eventually, Lynns' compulsion to start fires soon turned into a pyromaniacal obsession as a result of his abusive and troubled childhood; he believed that he could see visions in the flames he created.
There's a theory out there that The Batman starts off with Robert Pattinson stopping Firefly with other theories ranging from Firefly is a henchman of Penguin, the Riddler, or Carmen Falcone.
Elliot Warren is known for the Doctors TV series and recently played Rag & Bone Man in FX's A Christmas Carol.
Elliot Warren confirms The Batman: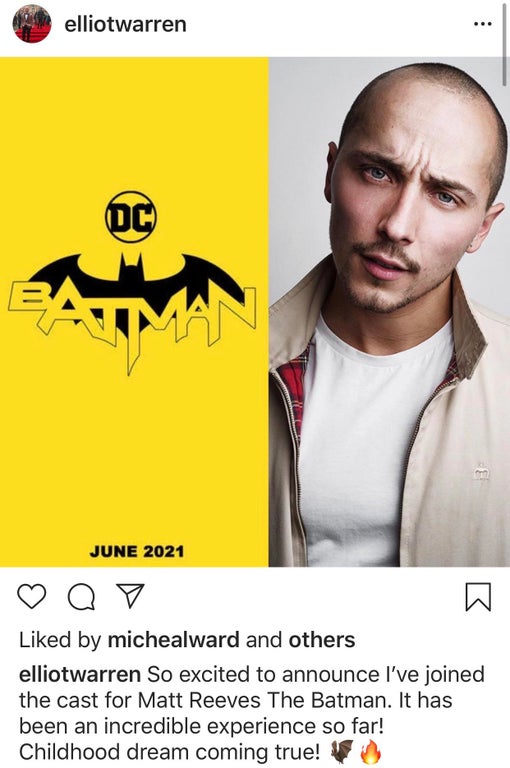 The Batman has a June 25, 2021 release directed by Matt Reeves starring Robert Pattinson as Gotham City's vigilante detective, Batman, and billionaire Bruce Wayne.
Starring alongside Pattinson as Gotham's famous and infamous cast of characters are Zoë Kravitz as Selina Kyle; Paul Dano as Edward Nashton; Jeffrey Wright as the GCPD's James Gordon; John Turturro as Carmine Falcone; Peter Sarsgaard as Gotham D.A. Gil Colson; Jayme Lawson as mayoral candidate Bella Reál; with Andy Serkis as Alfred; and Colin Farrell as Oswald Cobblepot.