Having reached two hundred thousand followers on Instagram, Anna Diop reveals video featuring the new look of Starfire in Titans Season 2.
The video features the new straight hair look for Starfire, which is more similar to the comics.
"We did it Insta Fam! 200K! All my love," Anna Diop posted.
Anna Diop also previously teased the new Starfire look a couple of other times on Instagram. Check them out: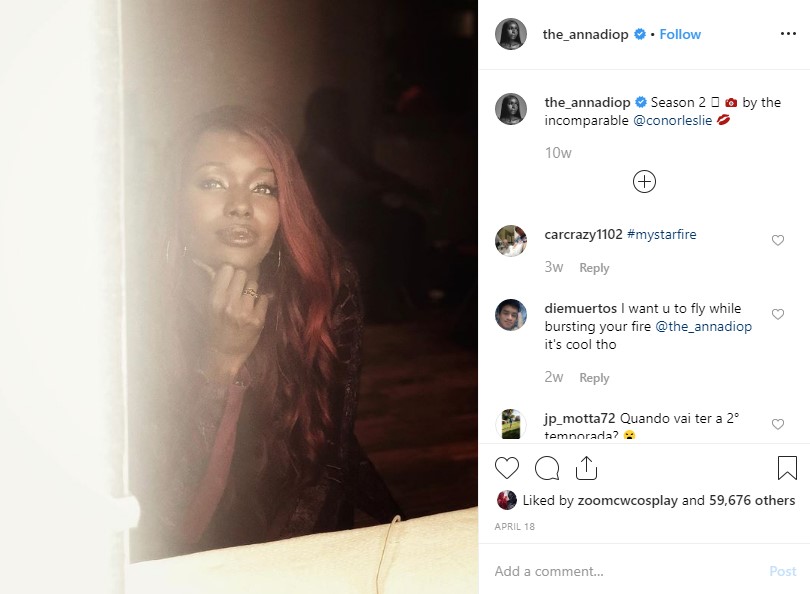 Anna Diop and Starfire get new look for Titans Season 2
The Season 1 curly hair look for Starfire drew a lot of fan backlash, but we see apparently WB is trying to make the TV character better resemble the comics (see below).
Watch the new Season 2 trailer below as well.
Titans Season 2 also also stars Brenton Thwaites (Dick Grayson/Robin), Teagan Croft (Rachel Roth/Raven), Ryan Potter (Gar Logan/Beast Boy), Minka Kelly (Dawn Granger/Dove), Alan Ritchson (Hank Hall/Hawk), Conor Leslie (Donna Troy), Curran Walters (Jason Todd/Robin), with Game of Thrones actor Iain Glen as Bruce Wayne, aka Batman, Joshua Orpin as Superboy, Esai Morales as Deathstroke, Chella Man playing Deathstroke's son Joseph Wilson, Jericho, and Chelsea Zhang playing the daughter, Ravager.
Titans Season 2 trailer:
Starfire DC Comics: