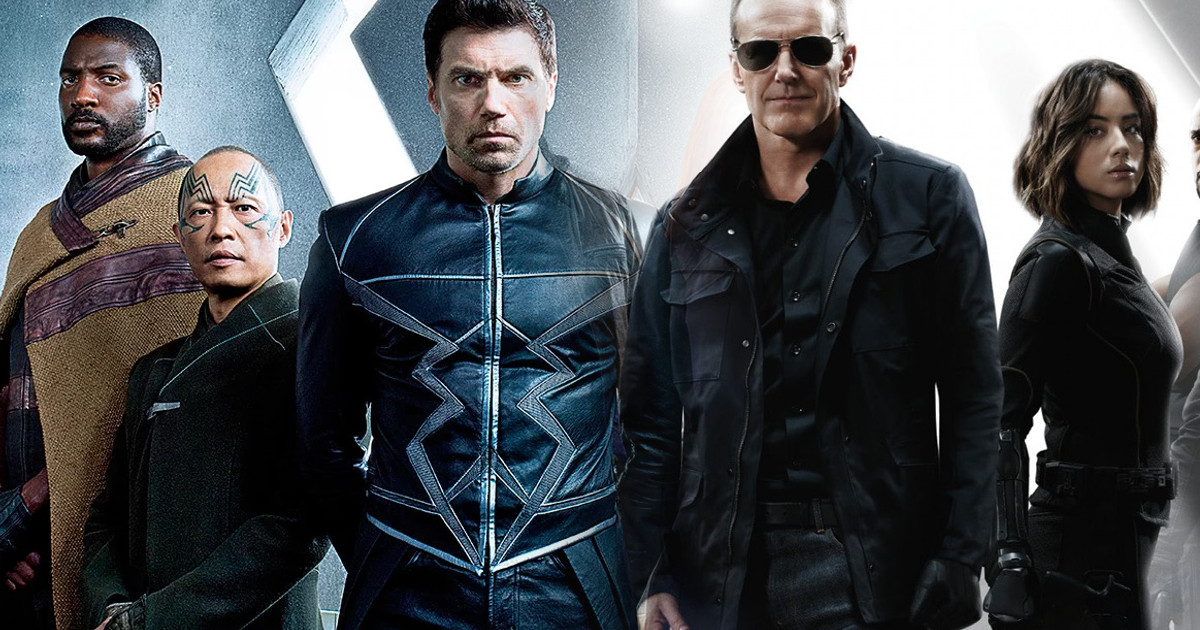 I know some fans were hoping for a "Marvel Block" on Tuesday nights with Agents of SHIELD and Inhumans, but that isn't the case as ABC has released their Fall schedule where the series will be airing on Friday nights, with Agents of SHIELD debuting later in the season.
ABC recently announced they had greenlit Agents of SHIELD for a Season 5 where it was noted they were going for an even lower budget on the series. Coupled with the Friday night move (never a good sign), I would guess this might be it for Marvel's Agents of SHIELD and that it will be cancelled.
EW.com does note Agents of SHIELD Season 5 will still have 22 episodes, and ABC Chief Channing Dungey offers the following response with the Friday change:
"We've turned Friday into more of a destination for our fantasy and science fiction fans," ABC Chief Channing Dungey told reporters Tuesday morning. "Once Upon a Time and S.H.I.E.L.D. are airing on the same night for the first time, which is giving many fans of both shows what they've been asking for for a long time."
Inhumans will premiere with its first two episodes in IMAX on September 1st followed by airing on ABC with eight episodes and additional content.
So to recap, Inhumans debuts Friday nights in the Fall on ABC, with Agents of SHIELD taking over the timeslot some time after.
ABC Fall schedule:
MONDAY:
8:00 p.m. "Dancing with the Stars"
10:00 p.m. "The Good Doctor"
TUESDAY:
8:00 p.m. "The Middle"
8:30 p.m. "Fresh Off the Boat" (new time period)
9:00 p.m. "black-ish" (new day and time period)
9:30 p.m. "The Mayor"
10:00 p.m."The Gospel of Kevin"
WEDNESDAY:
8:00 p.m. "The Goldbergs"
8:30 p.m. "Speechless"
9:00 p.m. "Modern Family"
9:30 p.m. "American Housewife" (new day and time period)
10:00 p.m. "Designated Survivor"
THURSDAY:
8:00 p.m. "Grey's Anatomy"
9:00 p.m. "Scandal"
10:00 p.m. "How to Get Away with Murder"
FRIDAY:
8:00 p.m. "Once Upon a Time" (new day and time period)
9:00 p.m. "Marvel's Inhumans"
10:00 p.m. "20/20"
SATURDAY:
8:00 p.m. "Saturday Night Football"
SUNDAY:
7:00 p.m. "America's Funniest Home Videos"
8:00 p.m. "To Tell the Truth"
9:00 p.m. "Shark Tank" (new day and time period)
10:00 p.m. "Ten Days in the Valley"
MARVEL'S INHUMANS
"Marvel's Inhumans" explores the never-before-told epic adventure of the royal family including Black Bolt, the enigmatic, commanding King of the Inhumans, with a voice so powerful that the slightest whisper can destroy a city. After the Royal Family of Inhumans is splintered by a military coup, they barely escape to Hawaii where their surprising interactions with the lush world and humanity around them may prove to not only save them, but Earth itself. The legendary comic book series will be brought to life in a way that has never been done before, as a version of the first two episodes will be shown globally in IMAX theaters for a two-week period beginning September 1, 2017. ABC will then air the entirety of the series on the network, with additional exclusive content that can only been seen on ABC.
"Marvel's Inhumans" stars Anson Mount as Black Bolt, Iwan Rheon as Maximus, Serinda Swan as Medusa, Eme Ikwuakor as Gorgon, Isabelle Cornish as Crystal, Ken Leung as Karnak, Ellen Woglom as an undisclosed character, Sonya Balmores as Auran and Mike Moh as Triton.
The series is executive produced by Scott Buck, along with Marvel's Jeph Loeb and Jim Chory with Buck serving as showrunner. Roel Reiné will direct the first two episodes. This series is a Marvel and IMAX project and is co-produced by Marvel Television and ABC Studios.