Netflix has released the trailer for Zack Snyder's Army of the Dead movie that will be available on the streaming service on May 21.
Watch below.
A recent interview with Snyder by Vanity Fair also included a tidbit that, in addition to zombies, aliens are going to be involved in the flick:
Army of the Dead, a visceral, funny, and exceedingly dark smash-and-grab story about an elite strike team that goes into a zombie-overrun Las Vegas to retrieve a hidden fortune before the hot zone is nuked. (The zombie virus emerges from Area 51, so aliens may be involved too.)
An Army of the Dead universe is getting created for Netflix by Snyder where the interview further seems to tease the involvement of aliens:
During a day-long interview, Snyder giddily scans through concept art for an accompanying animated series, approving vehicles, otherworldly weapons, and supernatural beings.
Army of the Dead is a zombie heist movie that follows a zombie outbreak in Las Vegas, where a group of mercenaries takes the ultimate gamble by venturing into the quarantine zone to pull off the greatest heist ever attempted before the zone gets nuked.
The film stars Dave Bautista, Ella Purnell, Ana De La Reguera, Theo Rossi, Huma Qureshi, Omari Hardwick, Tig Notaro, Hiroyuki Sanada, Garret Dillahunt, Matthias Schweighöfer, Raúl Castillo, Nora Arnezeder, Samantha Win and is produced by The Stone Quarry's Deborah Snyder, Zack Snyder and Wesley Coller.
The prequel anime series, Army of the Dead: Lost Vegas, chronicles the origin story of Scott (Dave Bautista) and his rescue crew during the initial fall of Vegas as they confront the mysterious source of the zombie outbreak.
Army of the Dead trailer: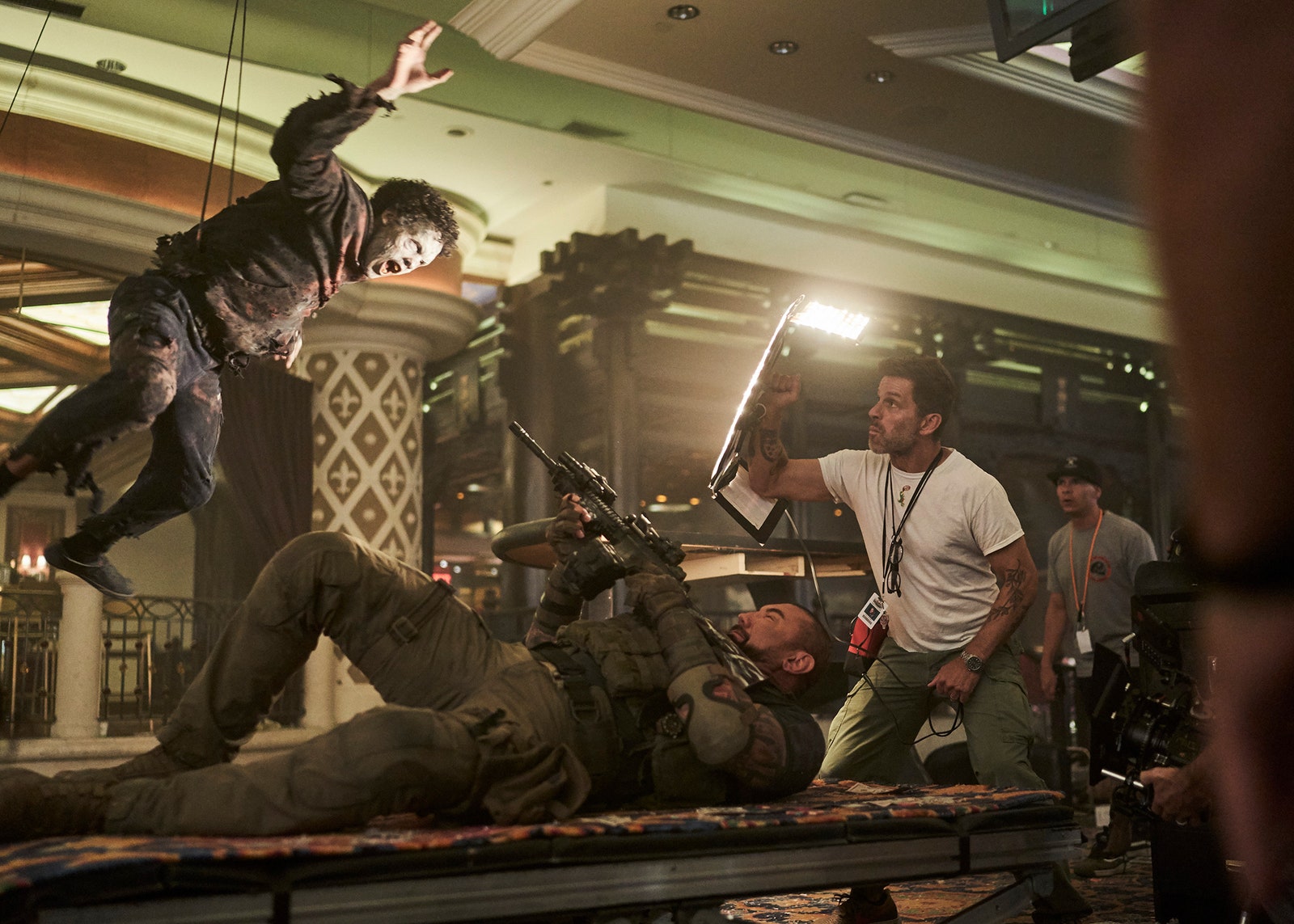 Zack Snyder Army of the Dead poster: