Check out the list of the winners of the 75th annual Golden Globes below as well as images and video.
Info:
HOLLYWOOD FOREIGN PRESS ASSOCIATION ANNOUNCES THE WINNERS OF THE 75TH ANNUAL GOLDEN GLOBE® AWARDS
LOS ANGELES (Jan. 7, 2018) – Tonight, the Hollywood Foreign Press Association (HFPA) announced the winners of the 75th Annual Golden Globe Awards at Hollywood's Party of the Year. Show host Seth Meyers led the star-studded event which aired on NBC live from The Beverly Hilton. Oprah Winfreywas honored with the Cecil B. de Mille Award, and Simone Garcia Johnson, carried out her duties as the first-ever Golden Globe Ambassador.
This year's trophies were presented by an all-star list of celebrities including Jennifer Aniston, Roseanne Barr, Halle Berry, Carol Burnett, Mariah Carey, Jessica Chastain, Emilia Clarke, Kelly Clarkson, Common, Darren Criss, Penelope Cruz, Viola Davis, Geena Davis, Kirk Douglas, Zac Efron, Gal Gadot, Greta Gerwig, John Goodman, Hugh Grant, Kit Harington, Neil Patrick Harris, Salma Hayek, Garrett Hedlund, Chris Hemsworth, Christina Hendricks, Ron Howard, Kate Hudson, Isabelle Huppert, Allison Janney, Dakota Johnson, Dwayne Johnson, Angelina Jolie, Michael Keaton, Shirley MacLaine, Ricky Martin, Helen Mirren, Sarah Jessica Parker, Robert Pattinson, Sarah Paulson, Amy Poehler, Natalie Portman, Edgar Ramirez, Seth Rogen, Andy Samberg, Susan Sarandon, J.K. Simmons, Octavia Spencer, Sebastian Stan, Sharon Stone, Emma Stone, Barbra Streisand, Aaron Taylor-Johnson, Keith Urban, Alicia Vikander, Kerry Washington, Emma Watson, Reese Witherspoon and Catherine Zeta-Jones
Produced by dick clark productions (dcp) in association with the HFPA, the Golden Globe Awards are viewed in more than 236 countries worldwide and are one of the few awards ceremonies to include both motion picture and television achievements.
Meher Tatna is President of the Hollywood Foreign Press Association. Allen Shapiro, CEO of dick clark productions; Mike Mahan, President of dick clark productions; and Barry Adelman, Executive VP of Television at dick clark productions will serve as executive producers.
BEST MOTION PICTURE – DRAMA
THREE BILLBOARDS OUTSIDE EBBING, MISSOURI Blueprint Pictures; Fox Searchlight Pictures
BEST PERFORMANCE BY AN ACTRESS IN A MOTION PICTURE – DRAMA
FRANCES MCDORMAND THREE BILLBOARDS OUTSIDE EBBING, MISSOURI
BEST PERFORMANCE BY AN ACTOR IN A MOTION PICTURE – DRAMA
GARY OLDMAN DARKEST HOUR
BEST MOTION PICTURE – MUSICAL OR COMEDY
LADY BIRD IAC Films; A24
BEST PERFORMANCE BY AN ACTRESS IN A MOTION PICTURE – MUSICAL OR COMEDY
SAOIRSE RONAN LADY BIRD
BEST PERFORMANCE BY AN ACTOR IN A MOTION PICTURE – MUSICAL OR COMEDY
JAMES FRANCO THE DISASTER ARTIST
BEST MOTION PICTURE – ANIMATED
COCO Pixar Animation Studios; Walt Disney Studios Motion Pictures
BEST MOTION PICTURE – FOREIGN LANGUAGE IN THE FADE (GERMANY / FRANCE)
Bombero International / Warner Bros. / Filmproductions Germany / Macassar Productions / Pathé / Dorje Film / Corazón International; Magnolia Pictures
BEST PERFORMANCE BY AN ACTRESS IN A SUPPORTING ROLE IN ANY MOTION PICTURE
ALLISON JANNEY I, TONYA
BEST PERFORMANCE BY AN ACTOR IN A SUPPORTING ROLE IN ANY MOTION PICTURE
SAM ROCKWELL THREE BILLBOARDS OUTSIDE EBBING, MISSOURI
BEST DIRECTOR – MOTION PICTURE
GUILLERMO DEL TORO THE SHAPE OF WATER
BEST SCREENPLAY – MOTION PICTURE
MARTIN MCDONAGH THREE BILLBOARDS OUTSIDE EBBING, MISSOURI
BEST ORIGINAL SCORE – MOTION PICTURE
ALEXANDRE DESPLAT THE SHAPE OF WATER
BEST ORIGINAL SONG – MOTION PICTURE
"THIS IS ME" THE GREATEST SHOWMAN Music and Lyrics by: Benj Pasek, Justin Paul
BEST TELEVISION SERIES – DRAMA
THE HANDMAID'S TALE MGM; Hulu
BEST PERFORMANCE BY AN ACTRESS IN A TELEVISION SERIES – DRAMA
ELISABETH MOSS THE HANDMAID'S TALE
BEST PERFORMANCE BY AN ACTOR IN A TELEVISION SERIES – DRAMA
STERLING K. BROWN THIS IS US
BEST TELEVISION SERIES – MUSICAL OR COMEDY
THE MARVELOUS MRS. MAISEL Amazon Studios; Amazon
BEST PERFORMANCE BY AN ACTRESS IN A TELEVISION SERIES – MUSICAL OR COMEDY
RACHEL BROSNAHAN THE MARVELOUS MRS. MAISEL
BEST PERFORMANCE BY AN ACTOR IN A TELEVISION SERIES – MUSICAL OR COMEDY
AZIZ ANSARI MASTER OF NONE
BEST TELEVISION LIMITED SERIES OR MOTION PICTURE MADE FOR TELEVISION
BIG LITTLE LIES HBO Entertainment / David E. Kelly Productions / Pacific Standard / Blossom Films;
BEST PERFORMANCE BY AN ACTRESS IN A LIMITED SERIES OR A MOTION PICTURE MADE FOR TELEVISION
NICOLE KIDMAN BIG LITTLE LIES
BEST PERFORMANCE BY AN ACTOR IN A LIMITED SERIES OR A MOTION PICTURE MADE FOR TELEVISION
EWAN MCGREGOR FARGO
BEST PERFORMANCE BY AN ACTRESS IN A SUPPORTING ROLE IN A SERIES, LIMITED SERIES OR MOTION PICTURE MADE FOR TELEVISION
LAURA DERN BIG LITTLE LIES
BEST PERFORMANCE BY AN ACTOR IN A SUPPORTING ROLE IN A SERIES, LIMITED SERIES OR MOTION PICTURE MADE FOR TELEVISION
ALEXANDER SKARSGÅRD BIG LITTLE LIES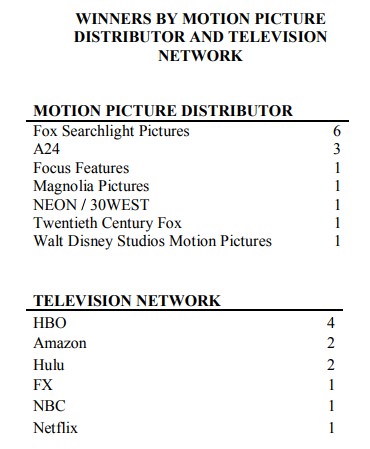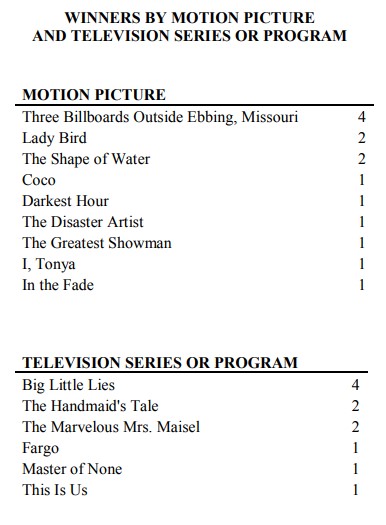 A massive congratulations to Gary Oldman for being awarded the Best Performance by an Actor in a Motion Picture – Drama award for his role in @DarkestHour! #GoldenGlobes pic.twitter.com/YyPfI7iBNl

— Golden Globe Awards (@goldenglobes) January 8, 2018
Congratulations to Gary Oldman – Best Performance by an Actor in a Motion Picture – Drama – Darkest Hour (@DarkestHour) – #GoldenGlobes pic.twitter.com/AmGR8mynUL

— Golden Globe Awards (@goldenglobes) January 8, 2018
A round of applause for Saoirse Ronan taking home the award for Best Performance by an Actress in a Motion Picture – Musical or Comedy for her role in @LadyBirdMovie! #GoldenGlobes pic.twitter.com/fXm4pygZ41

— Golden Globe Awards (@goldenglobes) January 8, 2018
Excited to have this beautiful pair on our stage. Give it up for @jes_chastain and @chrishemsworth, presenting the award for Best Performance by an Actress in a Motion Picture – Musical or Comedy. #GoldenGlobes pic.twitter.com/AyZ0r7o6Ru

— Golden Globe Awards (@goldenglobes) January 8, 2018
Congratulations to winner of Best Director – Motion Picture, @RealGDT for @shapeofwater! #GoldenGlobes pic.twitter.com/q7LFbCCZ2e

— Golden Globe Awards (@goldenglobes) January 8, 2018
Congratulations to Ewan McGregor (@mcgregor_ewan) – Best Performance by an Actor in a Limited Series or a Motion Picture Made for Television – Fargo (@FargoFX) – #GoldenGlobes pic.twitter.com/oxG2EAVb78

— Golden Globe Awards (@goldenglobes) January 8, 2018
Quite the moment for @TheRock as he introduces his daughter, and the very first #GoldenGlobes Ambassador, @SimoneGJohnson. pic.twitter.com/V3QO7LMT2B

— Golden Globe Awards (@goldenglobes) January 8, 2018
Wow. It's been an amazing year!! Excited for the #goldenglobes tonight! pic.twitter.com/NEFW2uxhAD

— Gal Gadot (@GalGadot) January 7, 2018
Snapping some fabulous polaroid pics backstage with @emiliaclarke, Kit Harington, @jes_chastain, Fatih Akin, @AllisonBJanney, and @azizansari at the #GoldenGlobes! #Globes75 pic.twitter.com/8y6vrHfCH3

— Golden Globe Awards (@goldenglobes) January 8, 2018