With Ghost Rider having appeared last season on Marvel's Agents of SHIELD could Blade be next?
A bit of confusion seems to have hit Twitter resulting in the thought that Blade might be appearing on Marvel's Agents of SHIELD as Lorraine Cink, who works for Marvel's YouTube channel, seemingly hinted at Blade for Marvel TV.
Lorraine Cink unleashed a tweet where she mentioned she had a chance to meet Jeff Ward from Agents of SHIELD adding, "I can't wait for you to see the cool things we are cooking up. Keep an eye out in 2018! #AgentsofSHIELD #Blade."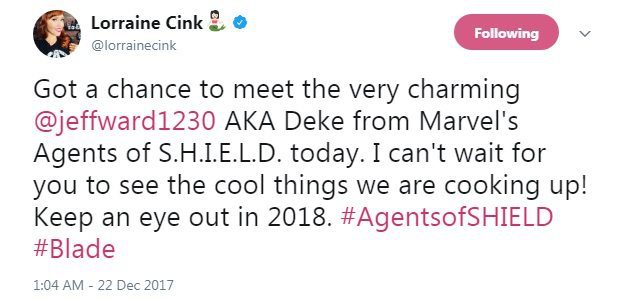 Fans quickly responded to the notion of Blade returning to the Marvel universe as did Wesley Snipes, who portrayed Blade three times in the movies.
"When anyone asks 'Who could be the next Blade?' you already know there's only one Blade fam!" Snipes responded.
Lorraine Cink followed up the tweet stating she meant that in her conversation with Jeff Ward that he was a Blade fan, which is why she included the hashtag, but the tweets have since been deleted.
Interestingly enough, the context of Cink's tweet does seem to indicate Blade may be coming to Agents of SHIELD in 2018, but at the same time it might not be so if it was simply a mistake.
There has been talk of Blade returning to Marvel as last year saw Marvel Studios president Kevin Feige state he would be open for a return of Blade to the MCU:
We think it would be cool. Someday. My tenure at Marvel started 17 years ago, and there were two things that sort of launched the modern era. One was X-Men, which was the first thing that people said, "Oh, there's life here." But a few years before that, there was Blade. A character nobody had heard of at all, had only appeared in a few issues of Tomb of Dracula or something, turned into a big franchise. That was always a great lesson for me, where you go, "It doesn't matter how well known the character is, it matters how cool the movie is." Which, many years later, would be the reason we do Guardians of the Galaxy, Doctor Strange. I think Blade is a legacy character now, and I think it would be fun to do something with him one day.
Wesley Snipes has also mentioned a return to Marvel as he tweeted back in 2016 that there is always a possibility Blade could return and that the ball is in Marvel's court:
Perhaps following The Avengers: Infinity War and Avengers 4, Kevin Feige and Marvel Studios may want to introduce the horror genre of Marvel Comics into the MCU? Blade seems like a good start.