Problems with The Walking Dead continue.
Following the poor ratings, cast departures and lawsuits, now it's learned both Lauren Cohan and Andrew Lincoln no-showed The Walking Dead convention, Walker Stalker Con.
In addition, King Ezekiel actor Khary Payton took to his Instagram page of over 256,000 followers to state, "Pay the woman."
Khary Payton is referencing reports that Lauren Cohan may be leaving The Walking Dead due to contract issues, which sees the actress getting paid an amount vastly under the other male actors.
While it's been said Lauren Cohan is in negotiations to sign a new contract and return for The Walking Dead Season 9, she recently signed on for the new ABC pilot, Whiskey Cavalier, which is said to be the reason she missed the Walker Stalker Con because of filming the pilot.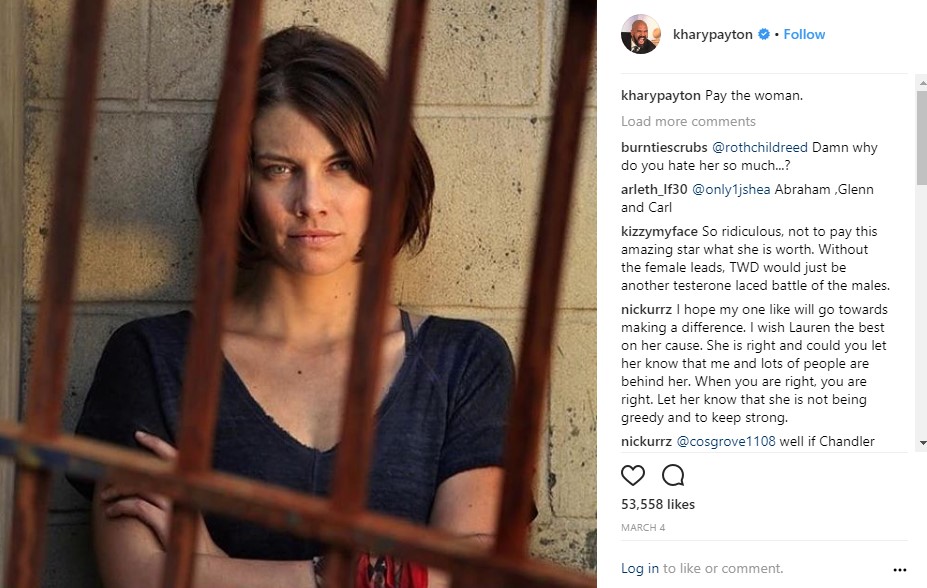 Hello Dear sweet Lovelies, I'm so sad and sorry not to make it to you this weekend. I would be there if i could, Please know I am in spirit! https://t.co/52Mt6tob34

— Lauren Cohan (@LaurenCohan) March 8, 2018
Regarding Andrew Lincoln, it's unclear why he missed the Walker Stalker Con as the convention posted the news on their social media pages. The actor also recently discussed leaving the show.
Unfortunately, due to circumstances beyond his control, Andrew Lincoln will no longer be able to join us in London. He sends his sincerest regrets. We are so thankful for the incredible effort he made to be part of this year's event, and hope to see him in 2019!

— Walker Stalker Con (@WalkrStalkrCon) March 9, 2018
AMC and The Walking Dead have been getting a lot of heat as of late as fans are really unhappy with the direction of the series, which has seen ratings nosedive; the producers and creator Robert Kirkman are suing AMC for alleged monies owed, and Chandler Riggs was said to be fired from the series.
Redditors have also blasted The Walking Dead, and the latest post questions: Aside from The Walking Dead, what television shows hate their audience the most?