In a video that is going viral on social media and triggering the left, the Donald Trump re-election campaign posts footage of the POTUS as Thanos dusting the house democrats.
"House Democrats can push their sham impeachment all they want. President Trump's re-election is inevitable," the video teases.
The video shows President Trump's face photo-shopped over Thanos where, appropriately, with his right hand (the Thanos snap is left-handed; Tony Stark wore it on the right hand) he snaps, with the footage then showing members of the democratic party at a speech turning to dust.
This isn't the first time that Donald Trump has been compared to Thanos as there are many memes out there depicting the POTUS as the Mad Titan.
I'd actually argue that Thanos is more on the left as he's all about population control, but the Trump video is pretty funny nonetheless.
What's also funny is that the Avengers: Endgame and Infinity War directors named and depicted Thanos' ships as "Q-ships" (Trump supporters should understand that one).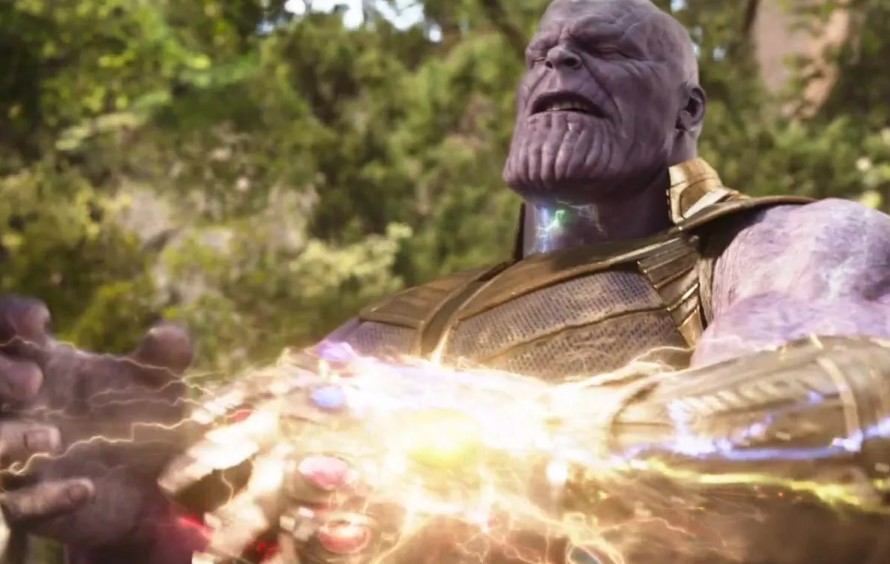 Some of the responses to the Trump Thanos video on Twitter are rather funny:
You morons realize Thanos was the villain, and this snap occured right before he was defeated, right? #dumbass

— Clay Rodina (@dudethatsclay) December 10, 2019
Beautiful

— Comfortably Smug (@ComfortablySmug) December 10, 2019
Y'all realize that Thanos loses? He wipes out half the universe's population before the Avengers can defeat him and reverse the snap, and you think that he's the good guy?

Good grief.

— lawhawk (@lawhawk) December 10, 2019
I legitimately believe they see Thanos as the hero. Hear me out. They both don't care if people die, because it just means a more abundant universe for whoever is left. Arguably, Thanos is better, because his genocide is random, whereas Trump's would be directed at the "libs."

— DesignerDave (@davidkfried) December 10, 2019
You just cast trump as a mass murdering bad guy.. I mean you are right but I didn't expect it of you. And maybe find out how the movie ends because your boy does not come out like a rose.

— Lauren Down South (@LaurenDownSouth) December 10, 2019
You guys should have kept that scene going just a few more seconds

— Jesus Christ (@CuckForYourSins) December 10, 2019
Never saw the ending, huh? Typical. Lemme help you out a little. pic.twitter.com/T3xb9EmHCV

— Say hello to the Bobcat of Democracy, Bish (@jboyjgalt) December 10, 2019
So… we're at the endgame, the final point where Thanos/Trump loses for good?

— Max Kennerly (@MaxKennerly) December 10, 2019
So Trump is Thanos and the Democrats are the Avengers trying to restore democracy that evil Republicans have nearly destroyed.

Glad we're on the same page.

— Eugene Gu, MD (@eugenegu) December 10, 2019
He will never be reelected. He will be impeached and removed. After video and audio is exposed he will be imprisoned.

— ♣️♣️♣️Madison Management♥️♥️♥️ (@TGallegas) December 10, 2019