A Thunderbolts series starring Daniel Bruhl may be happening on Disney Plus, possibly spinning off of the upcoming The Falcon And The Winter Soldier series.
Redditors spotted the Instagram story of Bruhl's manager, Thorsten Hans, who included an image of the Thunderbolts Presents: Zemo Born Better comic book.
The image includes hashtags for Baron Zemo, The Falcon and the Winter Soldier and tags the Instagram accounts of Daniel Bruhl as well as Marvel and Disney Plus.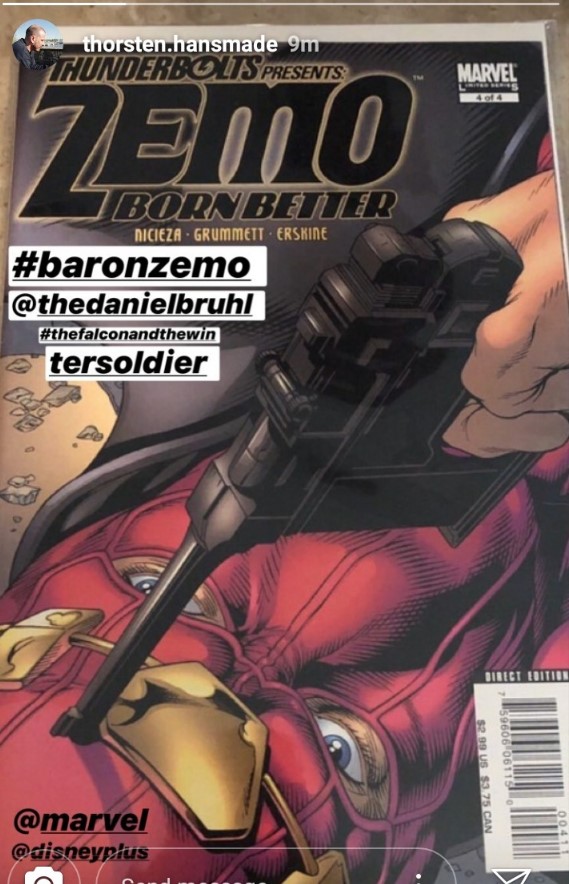 In the comics, the Thunderbolts Presents: Zemo Born Better comic book was published as a limited series back in 2007 dealing with Zemo traveling through time.
Here is the description from Amazon:
He is the last of thirteen, taught for his entire life that he was born better. A Zemo by blood is a superior person. So then why has he always failed? Now, having been sent hurtling through time, Baron Helmut Zemo will have a chance to encounter the truth of his family as it happened in the past – when he comes face-to-face with the first of his family line, the legendary Baron Harbin Zemo! But how much of what we know of our family history is truth and how much has been embellished by the perspective of time? Can Zemo find a way to escape his situation, or will he choose to stay trapped in time if it means preventing his family lineage from a legacy of failure?
Daniel Bruhl may star in Thunderbolts
In short, the comic sees Baron Zemo become a hero, so it could be possible that is the direction the Daniel Bruhl character could be going in the MCU.
Regarding the Thunderbolts, they are a superhero team made up of supervillains, with the original characters including Citizen V / Baron Zemo; Atlas / Goliath; MACH-I / Beetle; Meteorite / Moonstone; Songbird / Screaming Mimi, and Techno / Fixer.
Following the death of the Avengers, the superhero team known as the Thunderbolts appear, but it is soon realized they are really the Masters of Evil in disguise.
The Winter Soldier was a member of the Thunderbolts at a time, so we see how things could fit.
(via Reddit)