Images and footage of Lars Mikkelsen as Thrawn are leaking online from an extended Ahsoka trailer shown exclusively at the Star Wars Celebration and apparently Thrawn looks just like Elon Musk.
Star Wars Celebration saw Lars Mikkelsen brought to the stage (watch below) and announced to be playing Grand Admiral Thrawn in Ahsoka which is being developed written by Dave Filoni who was responsible for the Star Wars: Rebels animated series.
Ahsoka is seeming more like a sequel as most of the main characters from the animated series are returning including Natasha Liu Bordizzo as Sabine, Eman Esfandi as Ezra Bridger, and Wes Chatham as Captain Enoch, with Mary Elizabeth Winstead as Hera Syndulla, and David Tennant is playing Huyang from Clone Wars.
Grand Admiral Thrawn was a major player in Filoni's Star Wars Rebels and has become a big fan-favorite villain in the lore, arguably only surpassed by Darth Vader, so fans are super excited to see Lars Mikkelsen as the live-action version of Thrawn.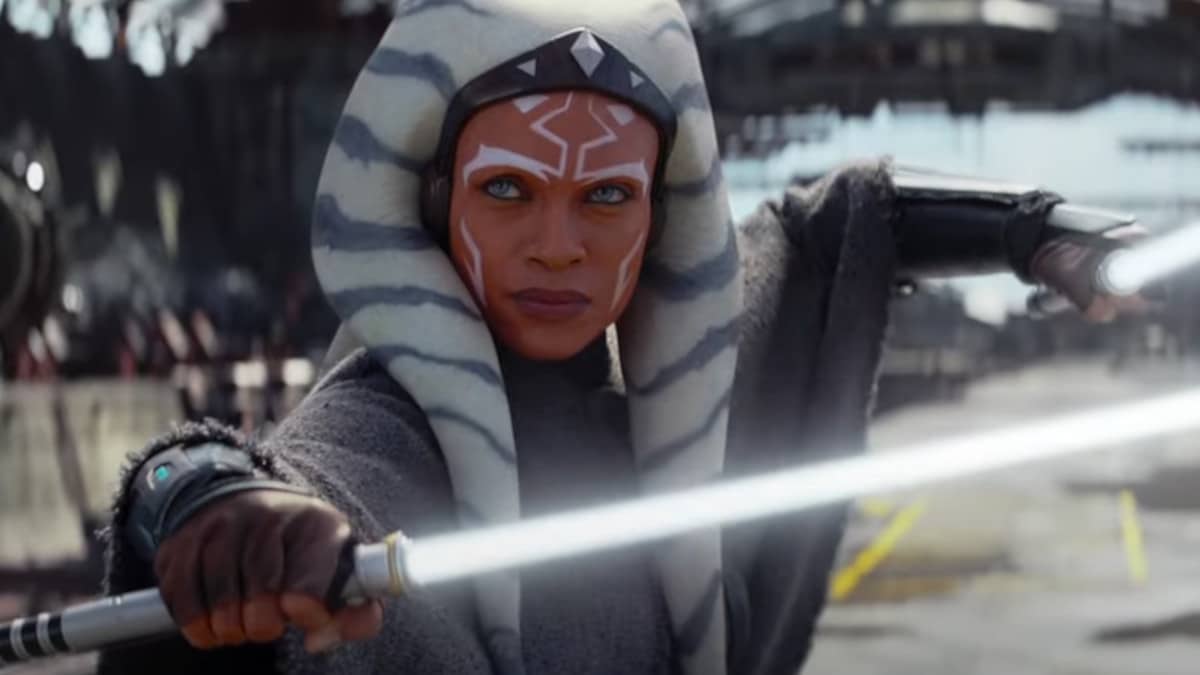 Fans excited for Star Wars and Ahsoka on Disney Plus
As the fans are so excited, apparently fans who are members of the Rebel Alliance snapped footage from the Ahsoka extended trailer at Star Wars Celebration and may have hidden it in R2-D2 as the images have spread online like wildfire.
I'm actually not sure if any of the images below are real, as it is claimed an Instagram user came up with one of them (AI art?) but the general indication is that Lars Mikkelsen as Thrawn resembles Elon Musk, which is pretty funny if you have been following how Elon has taken over Twitter and such. So maybe Disney is stating Elon Musk is really the villain.
Below you can also watch the Ahsoka trailer which follows the events in The Mandalorian with Rosario Dawson where Mando approached her to train Grogu in the ways of The Force, but she refused. Despite this, she still joined forces with Mando and Grogue and pursued her own objective of tracking down Grand Admiral Thrawn, which continues in her own series.
Lars Mikkelsen as Thrawn:
April 8, 2023
Looks like Lucasfilm nuked all these Thrawn posts, but I doubt they locked these accounts.

Found just one guy whose still hanging tough with his Blue Elon post. pic.twitter.com/PNVydORcbX

— Dataracer (@Dataracer117) April 17, 2023
Lars Mikkelsen at Star Wars Celebration:
Lars Mikkelsen arrives on stage at the Ahsoka panel! Mikkelsen is back as Grand Admiral Thrawn#StarWars #StarWarsCelebration

pic.twitter.com/LEZTzNuQma

— Star Wars Holocron (@sw_holocron) April 8, 2023
Made this to celebrate how damn happy I am to have Lars Mikkelsen as Thrawn! Hera, Ezra, Sabine, Chopper, Ahsoka, all together again. Timothy Zahn directly consulted for writing.
Lars was always the only option.

Rebels fans, Thrawn fans; we won. #StarWars #StarWarsCelebration pic.twitter.com/IFZAOovaxh

— MeleeLudens | Mandalorian S3 (@MeleeLudens) April 9, 2023
Just-announced Grand Admiral Thrawn actor Lars Mikkelsen gets onstage during the "Ahsoka" panel at the #starwarscelebration pic.twitter.com/qFd4uggDWR

— Variety (@Variety) April 8, 2023
Lars Mikkelsen is Grand Admiral Thrawn! We just watched an extended special version of the Ahsoka trailer!l which fully reveals him.

Oh and here is is in person. #StarWarsCelebration pic.twitter.com/gSOSgiXAa0

— Rob Keyes (@rob_keyes) April 8, 2023
Watch the Ahsoka trailer: