The Marvels is again said to have the shortest runtime of any of the MCU movies.
An updated and now-deleted listing on the AMC theaters website for the movie earlier listed the runtime as 1hr and 45 minutes in length.
AMC has since removed the runtime (see below), so possibly, The Marvels runtime could still change. An earlier report from August listed the runtime as 1h 38M.
The current shortest MCU runtimes include The Incredible Hulk at 1h 52M and Thor: The Dark World at 1h 52M.
Or it could be that Disney and Marvel don't want the perceived negative publicity of The Marvels having the shortest runtime, so AMC deleted the listing.
The short runtime actually may not be a bad thing as both Super Mario and Barbie have shorter runtimes and hit that magic billion-dollar mark that the first Captain Marvel movie achieved back in 2019 at the box office.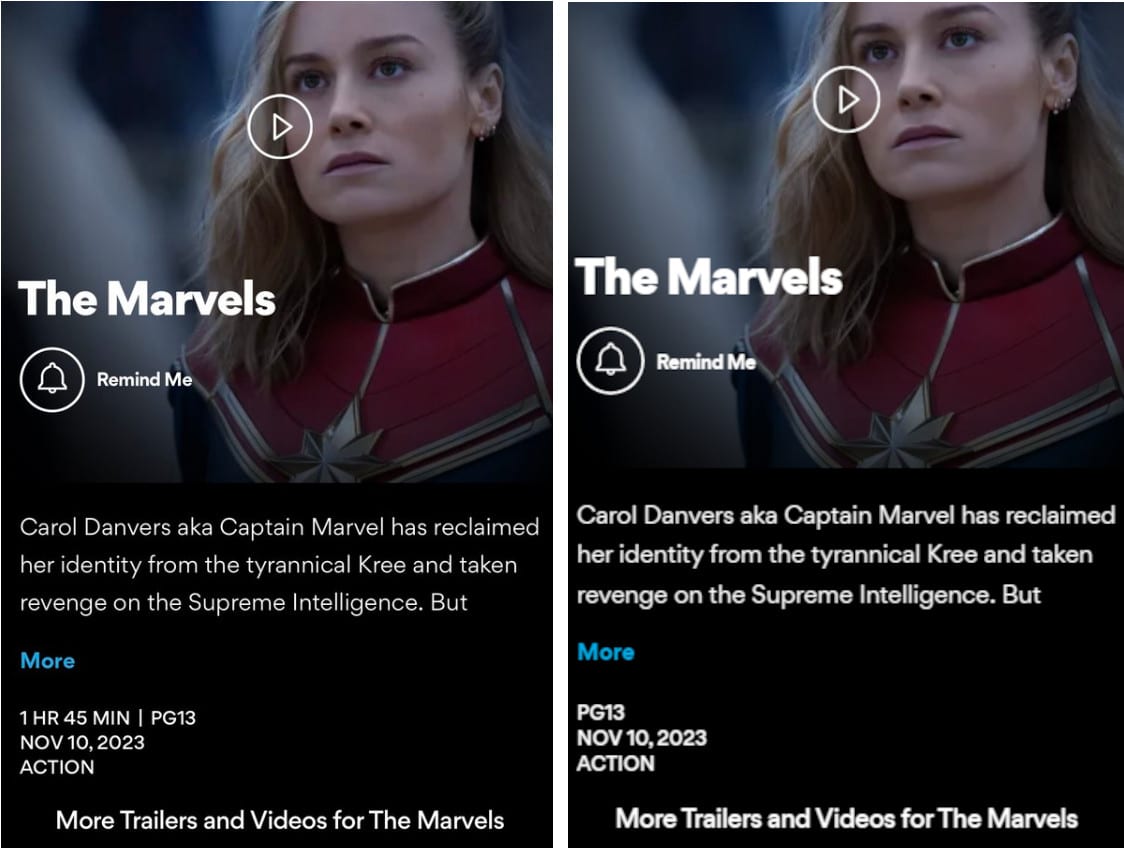 The Marvels faces an uphill battle?
However, it has been claimed test screenings didn't go well and even that Kevin Feige has cut scenes in The Marvels that are said to be on the goofier side of things, including scenes said to involve a planet where the people communicate by singing.
The Marvels director Nia DaCosta oddly didn't have anything good to say about the flick or the cast in a recent interview and even said The Marvels isn't her movie but Kevin Feige's movie.
"It is a Kevin Feige production, it's his movie," she said. "So I think you live in that reality, but I tried to go in with the knowledge that some of you is going to take a back seat."
She also said she had problems while filming, and it sounds like she is done with Marvel.
"It was really great to play in this world, and to be a part of building this big world," she said. "But it made me just want to build my own world more."
So while there is a bit of controversy surrounding the film, what The Marvels does have going for it, at least at the box office, is there is really no competition.
Warner Bros. pushed the Dune Part Two release date back which opened up IMAX screenings for The Marvels, and DC's Aquaman 2 doesn't open until more than a month later and also is said to be having problems of its own. The film is also getting released in China.
The Marvels does seem to be facing an uphill battle as the film follows fellow goofier movies that bombed such as Thor: Love and Thunder and Quantumania, which reportedly, is the reason Feige cut the goofy singing scenes.
The flick also doesn't happen to be sandwiched between two Avengers movies this time around.
The Marvels gets released on Nov. 10 starring Brie Larson, Iman Vellani, and Teyonah Parris.