The Marvels is getting a China release, and a new international poster featuring the characters from the movie has been released.
The first Captain Marvel flick did a massive $154 million in China back in 2019, which was sandwiched between the release of Infinity War and Avengers: Endgame, so it will be interesting to see how well the all-girl power MCU sequel will end up doing in the Middle Kingdom with no big event to push things along.
Recent MCU releases in China include Guardians of the Galaxy 3 with $87 million, while Vol. 2 brought in $100 million.
Quantumania netted $39 million in China; however, 2018's Ant-Man and the Wasp brought in over $121 million.
Black Panther: Wakanda Forever only brought in $15.5 million, while the first movie brought in over $105 million.
I think Feige is hoping The Marvels will be a similar hit to that of Barbie and Super Mario — a quick fun movie that loads of people go to see, as The Marvels reportedly has the shortest runtime of any MCU film.
There is also not much getting released in November and December, so much like we saw with King James Cameron's Avatar last year which had zero competition for months, Feige is hoping for something similar.
The following international poster is probably the best poster we've seen and actually looks like it wasn't done by the Marvel interns.
The poster gives us a look at Brie Larson, Iman Vellani, Teyonah Parris, Samuel L. Jackson, Goose, and a look at Park Seo-joon as Prince Yan, and the villain of the movie, Zawe Ashton as Dar-Benn.
The Marvels gets released on Nov. 10.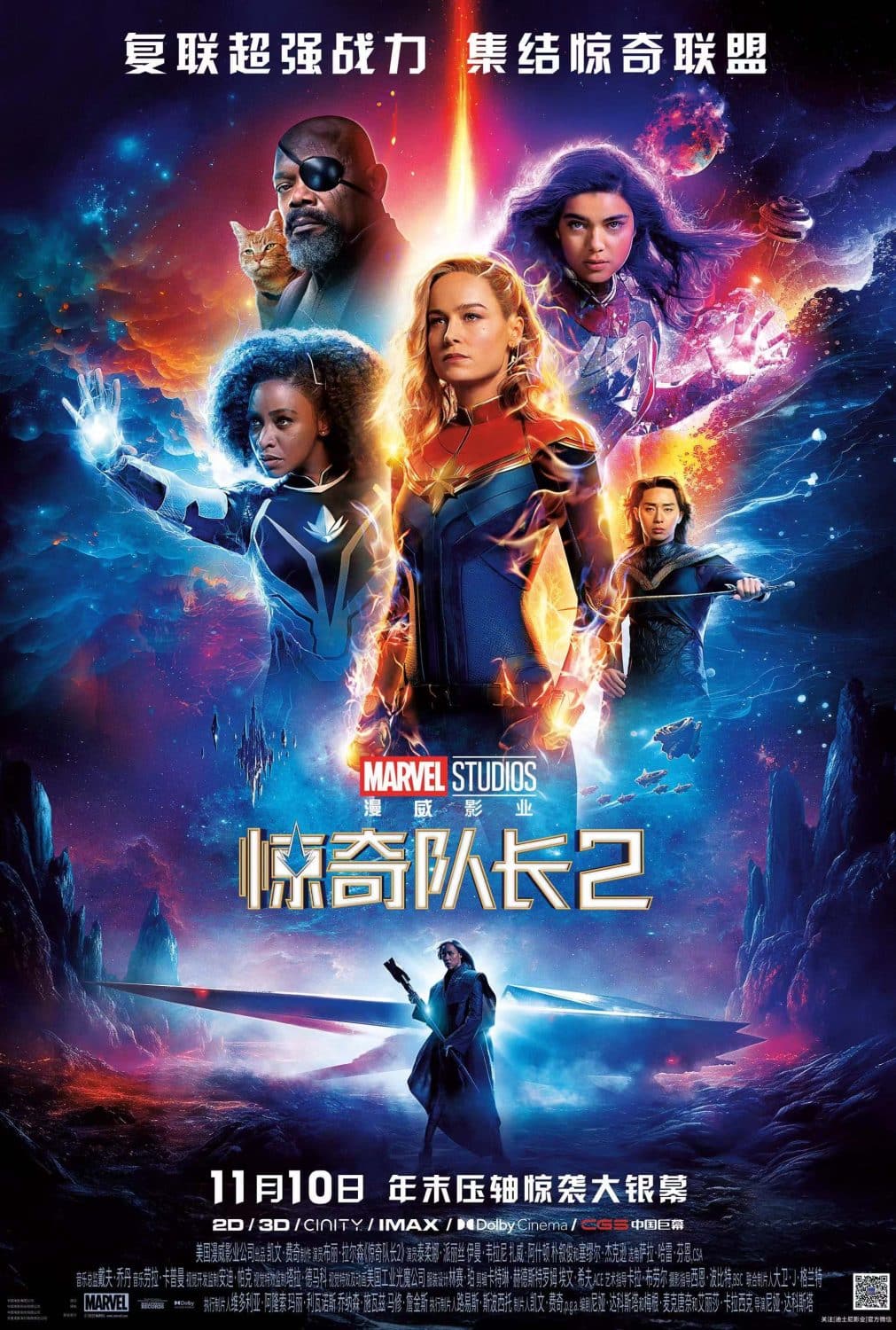 What is The Marvels about?
Carol Danvers aka Captain Marvel has reclaimed her identity from the tyrannical Kree and taken revenge on the Supreme Intelligence. But unintended consequences see Carol shouldering the burden of a destabilized universe. When her duties send her to an anomalous wormhole linked to a Kree revolutionary, her powers become entangled with that of Jersey City super-fan, Kamala Khan aka Ms. Marvel, and Carol's estranged niece, now S.A.B.E.R. astronaut Captain Monica Rambeau. Together, this unlikely trio must team-up and learn to work in concert to save the universe as "The Marvels."
Marvel Studios' "The Marvels" stars Brie Larson, Teyonah Parris, Iman Vellani, Zawe Ashton, Gary Lewis, Park Seo-joon, Zenobia Shroff, Mohan Kapur, Saagar Shaikh, and Samuel L. Jackson.
Nia DaCosta directs with Kevin Feige producing. Louis D'Esposito, Victoria Alonso, Mary Livanos, Jonathan Schwartz and Matthew Jenkins serve as executive producers. The screenplay is by Megan McDonnell, Nia DaCosta, Elissa Karasik and Zeb Wells.
Watch the trailer: