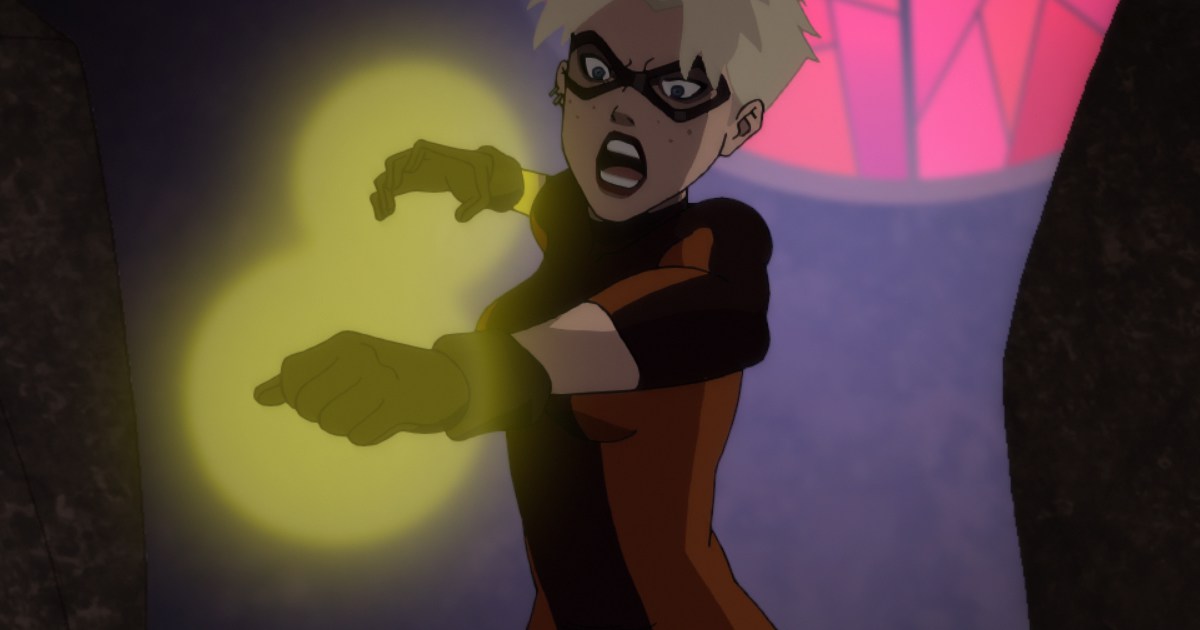 Warner Bros. Home Entertainment will host two World Premieres at WonderCon Anaheim this coming weekend, March 31-April 2, with exclusive presentations of Teen Titans: The Judas Contract, the next DC Universe Original Movie, on the evening of Friday, March 31, 2017; and a Sunday morning, April 2 screening of DC Super Hero Girls: Intergalactic Games, the latest installment in the worldwide franchise phenomenon.
Teen Titans: The Judas Contract will screen Friday, March 31 at 6:00pm in the 4,000-seat Arena of the Anaheim Convention Center, followed by a panel discussion amongst the film's acting stars and filmmakers. The entertaining post-screening panel will feature Sean Maher (Firefly/Serenity, Batman: Bad Blood), Jake T. Austin (Wizards of Waverly Place, The Fosters), Brandon Soo Hoo (Tropic Thunder, From Dusk Til Dawn: The Series), Kari Wahlgren (Phineas and Ferb, Legion of Superheroes), Stuart Allan (Batman vs. Robin, Batman: Bad Blood), director Sam Liu (Batman: The Killing Joke), supervising producer James Tucker (Batman Bad Blood, Batman: Return of the Caped Crusaders) and character designer Phil Bourassa (Justice League Dark, Young Justice).
DC Super Hero Girls: Intergalactic Games will have its World Premiere on Sunday, April 2 starting at 10:00am in the 1,000-seat Room 300AB. After the screening, an action-packed panel will feature Grey Griffin (Scooby-Doo and KISS: Rock and Roll Mystery), Anais Fairweather (DC Super Hero Girls), Teala Dunn (Are We There Yet?), Stephanie Sheh (Naruto: Shippuden), director Cecilia Aranovich (DC Super Hero Girls: Hero of the Year) and screenwriter/author Shea Fontana (Doc McStuffins, The 7D).
An encore presentation of Teen Titans: The Judas Contract (without an accompanying panel) is slated for Sunday, April 2 at 3:15pm in the Arena.
Fans will have the opportunity to meet the casts of both films in autograph sessions at the DC Entertainment Booth – where they will be signing limited edition, WonderCon Anaheim exclusive mini-posters. For information on the casts' Autograph Signing, please visit Hall D on Friday and Sunday mornings for the respective signings.
Here are the full panel descriptions for the two World Premieres:
Friday, March 31
6:00-8:00 World Premiere – Teen Titans: The Judas Contract – A WonderCon tradition continues as Warner Bros. Home Entertainment, DC Entertainment and Warner Bros. Animation invite you to attend the World Premiere of Teen Titans: The Judas Contract, the latest entry in the ongoing series of DC Universe Original Movies. Inspired by the 1984 DC story arc from Marv Wolfman and George Pérez, Teen Titans: The Judas Contract finds the Teen Titans – Starfire, Beast Boy, Raven, Blue Beetle, Robin and the just-returned Nightwing – working as a cohesive team in their never-ending battle against evil. But their newest teammate, the mysterious and powerful Terra, may be altering that dynamic. Meanwhile, an ancient evil, Brother Blood, has awakened, and familiar foe Deathstroke is lurking in the shadows – both waiting to pounce. Ultimately, the Teen Titans will need to battle their enemies and their own doubts to unite and overcome the malicious forces around them in this twisting tale of intrigue, adventure and deception. Be among the first to see this landmark story come to animated life, then enjoy an entertaining panel discussion amongst cast members Sean Maher (Firefly/Serenity, Batman: Bad Blood) as Nightwing, Jake T. Austin (Wizards of Waverly Place, The Fosters) as Blue Beetle, Brandon Soo Hoo (Tropic Thunder, From Dusk Til Dawn: The Series) as Beast Boy, Kari Wahlgren (Phineas and Ferb, Legion of Superheroes) as Starfire, and Stuart Allan (Batman vs. Robin, Batman: Bad Blood) as Robin/Damian, plus director Sam Liu (Batman: The Killing Joke), supervising producer James Tucker (Batman Bad Blood, Batman: Return of the Caped Crusaders) and character designer Phil Bourassa (Justice League Dark, Young Justice). As always, moderator Gary Miereanu will offer exclusive prizes for best audience questions, and might even introduce some surprise guests. Teen Titans: The Judas Contract will be distributed by Warner Bros. Home Entertainment on Digital HD (4/4/17) and Blu-ray & DVD (4/18/17). Arena
Sunday, April 2
10:00-12:00 World Premiere – DC Super Hero Girls: Intergalactic Games – Join all the pomp and circumstance of the World Premiere of DC Super Hero Girls: Intergalactic Games, the second full-length feature film spotlighting this worldwide franchise sensation. The film finds the young Super Heroes – Wonder Woman, Supergirl, Batgirl, Poison Ivy, Harley Quinn, Bumblebee and Katana – squaring off against Korugar Academy in the Intergalactic Games. However, trouble is in the air as Lena Luthor takes advantage of the gathering of the Supers to enact her villainous plan. It's up to the DC Super Hero Girls to fight the forces of evil and protect their school. With Wonder Woman's strength, Supergirl's speed, Batgirl's strategic knowledge, Poison Ivy's ability to make things grow, Harley Quinn's energy, Bumblebee's ability to shrink and Katana's fearless personality … anything is possible. After the screening, stick around for an action-packed panel featuring the voices of Wonder Woman, Supergirl, Bumblebee and Katana, respectively – Grey Griffin (Scooby-Doo and KISS: Rock and Roll Mystery), Anais Fairweather (DC Super Hero Girls), Teala Dunn (Are We There Yet?) and Stephanie Sheh (Naruto: Shippuden) – alongside director Cecilia Aranovich (DC Super Hero Girls: Hero of the Year) and screenwriter/author Shea Fontana (Doc McStuffins, The 7D). Produced by Warner Bros. Animation and DC Entertainment, the film will be distributed by Warner Bros. Home Entertainment on Digital HD (6/13/17) and DVD (6/27/17). Room 300AB
Tags: