Taika Waititi jokes about running Star Wars which follows the recent Disney Day Investor presentation that confirmed the movie.
"What?? Ugh, as a longtime fan of Star Wars I'm so angry about what I'm about to do to ruin it," said Waititi on Instagram.
The joke is an obvious reference to the Disney Star Wars films being received so poorly by the fans, especially Star Wars: The Last Jedi.
True, while the Disney Star Wars movies made a lot of money at the box office, they killed merchandise sales and caused a hiatus on new film films for years.
Waititi's Star Wars movie still doesn't have a release date or a title.
Disney did announce Patty Jenkins' Star Wars Rogue Squadron will be next, which is also years away, so that is a four-year gap between films. We can also add none of the new movies or announcements made at the Disney Investor Day presentation feature any of the characters from the Disney Star Wars flicks.
Taika Waititi on Instagram says he is going to ruin Star Wars: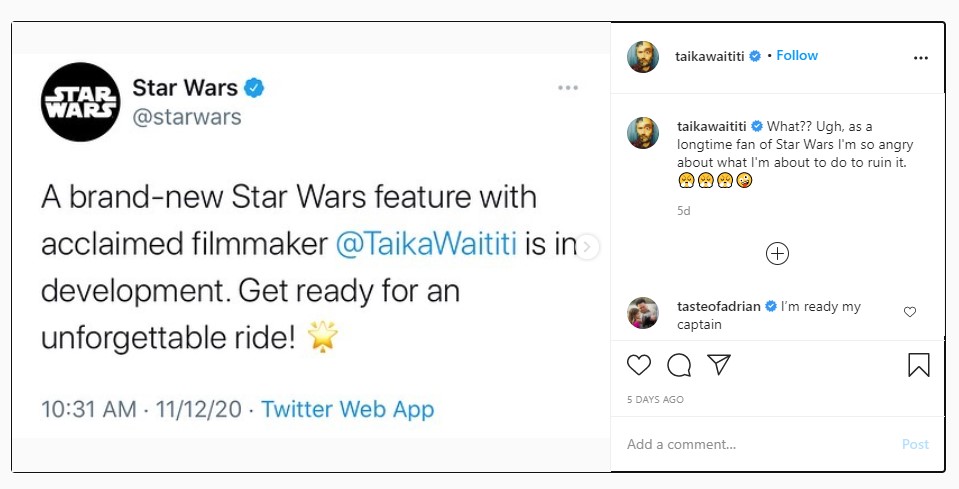 Fans worried about goofy Star Wars Taika Waititi movie
Fans are also worried about Taiki Waititi tackling Star Wars as all the director is known for is goofy movies. Is Waititi making a goofy Star Wars movie à la the goofy Marvel space movies like Thor: Ragnarnok or James Gunn's Guardians of the Galaxy?
Well, I thought his episode of The Mandalorian he directed, the last of Season 1, was really good, so no problems there.
In a previous interview, Waititi did state he knows the difference between Star Wars and goofy projects, so hopefully, he keeps the goofiness to a minimum.
That said, because of the announcement, some fans do think Waititi is going the goofy Star Wars route.
"Star Wars' theatrical slate is pushing forward into a new future era. Taika's approach to Star Wars will be fresh, unexpected, and unique. His enormous talent and sense of humor will ensure audiences are in for an unforgettable ride. He is currently hard at work writing this next adventure," said Kennedy at the Disney Investor Day presentation.
The logo also has fans worried: