Superman, Batman, Wonder Woman, and Aquaman are used by Warner Bros. to promote the upcoming release of its new streaming service, HBO Max.
On Tuesday, WarnerMedia officially announced that HBO Max will be ready to launch on May 27 as their new streaming service "will bring you closer to the entertainment you love — anytime, anywhere."
Since the announcement, the official HBO Max social media accounts have been actively promoting the release of the streaming service featuring the Justice League characters, with promo images and billboards also sporting Superman, Batman, Wonder Woman, and Aquaman.
The promo image happens to feature the women of HBO up front, with Emila Clarke from Game of Thrones, Gal Gadot as Wonder Woman, Anna Kendrick from HBO's new rom-com series Love Life, and Thandie Newton from Westworld (Superman might be hard to spot; he's on the bottom left).
The billboard prominently sports the Ben Affleck Batman and Jim Parsons from The Big Bang Theory (Superman is in the back).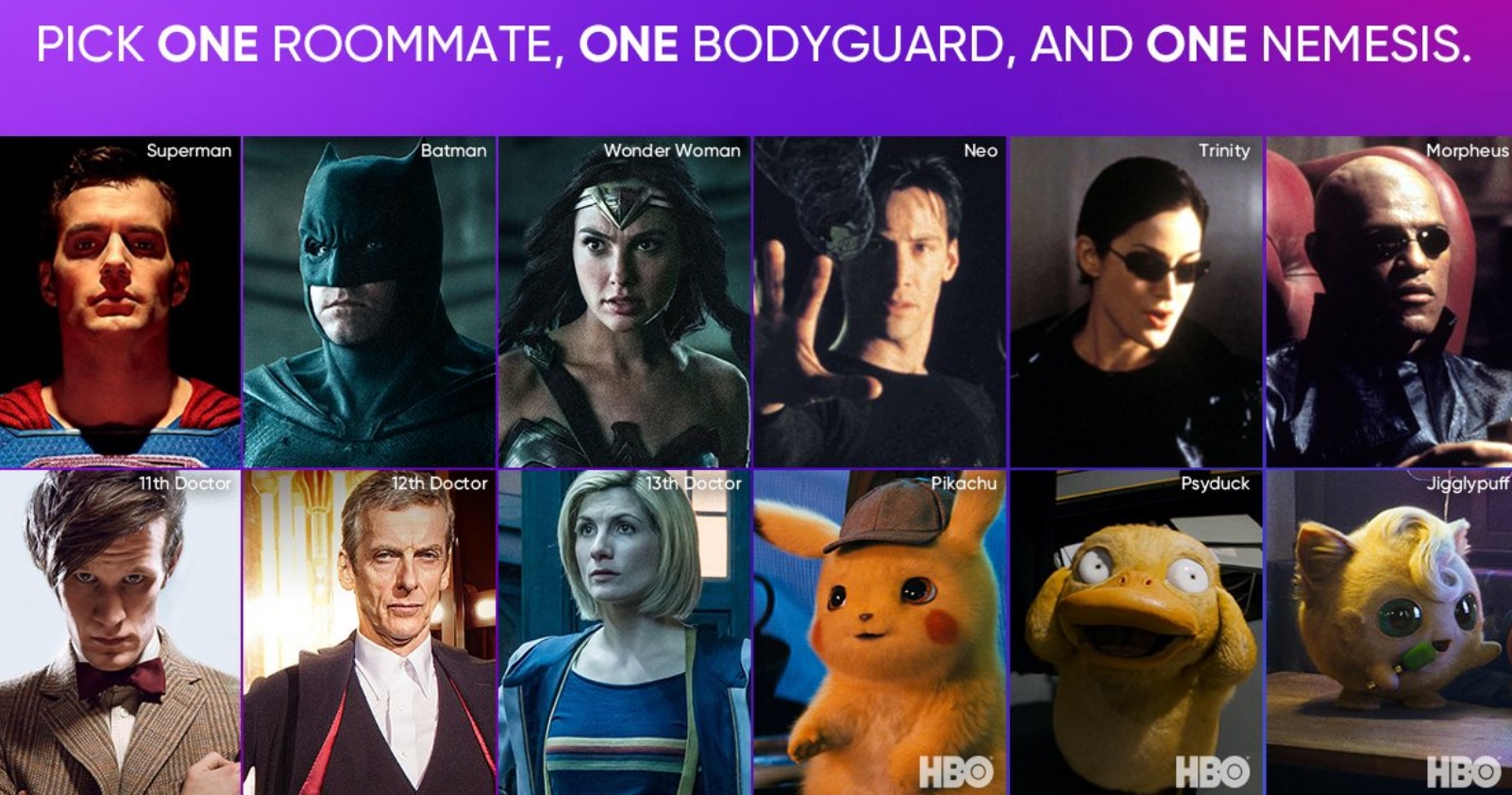 HBO max not shying away from Superman, Batman, Wonder Woman, DC Characters
On the HBO Max official Twitter, the account has also used the Henry Cavill Superman, the Ben Affleck Batman, the Gal Gadot Wonder Woman, the Jason Momoa Aquaman, Margot Robbie as Harley Quinn from David Ayer's Suicide Squad and since today is the 80th anniversary of the Joker, HBO Max tweeted a cool motion poster of the Heath Ledger Joker from Christopher Nolan's Batman The Dark Knight Trilogy.
And as a fan pointed out, it doesn't seem as if HBO Max is shying away from the DC characters, so maybe a Snyder Cut Justice League release could happen.
Happy 80th anniversary, Joker. — What's your favorite Joker quote? pic.twitter.com/aHGcfQIIv9

— HBO Max (@hbomax) April 24, 2020
Where Lions and Tigers and Bears meet Friends and Heroes and Princes. HBO Max. Where HBO meets so much more. Start Streaming May 27. https://t.co/e3U0f0NRst pic.twitter.com/t3wMIVWVQO

— HBO Max (@hbomax) April 22, 2020
Pick one roommate, one bodyguard, and one nemesis.
Stream these and more favorites on HBO Max this year. pic.twitter.com/r79a9NWHAR

— HBO Max (@hbomax) April 22, 2020
Go ahead, steal a moment for yourself.

Stream Suicide Squad on HBO Max this May. pic.twitter.com/TmsvNTprs5

— HBO Max (@hbomax) April 3, 2020
Here's to the women who don't stop fighting, no matter what. pic.twitter.com/pdd0k8x7VF

— HBO Max (@hbomax) March 8, 2020
Calculating leap year birthdays is hard enough without adjusting for Krypton years –Happy birthday, Superman! — pic.twitter.com/pXeKjRvCJ9

— HBO Max (@hbomax) February 29, 2020
So…
– Jason Kilar liked Snyder Cut tweets
– On 21/4, HBO Max announce his launch
– They made tweets using ZS JL images
– The trinity is ahead of their banner
– HBOMax PR liked Snyder Cut tweets…

I think something is coming —#ReleaseTheSnyderCut #ZackSnydersJusticeLeague pic.twitter.com/4SwvTXVgW6

— Julien Da Costa (@JulienDaCosta77) April 23, 2020