Over the weekend I attended the Buffalo Bills vs Cleveland Browns NFL football game and happened to run into two head people that work for Disney which saw us chat briefly about Star Wars Galaxy's Edge and the upcoming Rise of The Resistance theme park attraction.
The insiders actually help set up the Star Wars Galaxy's Edge theme parks – in a certain capacity – and have even been over to Shanghai.
I asked what they thought of the parks and even a rumor that has been going around.
They had good things to say, and regarding Rise of The Resistance said that it "will blow fans away," and that there is nothing to worry about regarding the Star Wars Galaxy's Edge theme parks.
Regarding the rumor, I questioned them if it is true that if Star Wars Galaxy's Edge doesn't pick up by February that it will get rebranded, to which they said that is not true at all.
They also said that Disney is the best company to work for.
We left it at that and said our goodbyes.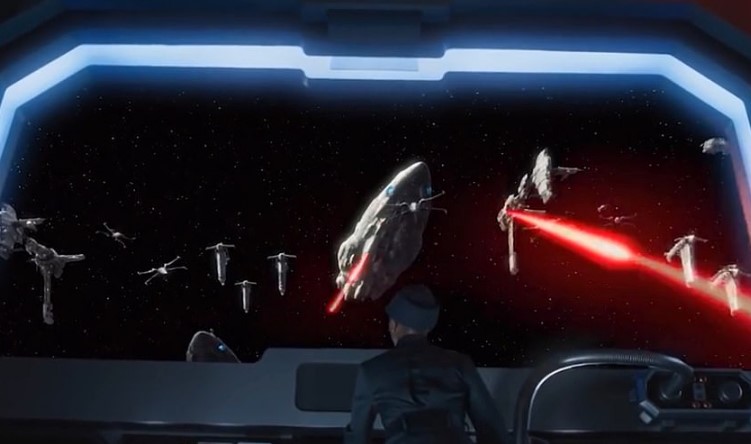 Nothing to worry about for Star Wars Galaxy's Edge and Rise of The Resistance?
Most recently also saw Disney once again confirm that attendance at Star Wars Galaxy's Edge is down, but during the investors' conference call, Disney CEO Bob Iger did offer that they think people are waiting for the park to be completely finished, as Rise of the Resistance is due to open in December.
"We believe there were some delayed visitation to Galaxy's Edge both at Disney and at Disney World …So we sense that there are people that are just waiting for the whole thing to be opened. Which is fine," Iger said.
The same call saw Iger tackle questioning surrounding Galaxy's Edge not doing as well as hoped, which saw Iger say that was overblown in headlines, and Iger gave an example that is not the case as he said over a million people have already visited the Millenium Falcon ride.
Rise of the Resistance is described by Disney as:
When it opens, this harrowing adventure will blur the lines between fantasy and reality and will put you in the middle of a climactic battle between the First Order and the Resistance. You will join the Resistance and depart from Batuu in a transport ship to meet General Leia Organa at a secret rendezvous point. Along the way, however, you will be captured by a First Order Star Destroyer. The action then ramps up as you seek to escape the clutches of Kylo Ren and the First Order – with the help of some heroes of the Resistance. Today, we're excited to share this first look inside the attraction!

Star Wars: Rise of the Resistance will be one of the most ambitious, advanced and immersive experiences ever undertaken by Walt Disney Imagineering. The attraction is also one of the largest Disney has ever created. Its massive show building is a world unto itself, housing two full-size AT-AT walkers and a Star Destroyer hangar bay – complete with a TIE fighter and a garrison of Stormtroopers – plus more thrills and surprises.