It's learned the Disney Plus woke Star Wars: The Acolyte series will start filming next year and is currently searching for a female POC for the lead role.
YouTuber Grace Randolph tweeted, "The Acolyte is now casting its lead, a female POC college age who is athletic and can do martial arts! Sounds very promising! It will begin filming in London 1st quarter 2022."
While Randolph thinks the show is promising for some reason and even thinks diverse movies are successful (huh?), she replied to the backlash.
"FYI, considering Star Wars has had mostly caucasian brunette female leads to the point it's become a running joke that's why this show – and other Star Wars content – is specifically looking for women of color," tweeted Randolph.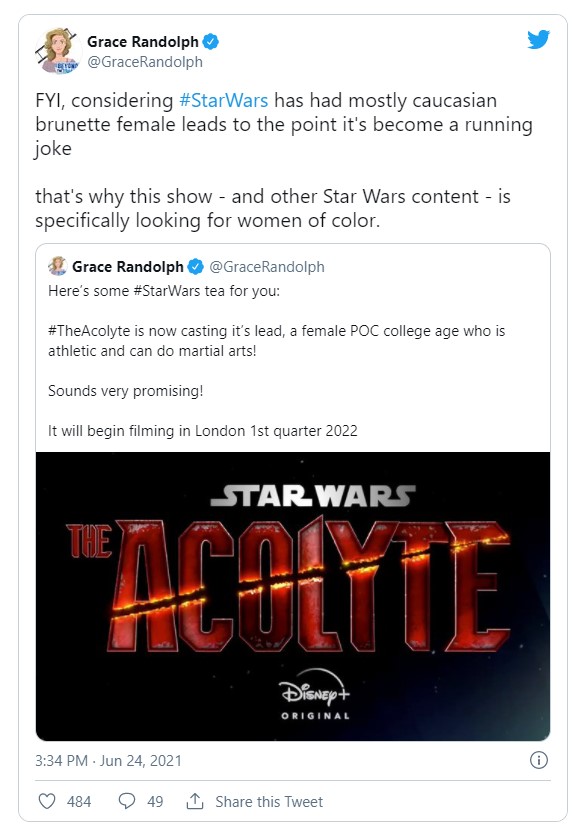 Star Wars: The Acolyte is completely woke
It should be said the reason the show is searching for a POC actor is that Star Wars: The Acolyte is completely woke and that it has nothing to do with a good storyline.
Leslye Headland, the showrunner behind the series, recently let it be known how woke the series will be as a writer on the series hasn't even watched Star Wars or knows anything about Luke Skywalker and Princess Leia, so we see, again, it's not about quality story, but only about promoting a woke politically correct agenda, something that has decimated Hollywood for the past few years, and contrary to Randolph's thoughts about being successful, has been a horrible failure.
In addition to the Star War writer not having a clue, Headland revealed she thinks Star Wars is political and that fans' opinions don't matter, and also that female and LGBTQ representation is a top priority.
Leslye Headland interview on her new show:

•Thinks Star Wars is about poltics & fan opinions aren't valid.

•Hired a writer whose never seen Star Wars.

•Female & Queer representation is a top priority. "I literally cry whenever I see it."

This is going to be a train wreck. pic.twitter.com/FaXSNm2c4F

— Dataracer (@Dataracer117) June 22, 2021